It'd be lovely if I could just sit all day everyday in a comfy breastfeeding chair whilst I fed my daughters.
But the reality is I have work to do, places to go and I'm not very good at sitting down!
The early days of studying, working and breastfeeding meant I would traipse around with my hospital grade double pump searching for a socket.
You'd think it was easy to find a discreet room with a plug socket but my offices were all open plan with glass walls.
I ended up expressing in the dressing room which meant I was constantly interrupted by staff wanting to get changed.
You think searching for a plug socket with your phone charger is stressful enough, let alone finding a secret space to pump.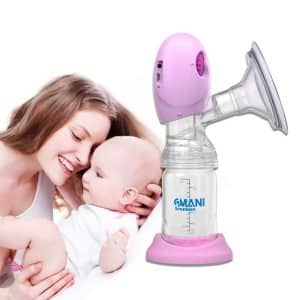 So here are my top tips when breastfeeding on-the-go: 
1. Take a portable breast pump with you – so you can pump anywhere. I loved reviewing this Omani Tronkon rechargeable portable breast pump as it fitted into my hand bag and doesn't require a plug socket, you just charge it with the usb port. It's quite noisy but so are most pumps I've used. And it's way better than any manual pumps I've tried when this girl needs milking! Plus you can win one below! Either way it is a real bargain at £39.99 – reduced from £59.99! My only issue is that I always need the highest suction on every pump and the highest setting on this is weaker than my hospital grade ones – but the real plus to me is how portable it is.
2. Ideally you can take your baby out and about with you. If this is the case, I loved my sling to feed on-the-move. Some carriers allow feeding others dont so check first if it's suitable and safe.
3. Whether expressing or feeding on the move – clothing can help or hinder feeding. I've never been fond of most breastfeeding clothing bar the odd t-shirt from H&M and Mothercare (I'm more inclined to opt for bondage style clothing!). So with this in mind I buy low-cut outfits, I like cleavage too, so it's a win win making my boobs accessible.
4. If you need arrangements to breastfeed or express, make sure you inform people as work places and universities/colleges etc have a duty to enable you to as well, as offering suitable fridges if you want to store expressed milk.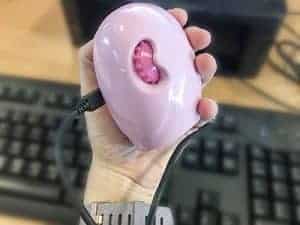 5. It's trial and error. And takes planning. Breastfeeding has opened up a whole new world of beautiful moments and tricky situations for me. I wish I'd gone back to work in phases (first time around) to allow my body and baby to get used to it rather than shocking us both and causing me lots of painful swollen boob moments!
If you're a busy bee like me (aren't we all!) you may want to try this handy pump – I use it around the house as well as when I'm out and about.
It's great to not have to be attached to the wall so I can express in comfort and also when my daughter feeds I can express at the same time (when I can be bothered).
Win an Omani Tronkon Portable Breast Pump worth 59.99 by clicking here or copy/pasting the Rafflecopter link and following the instructions… https://www.rafflecopter.com/rafl/display/ccd41f1f4/? or you can enter by commenting below and following @MamaMeiBlog on twitter. 
Disclaimer: We received the breast pump free of charge in order to review it. And affiliate links are included.