From the moment the show starts, you're immersed in the sweet story of the scarecrows. We all know how stressful wedding planning can be and it appears that even scarecrows get caught up in it too!
I went along with my 2-year-old Arianna and 5-year-old Jasmine as well as my friend Heather (from Wakefield Mumbler) and her daughter Ava, 3. All three kids were bouncing along to the songs and loved the physicality of the actors and simple set. (Although they didn't quite put it in those words!). My youngest Arianna – was dancing and laughing all the way through- so much so she fell off her seat, quite literally.
And don't forget to check out the family play area in the cafeteria pre or post show.
You will come away smiling.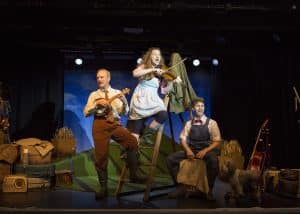 The blurb:
Straight from London's West End, this truly heart-warming adaptation of Julia Donaldson and Axel Scheffler's bestselling book is bursting at the seams with Scamp Theatre's inimitable style and promises wit, drama, and wedding bells as you're invited to Harry O'Hay (played by Halifax, West Yorkshire actor Sam Heron) and Betty O'Barley's glorious wedding day.
Betty O'Barley and Harry O'Hay are excellent scarecrows (they scare a lot of crows). Harry loves Betty, and Betty loves Harry, so they decide to get married and Harry sets off to search for their wedding day essentials including a dress of feathers, a bunch of flowers and a necklace made from shells.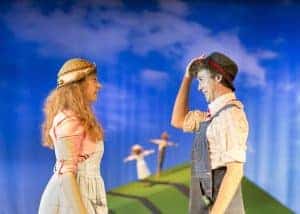 However, when the farmer notices he is missing a scarecrow, he replaces Harry with thedevilishly smooth but dangerous Reginald Rake. Dashing, daring and ever so cool, can Reginald persuade Betty that he is the scarecrow for her? Will Harry make it back in the nick of time before Reginald ruins their special day?
Director Eva Sampson said: "I'm delighted that The Scarecrows' Wedding will be heading out on tour again this year. It's a great opportunity to bring the show to new audiences and share Harry and Betty's epic love story!"
Age guide: 3+
Venue: West Yorkshire Playhouse, Courtyard Theatre
Dates: Tuesday 30 May – Saturday 3 June 2017. 
Contact: Box Office 0113 213 7700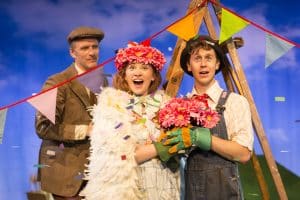 DISCLAIMER: We received tickets to review this show.