Sat around the dinner table, all at the same height, the family would thrash out their daily stresses, their good news and their challenges.
Their support for one another would run through all the food that was being shared.
This family, was my adopted Italian family, when I lived in Naples.
At first I had felt uncomfortable joining in family meal-times with all the noise, debate and slow-eating.
I had become so accustomed to eating whilst sat at my laptop, during my university studies, that I had forgotten how to share a meal.
But the more I was welcomed around the table, the more I grew to love, enjoy and need such fabulous quality time with the family.
I now have my own family and there is something so joyous about all being sat at the table chattering, eating and sharing our days with one another, no matter how chaotic it might be.
Not only does sitting around the table help with eating and means less mess but most importantly it is bonding time – a time where we step out of our busy lives and eat together.
And now we've found a restaurant where we can have such quality family time with freshly cooked Italian food, all without us having to lift a finger… Welcome to Prezzo.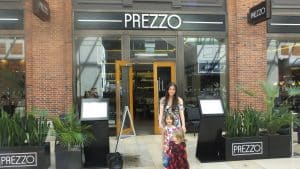 As part of the #PrezzoLaFamiglia Challenge with Prezzo restaurants and Brit Mums, we were invited to a Prezzo branch at The Light in Leeds to try out their family-style dining and their new La Famiglia sharing bowl.
 The sharing pasta bowl takes centre stage on the table.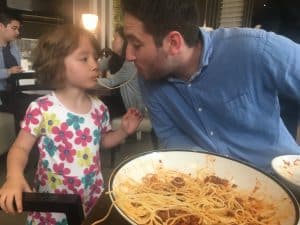 The La Famiglia sharing dish is a choice of a bowl of Penne Arrabiata, Spaghetti Bolognese, Spaghetti Carbonara or Penne Alla Rusticana – big enough to feed up to four people – at your local Prezzo with your family.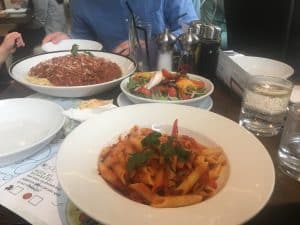 The joy of sharing La Famiglia dishes with family
– A sharing dish in a restaurant adds to the fun and the theatre of dining, with the huge bowl of food placed in the middle of the table.
– It lessens the choice so it's easier to choose from the menu.
– The spirit of family-style food, where eating and sharing connects us plus, no more food envy!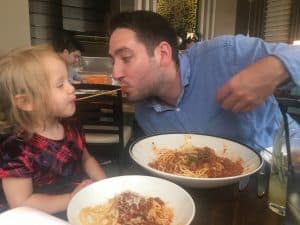 – It also highlights your individual  sharing personalities for example I'm the feeder so I will give everyone excessively large portions except myself. My husband is the taster – so he likes to taste everything first. And my girls are still learning the art of sharing!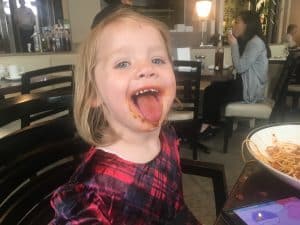 Family-style eating
Being true to the theme of "family-style eating" – it is a form of dining that is a mix of wonderful chaos.
The settings and staff at Prezzo however helped us enjoy the experience especially when it came to my fussy and lively family.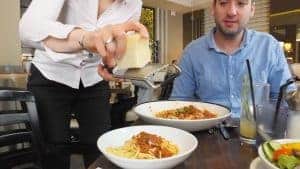 So you've got me – I love spice, I'm Vegetarian and cheese intolerant, oh and I'm tee-total so my chef husband is extremely frustrated. And I try to eat as healthily as possible.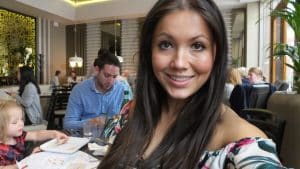 Then you've got my husband Chris  who critiques everything – every menu is too long or too short. But he will try anything and he eats all food and drinks all drinks, unlike me.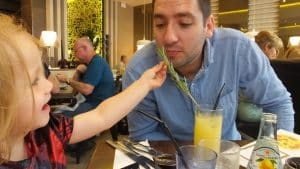 And then the girls – who don't like spice but they do love meat and anything sweet.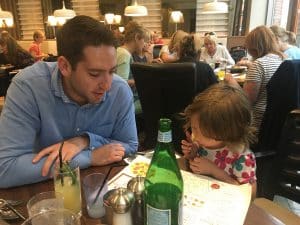 Thankfully the staff at Prezzo were very understanding and brought us two garlic breads – one with cameralised onions the other with cheese.
These were a hit all around with the pizza bases coming fresh from the stone oven.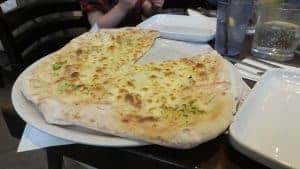 The girls washed these down with San Pellegrino, whereas Chris had a sweet tipple and I had a Diet Coke (I needed caffeine).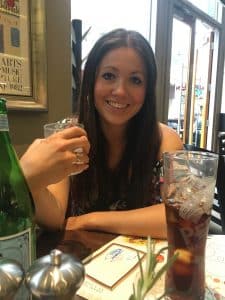 They then brought us a slightly smaller sharing bowl of spaghetti bolognese. And a Penne Arrabiata for me which I shared with Chris (he is always the winner in these situations). We also ordered a side salad so I could have some greens and the girls could pick out the olives and cucumber. It's not that I don't like the latter but that's being a parent hey, sharing even when you don't want to!
We were so full after our mains but the girls were determined to have their desserts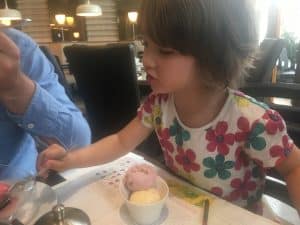 .
So they had strawberry and chocolate Ice Creams and we had a blood orange sorbet which was really refreshing.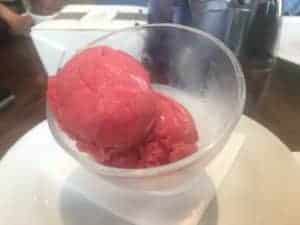 No matter what our differences are… We treasure the moments we spend sharing food, chatting and colouring in the kids menus.
It was a lovely meal out and the girls also enjoyed watching the garlic breads being made in the open kitchen.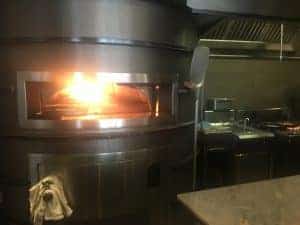 It was even more special too that we were celebrating our 1st year Wedding Anniversary. And what better way to spend it than dining out as a family, eating il cibo buonissimo.
About Prezzo 
The Prezzo restaurant chain has more than 280 restaurants across the UK in all shapes and sizes ranging from old libraries to harbourside eateries taking in the view.
DISCLAIMER: This post is an entry for the BritMums #PrezzoLaFamiglia Challenge, sponsored by Prezzo.
Poll: How do you eat your spaghetti? Please comment on the facebook post or below… Buon Appetito!