I am very lucky to have been brought up in two very liberal households. It was only when starting school that I realised that not everyone was as open as me. I became subject to racist and homophobic abuse (I am mixed race and my Dad is Gay).
But I have always been very thankful for being from a diverse family as it helps me to understand others too.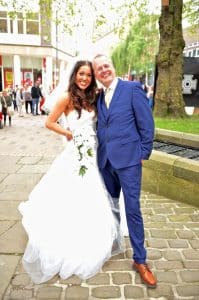 Here my Dad Steve Slack writes about the importance of joining together and not judging in order to truly fight terrorism…
The young taxi driver who drove me to Sheffield railway station was politeness personified – friendly, big smiles and a broad Sheffield accent. We talked about the weather and the improved roads. The usual chit chat of many taxi drivers and passengers. He told me that later in the day he was hoping to go and see the Kell Brook's weigh-in and briefly we spoke about boxing. By this stage I was totally outside of my comfort zone. Inevitably, in the aftermath of the murderous attack at Manchester Arena, days previously, the conversation turned to that topic. British and of Asian descent, he described his horror at what had happened and said how affronted he had felt when a passenger had asked him about the terrorist organisation ISIS.
'Sheffield born and bred and proud of it,' he had told the passenger. 'You probably know as much about ISIS as I do mate.'
There was no hint of anger his voice and no sense of defensiveness just a telling sense of resignation.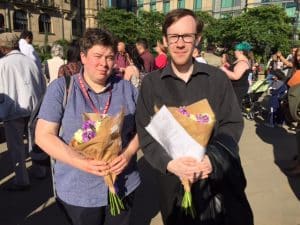 'Perhaps he should "Google it",' I replied, realising it was a lame and weak response.
I also reproached myself for my naiveté realising that my young driver could potentially put himself at risk of suspicion and accusations of radicalisation if he, British born but young and of Asian descent, were to enter 'ISIS' into his search engine.
Arriving at the railway station he rounded down the tax fare but I insisted on rounding it up. There was a friendly verbal tussle before he agreed to take the money. As we said our farewells I felt a sense of gloom and unfathomable sadness descend upon me. Still reflecting on our conversation I jumped onto the train to London – the wrong train as it turned out! As I began to browse the BBC news App on my phone my attention was caught by a report from The Office for National Statistics (ONS) on UK migration. It seems that net migration to the UK had fallen by 84,000 people from 2015 to 2016 – the 2016 report included six months of data following the Brexit vote. Net migration, I read, was the difference between people coming to the UK for one year or more and the number of people leaving the UK for a year or more. The change was driven by an increase of 40,000 people leaving the country.
Falling net migration was seized upon by the Conservatives to evidence the 'success' of their policies on immigration control. And Amber Rudd, Home Secretary, pledged her determination to continue to reduce overall net migration numbers.
Evidence suggests that following the Brexit vote all forms of reported hate crime increased; suggesting either a less tolerant society (which I doubt), or a society which has emboldened those with oppressive views and attitudes; leading some to speculate that the reduction in net migration is due to the perception that this is a more hostile and divided country – less attractive to those who want to migrate and settle here. And sadly a country that many of us love but feel increasingly estranged from. If this is the case do we really want to create a society so unwelcoming, so unattractive and ultimately so hostile in order to discourage migration here? If so it seems a high price to pay.
If the tragic events of that Monday night in Manchester teach us anything, it is that when communities come together, stand together, and unite together they are stronger together. No one could have failed to be moved by the impromptu singing of 'Don't look back in anger' by a small group at the Manchester vigil. Both a tribute to those lives lost and such an optimistically defiant plea.
My worry is that we drift into becoming a society which is suspicious of difference and generally unkind to outsiders; condemning ourselves and our children to a life where hatred, fear, intolerance and division are the norm. Salman Abedi, who perpetrated the Manchester atrocity which killed over twenty people and injured many more, along with others like him seek to fuel division, racism and Islamophobia. It is their goal to be seen as the victims turned perpetrators. And as Andy Burnham, Lord Mayor of Manchester said, Abedi no more represents the Muslim community than the killer of MP Jo Cox represents the white Christian community.
We still have time to turn this tide of hatred and intolerance which some seem determined to define us as a country. It's not too late to stand up and say we, the majority, want the tolerant, fair and just society our grandparents and great grandparents fought for and even died for; a society built upon optimism, defiance and compassion.
Don't look back in anger
I heard you say
At least not today