I have a whopping 7 Dads to cater for this Father's Day – and all year round – so I have got to grips with gift ideas and I hope to help (me and) you to think of ideas that don't involve socks and ties! Phew!
Something for every Dad… #Sp
We want to shine a spotlight on gifts that encompass everything a present should be  – memorable, thoughtful and beautiful.
So let us introduce you to Laser Sew & So…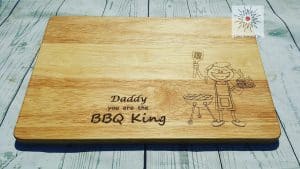 "Daddy you are the BBQ King" engraved chopping board. Can be personalised to meet your own requirements. For example you could add a line at the bottom to say love from. … £15 plus p&p.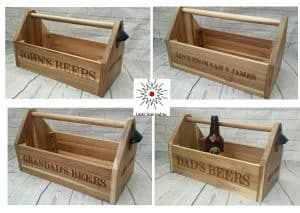 These are one of Laser Sew & So's most popular items. A personalised engraved beer crate with bottle opener on the end panel. £22 plus p&p (engraved on one side) £26 plus p&p (engraved on both sides).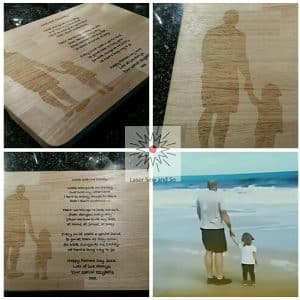 Bespoke photo silhouette chopping board with your own text engraved. Have you got a special photo which you love? Why not have a silhouette of it engraved onto a chopping board with your own special message/poem. £25 plus p&p.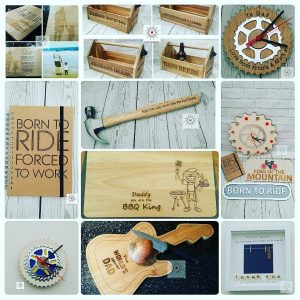 SPECIAL OFFER: Mama Mei readers get a 10% discount on Father's day orders. 
Collection available from Tingley, West Yorkshire to save on p&p costs.
Last date for orders is 6th June but slots are filling up fast – so get in touch ASAP. Call: 07739 320887 or go to their facebook page.
Something unique…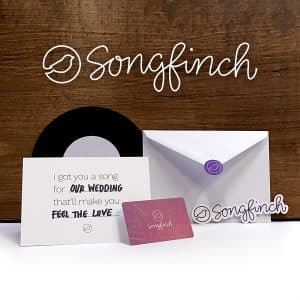 Make Your Own Kind of Music: Songfinch is a company that helps people create custom songs from their stories and feelings for them to give as a unique and meaningful gift. You tell them your story, they create the music and memories into a personalised song. So an actual song-writer tells your story in the most powerful and touching way.
SPECIAL OFFER: Readers can save $20 on a personalized song with the promo code MAMAMEI.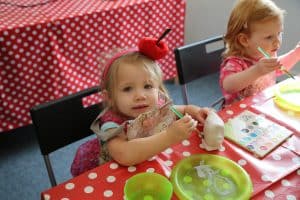 Paint a plate, character or bowl – give your Dad or that special man in your life something personalised and made by you. Check out your local pottery studio. We love Crafty Owls Pottery.
Something practical…
Why don't you create your own hamper?  Food For Barbecues, lunch boxes, alfresco dining and picnics by Opies… 
Cocktail Gherkins: no burger is complete without a generous topping of gherkins! Opies gherkins are hand-picked and delicately steeped in vinegar to preserve the crunchiness. Widely available from Tesco, Sainsbury's and Morrisons. RRP £0.89 227g. Cocktail Onions are sweet and crunchy and perfect for salads or snacking. Available from Tesco, Sainsbury's and Morrisons. RRP £0.89 227g. Organic Capers are perfect added to homemade potato salad, with freshly baked fish or just to accompany charcuterie boards. Available from Morrisons, Waitrose and Ocado £2.39.
 For Summer drinks: Cocktail Cherries, and Sliced Lemons are store-cupboard essentials and can transform drinks. Once opened they can be kept in the fridge, meaning that they're always to hand but have less mess and waste.  Cocktail Cherries 225g £1.49 Sliced Lemons 350g RRP £1.49
A Journal: The Morning Sidekick Journal by Habitnest helps to hack bad habits. It is a science based journal that gets the user laser focused in the morning in three minutes every day.
Self-help books:  From Pregnancy for Men to 
Babies and Toddlers for men and 
Planet Parent – there's a variety of books that could help that father figure in your life. 
An experience… 
A 'Gentleman's

Afternoon

Tea

': 
Adding a 'masculine' twist to the traditional afternoon tea, Bedford Lodge Hotel & Spa's 'Gentleman's Afternoon Tea' comprises:
·         Bedford Lodge Club Sandwich – Toasted Bloomer Bread, Poached Chicken, Grilled Bacon, Mayonnaise, Iceberg Lettuce, Plum Tomatoes
·         Savouries – Newmarket Sausage Roll-Sage, Honey & Grain Mustard; Freshly Baked Mini Pasty-Braised Beef, Tarragon & Wild Mushroom; Prawn & Rosti Potato Shell-Chilli Mayonnaise
·         Cakes & Fancies – Warm Fruit Scone, Clotted Cream & Strawberry Jam; Mini Treacle Tart, Lemon Loaf Slice, Chocolate Tiffin
The perfect treat for Father's Day, the Gentleman's Afternoon Tea can be taken in Squires Restaurant, Bedford Lodge's 2 AA Rosette hotel restaurant; the Roxana Bar; or on the sun terrace overlooking the stunning lawns and rose gardens at the hotel – the choice is yours. If you're looking for a gift you can wrap up, Afternoon Tea gift vouchers are available to purchase online via the Bedford Lodge Hotel & Spa website: https://bedfordlodgehotel.enjovia.net/afternoon–tea.
A private dining experience: Book a private chef to come to your home and treat you do fine food and you can supply the wine. My husband Chris runs Pop Up North a fine dining catering company.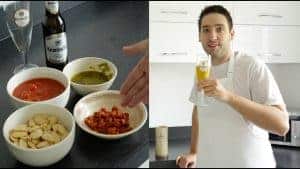 A pamper: For some reason a lot of people don't associate spa and pampering with men, but give it a go. My Dad an Step-Dad LOVED my gift last year which gave them an hour's pampering (treatment of their choice) at Aloha Salon.
Still stuck for ideas?
Check out some ideas from Red Letter Days

DISCLAIMER: This is partially a sponsored post and there are affiliate links included.