"I was severely bullied myself growing up to the point I actually told my mum I didn't want to live anymore. I was made to feel useless and ugly and it made my self esteem low.
"I didn't realise how easy it would be to get help and suffered many years of it and even changed schools several times.
"It wasn't until I hit my final year of secondary school that I finally spoke up properly about it and it was sorted out VERY quickly, I then got the help and support that I would have got right at the beginning if I had spoken out.
"Too many people are scared to speak out in case it gets worse but the sooner they speak out the sooner they can get help."
Those are the words of Cheryl aka Chez who has set up the #Bullieswontwin campaign.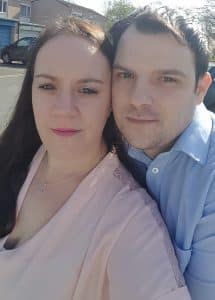 The Mum-of-5 lives in Shropshire with her kids Harry 13, Ellie-Jayne 12, Annabelle 7 , Freddie 2 and Elizabeth-Ann 8 months and partner Gareth "her rock."
She said: "I am a stay at home mum and suffer from severe headaches which means I am often in and out of hospital for lumbar punctures or seeing doctors."
Why did you start this campaign? 

Recently two of my children have suffered quite badly due to bullying, my oldest son Harry had an awful time to the point he was hiding behind lockers at school and we had to get the police involved, we didn't have a clue either until one day he came home and just broke down on the sofa. The bullying has seen a big change in him, he is incredibly nervous and his grades at school have dropped dramatically since. We are currently working on building him back up.
Annabelle my middle child has suffered bullying from boys who are 2 years older than her whilst at school, she was even punched in the face by a different boy. She has changed so much that we barely recognise her from the girl she was. She used to be hearts and butterflies now she barely smiles.
I wanted to start a campaign that encourages people to speak out, that encourages people not to suffer alone and, helps them to realise that other people have been through or are going through the same thing and help is out there.
What do you hope it'll achieve? 
I'm hoping that it will not only encourage people to speak out and get help but it will also stop people being bullied from feeling like its their fault, or that they have nothing to go on for. I really want people to see what a big issue bullying is and that there is help out there and that you can get past it, even on your darkest days. I am proof of that, I wanted to end my life but I am so glad that instead I got help and I am still here to tell the tale and watch my children to grow up.

How can people get involved? 
"Go to my Facebook page www.facebook.com/mummyof5miracles and share the posts that are put in there onto your own timelines and ask people to spread the word.
"Go to my instagram page www.instagram.com/mummyof5miracles where you will see my posts about it, you are welcome to share my pictures of Annabelle and use the #Bullieswontwin also feel free to tag people in my pictures, the more people that are aware this is happening the better.
"Go to my twitter page www.twitter.com/mummyof5miracle where you will see updates or you can share the picture with the hashtag #Bullieswontwin – feel free to tag me aswell
"Go to my blog page www.mummyof5miracles.com where there will be regular stories from other people who have suffered at the hands of bullying and leave a comment showing that you are supporting us or share the stories
"But more importantly than all of those things please please please speak to your children … ask them how their day has been, ask them if they have had any problems or if there is anything that you can help with, Encourage people to stand up and speak out and spread the hashtag as much as possible."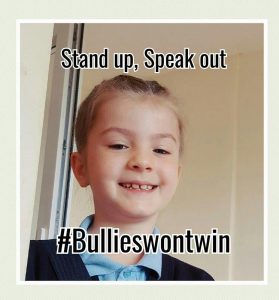 Mama Mei (me) has featured in the #Bullieswontwin series:
"I was pretty much bullied throughout my school life from junior school to senior school. It was either on the school bus or in the playground.
"It was to do with my weight, the fact I'm mixed race and also because my Dad is Gay."