From flying in the air in a spinning digger to walking past tigers, giraffes and polar bears – believe it or not but we've not ventured outside of Yorkshire this week and yet what a colourful treat it has been.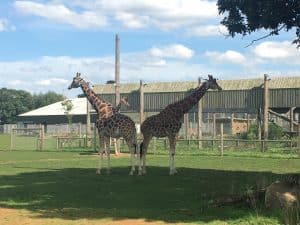 The only cloud has been that of my daughters' volatile moods. One minute they're jumping out of bed excited for the day ahead and then the next minute at least one of them is throwing a tantrum on the floor. And then I am.
I try to do gentle parenting… but I'm failing miserably during these long summer holidays.
But we did manage to escape the mayhem with a day out to Yorkshire Wildlife Park in Doncaster.
Now I've visited the wildlife park on a few occasions as I love the setting and landscape.
I couldn't wait to revisit the giraffes, zebras and tigers.
It was even more of a treat with the new In to Africa section. We really did feel like we could be on Safari with the open plan layout and being able to get so close to the giraffes.
On previous occasions I've ignored the signs with all the information about the animals but this time in a bid to educate my daughter we read most of them and learnt lots!
The park is really well set out with plenty of picnic benches along the way as well as ice cream kiosks and a variety of places to eat (we enjoyed the bakery house which felt like we were in a luxurious tent.
We of course ended our day at the indoor play area and Slide Barn. I hadn't realised how vast the play areas are and it was hard persuading my daughters to leave. But with a promise of an ice cream sundae and a browse in the shop – bribery eventually paid off.
A little later in the week, we decided to give Diggerland a try. We'd heard a lot about the digger themed park which is in Castleford (or if you're outside of West Yorkshire… "Leeds.").
We pulled up to the factory-looking building, unsure what to expect.
But as soon as we entered we were greeted by two Diggerland mascots Dotty and Duggy.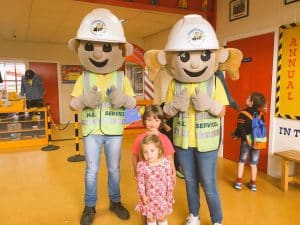 As well as a selfie booth digger and music to get you in the mood.
Once we had sorted out our tickets we were able to go in to the huge yard of spinning diggers, small diggers, JCBs, a digger express train, bumper cars and plenty of digger challenges.
My girls have never really shown an interest in diggers per se but this is not just for digger fans as there are rides and activities to suit all children and interests. Plus I noticed for adults they do digger racing days!
The layout is simple as it all goes in a big loop – which is perfect for someone like me who gets lost in toilet cubicles.
We spent most our time on the small diggers doing lots of challenges such as hook-a-duck, knocking down skittles and digging up bricks.
It was useful going as a family of four (two adults and two children) so we could split up when needed as my youngest, aged 2, was too small for a few rides. Saying that though there were still plenty of rides for her to go on accompanied as well as a toy car section.
There are also plenty of areas to have picnics, a basic cafe and a great indoor play centre.
My eldest, aged 5, particularly loved the super fun Spin Dizzy ride where you're catapulted in the air and spun around – and it does exactly what it says on the tin.
All the main rides are included in the ticket price and there's just a few smaller rides where you just pay £1 to use them.
The girls loved it but again it was hard getting them to leave!
Our vlog about the day is here:
Oh and I do like to be beside the seaside… we also managed a trip last week to Cleethorpes. We love going by train as the station is pretty much on the beach front and it makes for a lovely old school British day out.
DISCLAIMER: This is part of my family columns for Yorkshire Evening Post and is a collaboration with those mentioned. All views are my own.