From getting lost and loosing my daughter (accidentally, I promise!) in a corn maze to splashing in colourful water making mud pies… just another few days making memories this summer holidays.
At the weekend we visited the UK's largest pumpkin patch aka Farmer Copleys in Pontefract where they're growing 110,000 pumpkins!
But we weren't there for the pumpkins. We had decided to visit the farm to try out their famous corn maze and farmhouse grub at the Moo Cafe.
Whenever we go on trips with the kids, near or far, our first stop is the loos then we go for food. After all, we need some energy for the day ahead.
Although I admit I hate dining with my husband Chris who was on MasterChef as he's so hard to please especially as he now runs his own catering business.
I'm quite happy going places for a 2 for £10 deal but for him it's not about the cost, it's all about the cooking (or lack of it in a lot of places who now label their kitchen staff "food facilitators" i.e. They don't want to pay a chef's wage just for asking people to warm good through in a microwave.).
Fortunately for our fussy family, all the food at Farmer Copley's cafe is made fresh on a site and what's more 95% of ingredients are produce that's been grown on the farm. Result!
So Chris was happy with his home-made Shepherd's Pie whilst I went for a Portobello mushroom with onion chutney. The girls were sorted too with their kids lunches and ice cream floats.
So off we then trotted to the maze. We opted for the mini maze over the larger one as our girls are aged two and five so they have short attention spans not to mention a Dyspraxic mum with no sense of direction.
Here's how we got on…
My youngest Arianna and I who just couldn't find our way around the maze then escaped off on the wagon ride around the farm which was a lovely gentle journey perfect for little ones.
We also climbed haystacks, the perfect place for a selfie or Instagram story, oh and some fresh air of course.
Then we were reunited with Chris and my eldest Jasmine for a last jaunt on the large bouncing pillow and a ride on the go karts before browsing the well-stocked shop.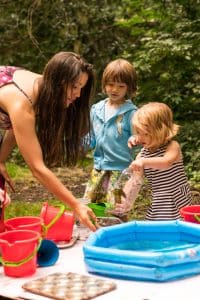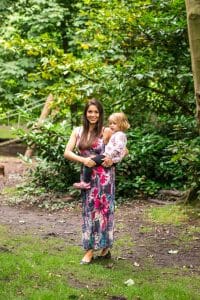 Photos: Freya Raby
Then on Monday, I took the girls to a water play session at Nostell Priory. That's the national trust site in West Yorkshire.
It has a fab nature trail, adventure playground, gardens, geocaching and an 18th Century mansion to explore. Plus they run tons of family activities throughout the holidays as well as hosting a park run at weekends.
For my vlog, go to: https://youtu.be/7OWrHOMRKX4
For more family blogs, follow me here at mamamei.co.uk
Chat to me @MamaMeiBlog on fb/insta/twitter
DISCLAIMER: This is a collaborative post and it will also be feature in Yorkshire Evening Post as part of my summer series.