How many loads of washing do you do in a week?
I did 8 loads today! All from our 7-day holiday in New York. There were just my two daughters and I and yet we accumulated 8 whole loads of multi-coloured washing.
At home I usually do a load a day because I enjoy the fulfilment of reaching the bottom of the basket, sad I know. But when you give up a highly driven life as a career woman in the media to become a working/stay-at-home mum then it's the small achievements that float your boat.
I like to be armed with a good kit at home too to get my chores done quickly and efficiently.
And I'm fussy with laundry detergent because I have to wear the after product. Plus our normal basket contains my husband's chef whites, lots of my gym gear as well as the girls' mucky dresses.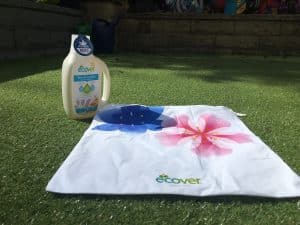 I thought this week was a good opportunity to road test Ecover as I like the fact that it's plant-based. I'm also trying to go plant-based in my diet so it seemed fitting.
I was however sceptical because of the tiny amount the label suggested you use in the wash, whereas normally I dump tons of detergent in.
But I was pleasantly surprised by how nice my washing smelt although sadly it got a second wash from some torrential rain.
But nonetheless Ecover did the job I needed – it has cleaned a good load of my clothes as well as some of my daughters' Hershey-chocolate-covered dresses.
So I'd definitely use it again as I love the fact it's "inspired by nature."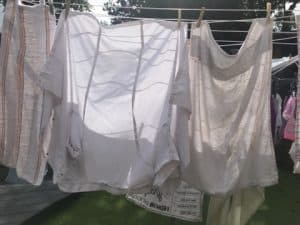 About 

Ecover

:
Ecover's new Non-Bio Concentrated Laundry Detergent delivers a powerful clean and features a new delightful naturally-inspired fragrance, Lavender & Sandalwood. From your baby's first wash to the average bedding load, this dermatologically tested, plant-based Non-Bio formula delivers spotlessly clean results, even on a cold wash.
Pioneering a greener clean since 1979, Ecover's new Non-Bio formula is now even tougher on stains, but just as kind on sensitive skin and is now Mumsnet rated* with 89% of Mumsnet raters saying they would recommend to a friend – making it the perfect partner for all the family, as well as the planet.
DISCLAIMER: This post is an entry for BritMums #EcoverLaundry Challenge, sponsored by Ecover.
Follow us on twitter @MamaMeiBlog @EcoverUK @Britmums…
8 loads of holiday washing & I'm still not done, kids! #Holidayblues thankfully @EcoverUK @BritMums sent me this to help! #ecoverlaundry #sp pic.twitter.com/6tAcf3YtTG

— Mama Mei (@MamaMeiBlog) September 9, 2017
The pleasure you feel when you reach the bottom of the laundry basket ? – I've been trying #ecoverlaundry @BritMums https://t.co/0mFB1uXc3S pic.twitter.com/r2zZT9Qw9R

— Mama Mei (@MamaMeiBlog) September 12, 2017