When it comes to meat, I haven't got a clue what I'm doing! But luckily I have my MasterChef husband in the kitchen – he tends to cook for him and our daughters whilst I shove some vegetarian concoction in the oven.
So I tasked him with the challenge of spending £10 to create a healthy dish for him, my daughters and the in-laws (as we're part of the boomerang generation and are currently living with them!).
Here's what he rustled up… Pork with an apple crumb with roasted chantenay carrots and a potato salad.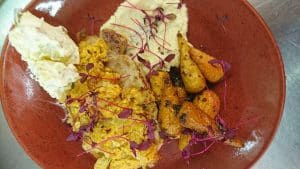 Ingredients:
Pork chops
Grated apple
Grated cheese
Breadcrumbs
Apple sauce
Chantenay carrots
Mustard
Olive oil
New potatoes
Creme fraiche
Chives
Lemon juice
Method
Roast the carrots in the oven tossed in mustard and olive oil.
Boil the new potatoes and leave to cool.
Fry pork chops on both sides for two minutes.
Put the crumb on top of the chops and bake for 5 minutes in the oven.
Mix the potatoes with the creme fraiche, chives and squeeze in some lemon juice.
Serve together on a plate with apple sauce to taste.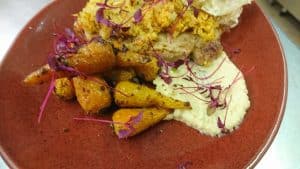 Verdict
The kids loved the pork and potato salad although they were undecided on the "fancy carrots." The crumb worked really well instead of a batter and the dish looked colourful and fun.
Red

 

meat

 provides a range of important nutrients that are often low in toddlers and children – including iron, zinc, and B vitamins, selenium and potassium.
DISCLAIMER: This post is an entry for the BritMums #HealthyRedMeat challenge, sponsored by the 
Meat
 Advisory Panel.