Don't rock the boat!  Get ready to sail the rocky seas with these penguins, just be careful you don't capsize!
My 5-year-old was really chuffed when she opened this game as it's simple to set up and easy to play (here she is checking out the instructions!) .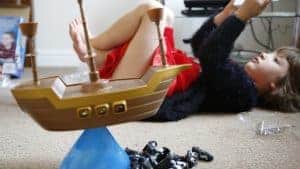 The skills of Pick-Up sticks meets Buckaroo fun
Basically, once the game is set up (the boat balances on a pendulum), you take it in turns to try balance a penguin on the boat without tipping it over.
We loved playing this – it reminded me of pick up sticks as you have to really concentrate when putting on a penguin. And you have to be careful like with Buckaroo (remember that old game?!) so the ship doesn't tip over.
Whilst the game is recommended for 5 year olds – we all had lots of laughs playing this (ages from 2 – 29!). It will definitely be on top of the toy box for easy access this half-term.

Win Don't Rock the Boat!
Here's what University Games (makers of Don't Rock the Boat) say…
Ahoy, mateys! Arrrrr ye ready to set sail on a rockin' adventure with a crew of 16 pirate penguins? Take turns balancing the pirate penguins on the ship without making it tip! Be ever so careful, if you rock the boat and send the penguins overboard, ye might have to walk the plank! A fun balancing game for all buccaneers!
Age: 5+ yrs
Number of players: 2-4
To win go to our facebook page… https://www.facebook.com/MamaMeiBlog/photos/a.1688895571324496.1073741827.1688401981373855/1999373350276715/?type=3&theater
Win other awesome University Games…
Postman Pat Word Rhyming game: This is a great practice game for little ones to learn to rhyme. I'd recommend it as a fun (but educational) stocking filler this Christmas!
To win this game, go to our twitter page…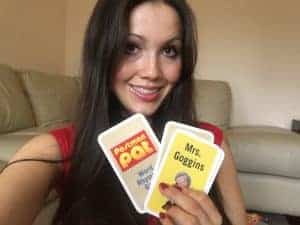 #Win Postman Pat Word Rhyming Game from @ugamesUK – Please Follow & RT ? – closes 29/10/17 at midnight. UK only. #giveaway @BloggerUpNorth ? pic.twitter.com/rv02WWpNVL

— Mama Mei (@MamaMeiBlog) October 21, 2017
We also tried out Paddington Colour On!: A roll-out scroll of paper to colour-in that went the length of the carpet so it meant the whole family could join in! To win, subscribe to our YouTube channel and comment on the video below:
(We unbox these items in the vlog below from 3m 3s!)