We do not wash our car enough! I use Sunday as my deep clean day where I focus on the house but the car… well it gets left to rot (out of sight out of mind and all that!)
Until you ferry around passengers, then you suddenly see what state your kids have left the car and you try to undo the damage!
But as family time is precious, I don't want to be doing too many extra chores, so I loved the idea from Armor All (a car care brand) that it's important to be outdoors with your family so why not wash the car together?
They even did a survey to back up their idea and found:
Parents three times more likely to watch TV than play sport with their children

Almost half of parents haven't played outside with their children in two weeks, with one in five not having done so in over two months

More than a third of children have never washed a car
The survey of over 2,000 people found that o
ne in five said that they had fond memories of doing such an activity with their parents when they were younger, so they want to help bring this retro ritual back.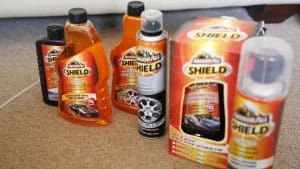 Win a Car Cleaning interior set
Just go to our Instagram: follow our page @mamameiblog and comment on the photo to enter. UK entries only. Over 18s only. Closes 12th November 2017 at midnight.
DISCLAIMER: This is a collaborative post with  

Armor

 

All (
www.

armor

all

.eu)