Honest Mum Vicki Psarias is multi-award winning blogger, vlogger and filmmaker. Her lifestyle and parenting site Honest Mum is one of the biggest blogs, worldwide.  
In our Real Life Reads series – we chat to the inspirational influencer… 
Where do you live & who with?
I live in the achingly beautiful Windsor with my husband, Peter and two children, Oliver, 7 and Alexander, 4.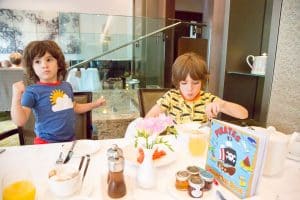 What do you love?
Quality time with my family and friends, eating seasonal, delicious food made with love, great wine and ideally al fresco with the sun shining. I feel lucky to have so many charismatic, kind and inspiring people in my life and of course I'm indebted to the support and love I receive from my readers online who keep me going (thanks guys). I share my passions in life on the blog and these span family-life, food, film, beauty, fashion and travel. I'm my happiest by the sea. 
What does your daily 
life
 look like?
It varies, at the moment. I'm on deadline for the 2nd draft of my book, Mumboss, so there's not a lot of sleep going on!
I'm late to bed, and up around 6am most mornings but I'm absolutely loving the process of writing it, and hope it inspires many to seize this glorious digital space we literally have at our fingertips.
A normal day would see me writing most days and usually

 1-2 

editorial

 blog posts (an opinion piece and recipe is usually standard) which I go live on and promote on social media, and I'm often filming or doing photo shoots for brands. 
I tend to have phone meetings for upcoming campaigns or treatments to write. I speak to my manager Neil a few times a day and we're always on email. I often do press so I'd respond to an interview or write a post, or I might appear on Good Morning Britain which is an early start.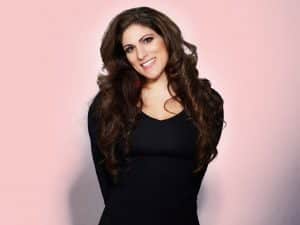 I share the school-run and pick-up with my husband, Peter and we all stop to have dinner together every night. I do homework with the boys, Peter usually puts them in the bath and once they're tucked in to bed, I'm back working usually around 8.30pm and sometimes up to 2am, but Peter and I usually fit in an episode from the latest boxset we're glued to in between, so we can carve out time for us, even if it's just an hour. Weekends tend to be chilled family-time, a chance to rest and recharge. Any shoots over that period are super-quick and we spend most of our time outdoors. 
What inspires you to keep going? 
I'm ambitious and proud of that fact. Ambition doesn't mean being ruthless. That's the antithesis of who I am. I'm an empath and carer by nature so love seeing others shine. I was a teacher and uni lecturer, pre-blogging so it's second-nature to me to help inform and inspire. Nothing feels more rewarding than hearing I've inspired someone to start a blog/business. It's what keeps me going. As do my kids. I'm doing all this, for them. 
What motto do you live by?
What is your greatest passion?
The arts in general whether that's painting (I used to exhibit), film-making, screenwriting, blogging or vlogging, as long as I'm channeling my creativity, I'm happy.
What are you most proud of?
My kids and my marriage. I'm also incredibly proud of starting a now, thriving business from my kitchen table.
What are you up to at the moment? 
Ooh lots, I'm working with people and brands I adore, my book is out in March and I'm relishing every minute of our new lives in Windsor which is the most child-friendly and wonderfully serene town imaginable. 
What are your dreams?
To keep doing what I love whilst hopefully making a positive impact on others. I want to spend as much time with my family as I can, and to always work flexibly and remotely. I hope to direct a feature film one day (maybe based on one of my award-winning short films) and the big dream is a move to LA at some point. I'd also like to have another baby potentially (just need to convince my husband!).
Are there any interesting/surprising facts about you? 
I came fourth in the North in the heats for Junior MasterChef aged 11. My Dad was gutted I didn't make it on TV (they only needed 3 child chefs), I on the other hand with my super-big brows and even bigger hair, was relieved. I was definitely not camera-ready then! Taking part and rehearsing for that competition was how I learnt to cook though so I'm glad my Dad encouraged me to enter!  
Thanks so much for chatting to me Vicki.
I first met Vicki at Stockeld Park in Harrogate (Yorkshire) on a summer press day a couple of years ago and, she was one of the people who inspired me to make the shift from journalist to becoming a "blogger and vlogger." So huge gratitude! 
You can find Vicki on Honestmum.com    and @honestmum everywhere…