On stage I can be whoever I want to be, that's why I have always loved acting. It is an escape from real-life where you get to express your deepest emotions but with the safety net of embodying another person.
But my days of youth theatre weren't just an escape for me but for the audiences as well (or at least they should have been).
No matter where you are in your life or head, theatre can have the power to transport you somewhere totally different.
I don't have as much time these days to do acting and drama classes but my family and I still love going to the theatre to immerse ourselves and review a variety of shows:
Three men. Three friends. One white painting… @ARTtheplay All three actors are outstanding & Stephen Tompkinson is in a league of his own due to his understated mannerisms and expressions. A wonderful show highly recommended. @GrandTheatreLS1 cc @BloggerUpNorth @SophieMeiLan pic.twitter.com/q9JEOYp0tS

— Mama Mei (@MamaMeiBlog) April 5, 2018
Over the hills and far away… Off to #Leeds for a reight good day! The girls and I loved #Teletubbies Live @WYPlayhouse – blast from my past and welcome break from my laptop #freelancer #mumlif @EvokeMG @SophieMeiLan @BloggerUpNorth @SophieMei pic.twitter.com/cXM5HXdNAZ

— Mama Mei (@MamaMeiBlog) March 27, 2018
Allowing myself to escape the drama in my head 
I really do believe theatre should be accessible and immersive. At youth theatre, I think the best lesson I learnt was that it is our responsibility as actors to engage the audience.
It was a real challenge as we had people in the audience sometimes listening to football results or playing on their phones. But that lesson took away the snobbery and arrogance of actors who believe the audience should be completely consumed in them.
When in fact it is our job as performers to stop the audience from thinking about their day-to-day life and to feel part of the theatrical experience.
Theatre is one of my favourite ways to escape whether I am on stage or off. I am lucky to live near some amazing theatres where I regularly review and watch plays such as the Leeds Grand Theatre, Theatre Royal Wakefield and West Yorkshire Playhouse.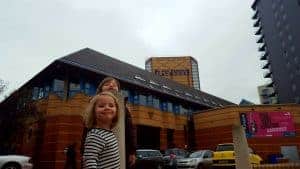 Seeing productions really does help with my mental health, a bit like mindfulness I guess. Even if it doesn't change my thoughts and illness but at least it gives my mind a break from it.
Article Photo: La Strada at West Yorkshire Playhouse