"Peppa Pig… oink," is on a brand new adventure and is live on tour!
The BAFTA award-winning Peppa Pig is returning to West Yorkshire Playhouse in Leeds this June in a live theatre show, Peppa Pig's Adventure.
Join Peppa as she gets ready to go on an exciting camping trip to the woods with George and her school friends, including Pedro Pony, Suzy Sheep and Gerald Giraffe. With lunch-boxes packed and Daddy Pig driving the bus, Peppa and friends are excited about their outdoor adventure, full of games, laughter and live music!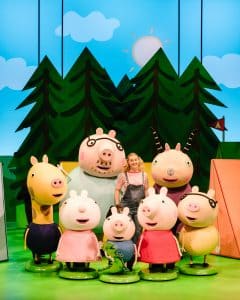 It's not just my family and I who are Peppa Pig fans, here's what other parent bloggers have to say:
Alex Pearce: "My youngest is obsessed with Peppa. He's just turned 2 and starting to show us just how much he's learning from watching Peppa Pig. He saw flames on our BBQ for the first time last week and shouted "fire, fire!" like the episode where the dads have a BBQ. I was so proud he knew what it was and to shout fire!" lambandbear.co.uk
Laura Chesmer: "Mr. Potato, he's just so random and cracks me up! I watch children's programmes so much that it's fantastic when there's something in there that entertains me too!"
www.autumnsmummyblog.com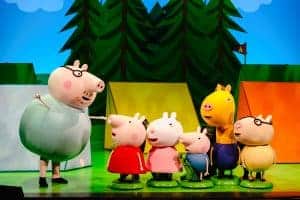 Polly Basak: "Jumping in muddy puddles! I'm sure my son wouldn't be as enthusiastic as he is when he jumps in puddles, if it weren't for Peppa and George!" www.ourseasidebaby.com
Lianne Marie Freeman: "Madame gazelle rocks. My little ones still love Peppa at age 3 and 4." www.anklebitersadventures.co.uk
Suzy McCullough: "We all love Peppa Pig in our household. My four year old boy will stop doing what he's doing to watch it. The stories are so spot on to real life and informative but in a fun and amusing way. I love how the adults are all Mr or Mrs and then the animal they are. https://ourbucketlistlives.co.uk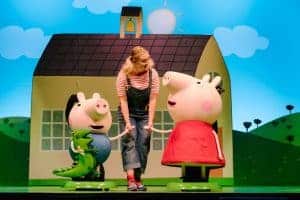 Nita Ho: "I love the fact that Peppa Pig is in so many different languages and relatable. I wrote a post about our visit to Peppa Pig world as well." https://mummywishes.com
Emma Reed: "The best thing is that it even captures the attention of your baby. The bright colours, the songs, the laughter, it caters from a young age which makes it perfect for those chilled out times." Https://emmareed.net
Jaymee Heaton: "Peppa Pig has been a firm favourite in our house for the past 8 years. All 3 of my boys seem to really love it! Especially Mr.Bull who is currently my 4 years old favourite character!" www.TheMumDiaries.co.uk
Becky Goddard-Hill: "I love that Peppa is all about family and how they always try and support each other – just lovely." https://www.family-budgeting.co.uk
Ayse Erdin: "I love that the episodes are not very long!"
Claire Rockss I love that they cover all sorts of everyday experiences such as school, Doctors, having Babies etc. Www.thismummyrocks.com
Becky Clark: "I love the fact that it buys me at least 20 minutes of uninterrupted bliss! Don't know what I'd do without that little pink pig!"
www.mommyandrory.com
Pete Chatfield: "I love the fact that daddy pig reminds me of every dad I remember when I was growing up. He's nothing like me of course." www.householdmoneysaving.com
Sarah Hill: "My kids are Peppa Pig mad! It has also recently included some adult humour which is great if you have to watch it all day."

Peppa Pig's Adventure, West Yorkshire Playhouse's Quarry Theatre
9 – 10 June
Age guide 3+
To win two tickets to see Peppa Pig live on Saturday June 9th at West Yorkshire Playhouse at 10am, enter via Rafflecopter:
Produced by leading children's theatre team Fiery Light in partnership with licensor Entertainment One (eOne), this new live stage show comes with live music from BAFTA award-winning composer Mani Svavarsson. Set to delight young children and adults alike, Peppa Pig's Adventure plays at West Yorkshire Playhouse from 9 – 10 June.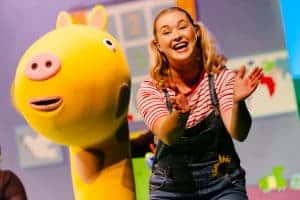 Box office 0113 213 7700. Book online wyp.org.uk