I never thought that as a dyslexic person I would end up writing for a living.
Whilst I love expressing myself creatively, the thought of journalism, for a "job" seemed out of reach for someone like me who struggles with word order and has illegible hand-writing.
But that's the beauty of acquiring digital skills and technology… anything is possible.
I use spell check and specialist software to help me read, write and spell as well as having my smart phone to take audio notes. Don't get me wrong, it's taken me a while to implement digital coping strategies but now I have, it's incredible. And I love watching videos and learning new skills for free via my smartphone from podcasts to YouTube videos.
But digital technology hasn't just transformed my life, it has the potential to help so many others too.
I believe the world would be a lot more democratic if we all had access to a computer device and WiFi as well as the digital skills to be able to use such devices.
Jobs like mine (I now describe myself as a blogger and vlogger) are created through the online world, cutting through the many barriers we may face.
For me my barriers have been dyslexia, dyspraxia, mental health, class and becoming a parent.
But having a knowledge of digital technology means that I can work from home, run a business and hot-desk whilst working flexibly around the children and my mental health.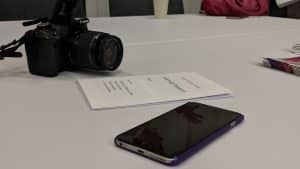 It doesn't matter that I don't live in London or in an affluent area, I can be me and shine thanks to the digital revolution.
My passion for up-skilling everyone in digital skills is so that we can all have a fair chance and find our own happy place in society regardless of age, sex, class, disability and any other demographic which can prevent us from excelling.
I now blog, photograph and vlog mostly from my smart-phone, as well as connecting with others like me online, I can't imagine what my career or life would be like without digital devices.
That said, I was lucky because I am young enough (ish) to have had some form of digital input for most of my lifetime as well as training as a digital journalist at university and working at BBC and Channel 4 News.
But for many people the digital world has grown at such a pace that it feels out of reach and daunting. And you're not alone as research by Post Office Broadband shows that 1 in 5 people feel left behind by the digital revolution.
So please try not to feel threatened or scared by the digital revolution – there is something in there for everybody.
It is not just about careers and jobs either, I know some older relatives who feel less lonely thanks to social media and being able to keep up-to-date with friends and family. I know that during difficult periods of mental illness, I can find support and advice from peers online. It is not the be all and end all, but boy has it dramatically improved my life and given me hope that even when I am ill and struggle to travel that I can still connect to people on my phone or laptop.
It's never too late or early to learn digital skills, which is why I have joined forces with Post Office Broadband and Google Digital Garage to help close the skills gap by offering free workshops in places that have the least digital confidence, such as in Leeds which is near me in West Yorkshire.
Free Digital Drop-In workshops 
I went along to the first workshop at Leeds Central Library. I must admit I didn't even know the library was there but my google maps directed me via my smartphone inside the stunning old building.
It was a great informal event with the Post Office and Google Digital Garage team helping people who dropped in, often bringing their devices they were struggling with. Myself and other bloggers (Lucy at Home, Five Little Doves and Jamie Sowden) took photos and also helped people who attended.
Coincidentally, I met two authors and budding bloggers (one of whom had seen my original post which spurred her on to attend which was lovely) and whilst they had a good basic understanding they struggled with confidence when it came to using social media and websites. There was theme of fear which I can understand as by posting online you have the ability to communicate worldwide. I think as it is second nature to me, I hadn't thought about the digital world being scary, just exciting.
So it was great to get an insight into other people's views of the online world. And without knowing it, they were using a lot of digital technology too in their daily lives.
It was great having quite a long time with people and helping them hands-on so that they properly understood what they were doing (I learn by doing and need time too). I was quite proud to be able to help one woman send her first tweet and show her how to start blogging and another person I helped to set up a YouTube channel.

Here are some tips of mine to help you get digital:
So if you want to attend a free digital drop-in, go to: postoffice.co.uk/digitaldropin
What are your thoughts about digital skills?  Please comment below or chat to me on social media @mamameiblog #digitaldropin 
DISCLAIMER: This post is sponsored by Post Office Broadband in collaboration with Google Digital Garage. All thoughts are my own.