You'll find me running around the streets of Yorkshire with my daughter in the buggy in a bid to maintain my health and fitness.
I try to be proactive with my health and my family's. Always trying to cram in exercise when I can (my husband is also a chef so he batch cooks healthy stuff for us to eat). But, despite our best efforts at a healthy life, things tend to get in the way (the weather, school, nursery and social commitments). However, when summer comes, being active kind of comes naturally…..
We love using the summer holidays as a great time to get outdoors and actually have quality time together playing sports. I arrange meetups over the summer months with other families where we get together in a local park to play football, rounders, tag, rollerblading or cricket.
Whilst this sounds like the pinnacle of good family health, I must admit that there are a few trip hazards involved:
• Fitness: My husband and I are both fairly fit but there is no stopping our competitive edge when we get outside playing sport! We'll do anything to win a game… this has left my husband injured on several occasions. Even a simple game of outdoor table tennis resulted in a split lip!
• Injuries: I teach dance and I wouldn't dream of not warming-up and cooling down as part of a session. But when we're playing garden games or going to the park to play sport… we just get stuck in. So it's no wonder we are constantly getting injured.
• Footwear: I wear running trainers when I run around day-to-day but for some reason in the summer when it's nice weather and we're going to the park, I love a pair of flipflops… which don't offer the greatest support or protection when playing sport! And don't get me started on my daughter's love of cheap plastic princess heels… come rain or shine (basically, whenever she is not at school).
• Weather: When we are out and about in the UK I often don't think to put on sun protection whereas when we go abroad, I wouldn't dream of going out without suncream. It's daft really as the sun protection should be worn wherever you are in the world.
I am keen to prevent these issues as much as possible this summer as I don't want our holidays to be ruined by sunburn or an injury. Selfishly too, as I have the kids to take care of, a house to run and a blog and vlog to maintain – I can't afford to get injured (and I don't have the patience).
I'm not alone either, apparently 80% of people surveyed in Leeds (near where I live) have sustained a seasonal injury as a result of spending more time outdoors during the summer months, according to research conducted by Bupa Health Clinics.
And even more people will be inspired to go outdoors this summer with the World Cup in progress and Wimbledon starting this week.
I know my family are part of this increasing trend, with my girls already donning their football gear and I've even bought a goal post to get us playing football in our garden.
So to make sure my health is as good as possible, I've been to try out a two-hour Enhance health assessment, which is a health check at the Bupa Health Clinic in Leeds.
I have been wanting to have a full health MOT for a while now as I have a few health niggles such as Sciatica which is a pain that shoots down my left leg and is aggravated by sport. I can honestly say it was a really productive and insightful couple of hours.
The Bupa Health Clinic in Leeds is located in the city centre which makes it handy for people who work in the city.
When I arrived at the clinic I was signed in and asked if I wanted a decaf tea or coffee.
I was then asked to complete a registration form (you can complete this online prior to the appointment).
It was really in-depth and highlighted any health issues I wanted checking, so I listed everything, thinking this would just be for their records.
I was then greeted by a very friendly health adviser, Emily who ushered me into a private room to begin the health check. She explained how I'd get around an hour with her and then an hour with the doctor to discuss any results that might need further investigation.
I did a urine sample, Emily took my blood pressure and also did a blood test. She also measured me, weighed me and checked my body fat and flexibility (or you can opt for a hearing test). As she took me through my results, it was really useful to understand areas I was doing well in and a few places I could improve. It allayed a lot of my worries about my health and fitness. She was so chatty and helpful, it really put me at ease.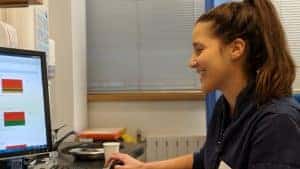 Following my hour with Emily, I then saw the doctor, Dr Lewis for the final hour of the Enhance health assessment. He was also really friendly and caring. I was surprised at how thorough he was about all the health niggles I'd written in my form. It was great to go through them one by one and also chat through my previous test results.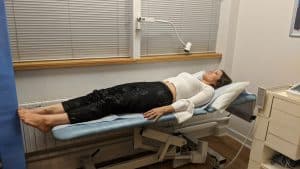 I was then offered a breast check and a cervical smear test. I opted for both of these as I still breastfeed so I get worried as I can get trapped milk ducts which sometimes feel like lumps. I also know with smear tests how important they are in detecting abnormal cells and preventing them becoming cancerous.
Dr Lewis invited a female chaperone into the room whilst I had the tests done. I was really relieved that nothing seemed worrying and that my smear tests would be sent off for further analysis.
Dr Lewis then finished off with any other health issues I had and decided to get my thyroid checked from my blood test as I often feel fatigued and am borderline anaemic (which is common in women due to us having periods).
He then explained how I would get my health report emailed (it arrived the same day) and that they'd inform me of all my test results as well as giving me a call a month later to see how I was getting on.
I left feeling really empowered by the experience, knowing that I'd had a thorough check (obviously they can't test for absolutely everything) and I actually felt quite proud of my fitness levels but also keen to improve in areas such as varying my exercise regime.
So, whilst you'll still find me running through the streets of Yorkshire with my buggy – you may notice I am running faster in short bursts (interval / fartlek training) with my core tensed, rather than casually jogging.
[This is a sponsored ad by Bupa Health Clinics. As always, all opinions are my own.]