"Do you know what I'm doing tomorrow? I'm driving a car!" My eldest daughter Jasmine, 6, had been counting down to her day at Young Driver (and showing off regularly about it).
There was so much excitement built up for Jasmine's day at Young Driver because she would get to drive a life-like car and 10-17 year olds can drive a real car.
When the day came, she was even more excited albeit a little apprehensive about what was involved. But when she arrived her fears were allayed with a safety briefing and 10 minute tutorial with instructor Brian.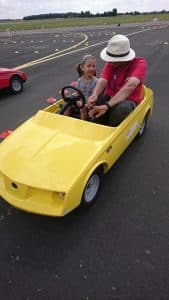 Brian really put her at ease and sat next to her whilst driving around the track, encouraging Jasmine and teaching her little pointers as they went. Looking back to see if anything was behind her as she reversed there was a look of concentration and glee as she caught my eye watching on. The track is set out with a couple of roundabouts, encouraging them to stop, look both ways before driving, instilling the awareness of what's going on around you. Then comes the chicane to challenge their steering skills.
Once she has been round the course a couple of times, Brian jumped out, and I jumped in to the passenger seat. She then had 15 minutes to test drive her car (she picked a yellow number) around the track.
We had free reign, so did lap after lap…round the roundabouts, in and out of the chicane, trying to go faster down the straights as Jasmine built up confidence.
It really was a great introduction to driving and creating that awareness of what happens on the road (even if I have another back seat driver in the car now), but ultimately it was fun.
Jasmine had a wonderful time and is counting down to her 10th birthday so she can go in a full sized car!
WIN A YOUNG DRIVER EXPERIENCE!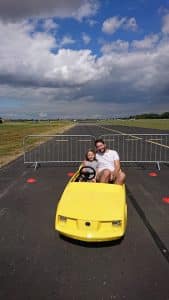 TO WIN a Firefly voucher go to our facebook page and like, comment, tag a friend and share: https://www.facebook.com/MamaMeiBlog/videos/vb.1688401981373855/860626864140580/?type=2&theater&notif_t=scheduled_post_published&notif_id=1534605855554766
Young Driver offers lessons for 5-17 year-olds with venues nationwide and in Belfast. For more information on bookings, gift vouchers and birthday party packages, click here.