When my daughter was on a ventilator on the Intensive Care Unit at Leeds General Infirmary, I found myself expressing breastmilk every hour via the hospital-grade breastfeeding machine in the family room. It was my second child and whilst it took a while to get used to breastfeeding a small baby again, we had managed it. That was until she fell lifeless in my arms and stopped breathing.
I couldn't hold her, let alone breastfeed her, as she was now lying in a hospital cot with tubes all around her. The one thing I felt I could do for her had been snatched away from me.
So I spent hours in that family room, trying to express milk, whilst sobbing my eye s out and trying to make sense of what was going on. Determined to freeze my milk so that when (if) she recovered, there would be plenty stocked up or at least I could donate my milk to other poorly babies.
This blog post is to share breastfeeding stories and photos because there is no one story or image that can capture a breastfeeding journey as it is wonderful, difficult and unique to each family.
On the theme of breastfeeding poorly babies,
Emma Reed
shares her story:
"My second son was born eight weeks prem so this breastfeeding journey started very differently than with my first child. I was expressing every few hours, storing my milk then delivering it to the hospital where he was fed it via an NG tube. I begged them to let me try and get him to latch as I believed he could do it and sure enough he did!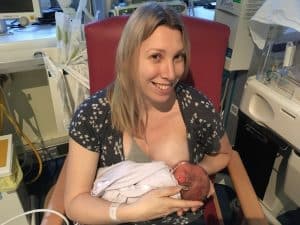 Jennifer Dixon
 said: "
This is my daughter feeding at about 15 months. She self weaned just before she was two, I really wish I had more photos of feeding her as I have only two in total!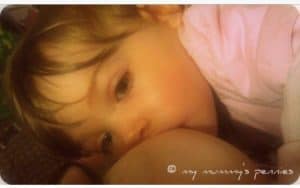 Sal Wright
 said that she's nearing the end of her feeding journey with her
 second little boy who is two (27 months!).
"I've been blessed enough to have been able to feed both of my children without any major problems and Ive really loved it.
"I think women need so much more support as it can be so difficult at times but it's such an amazing experience.
"I think we need to see more women feeding their children without embarrassment; it's completely natural and normal!" www.hellolittlelovely.com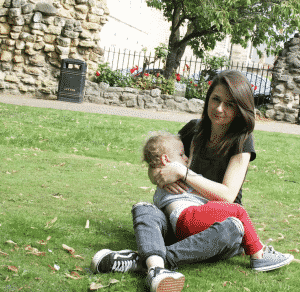 Here Gemma Vaughan is  breastfeeding her 16 month-old daughter Harleigh…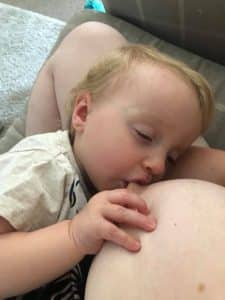 Below is Natasha Keane's favourite photo of her breastfeeding because her husband took it.
She said: "He (my husband) came from a non-breastfeeding background. He believed the myth/lie that formula was the same thing. So when our first daughter was conceived there were some heated discussions but he said he would go along with it and see how it went.
"From the minute he saw her latch on after birth he said to me 'OK, I get it now.'
"He struggled with me feeding in public at first (I feed wherever and whenever needed uncovered) but then he quickly became my biggest advocate. Support system. Voice even.
"Even when I would receive glares for tandem feeding my newborn and her two and a half year old sister, he would position himself in a way to glare straight back at these unthoughtful people.
"He's made life so much easier for our breastfeeding journey. My girls are now 5 and 2, my little one is still feeding full-time. The 5-year-old has had an odd nibble but I think she's done. And through all this time my husband doesn't stop talking about and bragging about the benefits of breastfeeding and what's it has done for our girls. They've never seen a doctor in their lives. No medication ever.
"Hurray for super booby milk and wonderful husbands who without their support a journey, which can be very tough at times, is made so much easier with their strength and love."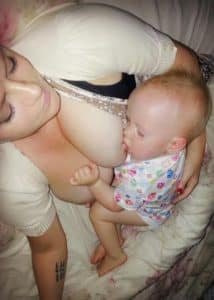 Jodie Dooler said: "I  d
id not manage for long, only a month, but still an achievement."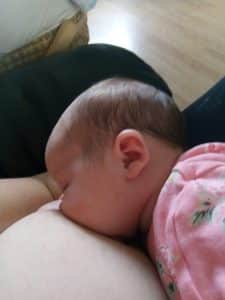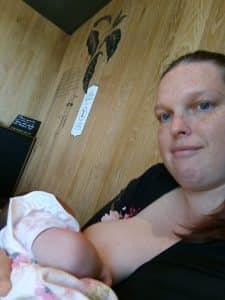 Here Rachel Westwood is b
reastfeeding her little boy. She said: "My little girl wanted to make him a beautiful princess."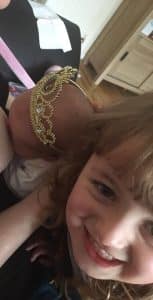 Mia Michelle Kesler is seen here t
aking a break at the Portsmouth Dockyard.
"I've been breastfeeding Luna for 13 months and no plans to stop anytime soon."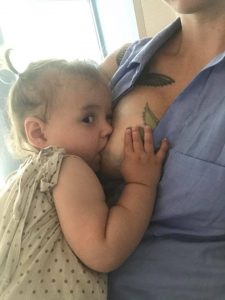 Here's Lisa Cornwell
 feeding her almost 23 month old.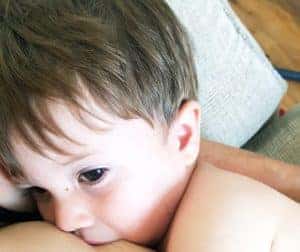 In a stunning tree of life photo, Osheni DeSilva-Patel and her
 son when he was nearly two-years-old.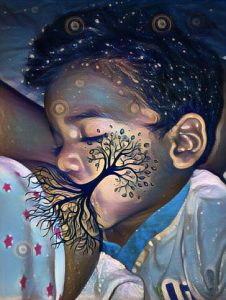 Stevie Lindores is now b
ack at work after Maternity leave. She said: "My one year old is struggling with the lack of boob  throughout the day, so she feeds right up until i leave and the ravages me when i get home."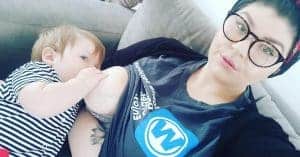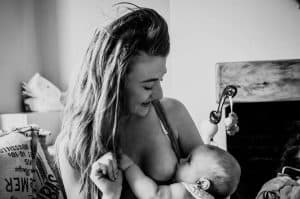 Abbie Melia fed her daughter until she was 11-months-old. She said: "
This is my little one Aria at 5 months – I love this photo.  
"It was such a lovely experience in the end (very hard at first), but I'm so glad I stuck with it."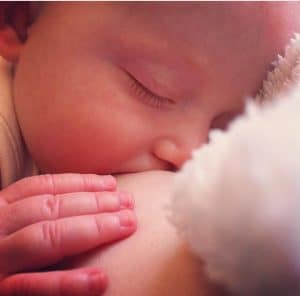 Ross Hunt
shares a photo of his wife "multi-tasking."
He said: "Here's my wife feeding our 15-month-old daughter. She's gotten pretty used to having to multitask whilst feeding. It's certainly come a long way since the early day struggles!"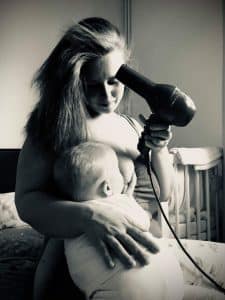 Sarah Taylor added: "
I breastfed both my babies and I miss it so much, they are 11 and 6 now!
"Getting the chance to feed again is the only reason I would want another baby!
"All these photos are beautiful." 
Have you got a breastfeeding story you'd like to share? Please comment below or find me on social media @mamameiblog