When I was a teen I gave up on wearing nice shoes because I have size 7 extra wide feet (my husband lovingly calls them "Shrek feet").
Growing up, I would have to cram my big feet into what I called "granny shoes." There were no dainty or stylish shoes that would fit my feet and even then I would struggle with bunions. I'd get my size but they'd be too narrow at the toe or I'd get a size bigger and my feet would be slipping out of them as I walked.
So it was flat ballet pumps with no support or trainers for me. Occasionally on a night out I would cram my feet into my big gold samba shoes but my bunions would hate me for it. I just desperately wanted to wear nice shoes like my friends, who were the same age, would wear.
It got so bad that I considered having foot surgery so that my feet wouldn't be so wide.
I hated my feet and I hated shoes. Even as a shopaholic who loved shopping until dropping… I wouldn't bother stepping foot into a shoe shop because I felt embarrassed.
Fast forward to today…
I still have wide flat feet with bunions but I have finally found footwear which is stylish yet comfortable and a perfect fit for my big wide feet… Welcome to Hotter Shoes.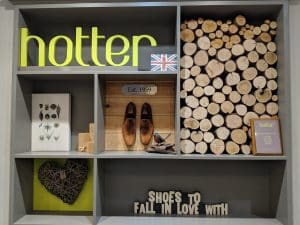 Shoe Shopping in-store
My mum, my Blog Up North influencer friend Yasmin Johal and I were invited into their Leeds store to try out a range of Hotter Shoes.
But little did they know that we had a challenge for them… Could they find shoes to fit my wide size 7 feet, Yasmin's standard size 9 feet and my mum Panni's slim size 5 feet?
We all had different tastes and desires too! I was hoping for a high-legged flat winter boot, Yasmin likes boots but only ankle boots so they're not too bulky and my mum wanted something for winter but which was super comfy and stylish and without a big heel.
But Shop staff Rik and Michelle, who had warmly welcomed us into the store, weren't phased by all of our many requirements.
They gave us a quick tour of the shop and explained how a lot of shoes are manufactured here in the UK. They also have a wide range of sizes as well as standard fit or wide fit or dual fit shoes (dual fit shoes contain a removable insole).
I can see why they get such a broad range of customers with all the different fits and styles.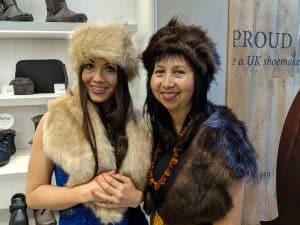 Shoe Fitting
I'll admit I have had bras fitted more times in my adulthood than I have my feet. But Hotter Shoes who are passionate about comfort can measure your feet in-store or there's online help or shoe fitting over the phone.
I tried on a range of shoes from flat ballet pumps to vintage-style heels and winter boots.
I also ended up trying on some faux fur hats and scarves with my mum as well as trying out their handbags.
After much temptation (to buy about 8 pairs!) I chose the tanned boots in wide-fit and matching hand-bag for a truly Autumn/Winter look! I think I'll be back for some other shoes too soon.
My mum found some stylish ankle boots with a mini heel and a faux fur trim which you can add on. Yasmin opted for some flat black ankle boots.
Somehow they had managed to cater for all of our diverse needs.
My aunty (my mum's older sister) was also supposed to join us but sadly she was in a car accident. But Hotter Shoes have kindly offered for her to try out their online shop and personal assistant from home.
When I told her this she cried with joy.
Online Shoe Shopping and Personal Shopper Service
Hotter Shoes have personal shoppers that can help you find the right fit (for tips to find the right fitting shoe, go to: https://www.hotter.com/blog/hotter-shoes-measure-up/).
For the Personal Shopper Service – customers can call Hotter Shoes on 0800 083 8490 and speak to one of their Personal Shoppers who are experts in their shoes, they can talk to you about finding your perfect fit; which styles they would recommend for your feet as everyone's are different; recommendations based on your past shoe buying history and they can also advise on how to care for your shoes.
Hotter Shoes New App
There is also an app due to launch later this year which is brand new for Hotter. Customers will be able to see the latest style news, shop the new collection and take advantage of exclusive offers.
The Verdict
I discovered Hotter Shoes a few years back as there are very few retailers that have such comfy yet lovely shoes for such wide feet. But I hadn't realised how big a range of shoes they have whether it's something comfy, plain and practical or something to go on a night out in… but even their heels are comfy.
I love the range of options when it comes to buying and trying Hotter Shoes, meaning those who can and prefer to shop in-store are able to do so and those who for whatever reason can shop online or over the phone which make it a lot more accessible.
Now I know they can cater for all of my needs whether I am running around after the kids on a day-out or I am having business meetings or off on a night out – I can happily do all of these things in comfort with style.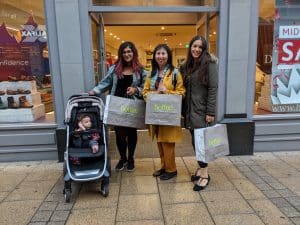 You can shop online at www.hotter.com.
DISCLAIMER: I am proud to be a brand ambassador for Hotter Shoes and I received the products photographed for the purposes of this review. This is a sponsored post but all views are my own.