My youngest daughter has already had two too many journeys in a real life ambulance, one of those trips was just a couple of weeks ago when she started coughing up blood.
I called 111 (rather than 999) as I was trying to stay calm and not over-react. But following the call-handler's questions, it was decided that an emergency ambulance was called to be on the safe side. As soon as I heard the words "ambulance," I burst out crying. The shock that a normal Saturday night getting ready for bed had turned into a drama, overwhelmed me and it reminded me of when we nearly lost Arianna as a baby (an ambulance was called then too).
My daughters were also scared when I told them that we had to go to hospital and an ambulance was on its way.
We all stood at the door shaking and crying until the paramedics arrived. My eldest was so upset by it all that at first the paramedics thought she was the poorly one! But the Yorkshire Ambulance Service Paramedics immediately allayed all our fears by their calmness, gentleness and humour.
Within five minutes, we were all giggling in the back of the ambulance and we had calmed down. Luckily on that occasion it had looked worse than it was and Arianna had just had a bad nose bleed which had bled out of her mouth.
Nonetheless, I realised that we all feared ambulances and that in itself had caused us to be scared. And in the same week I was asked to review The Peppa Pig Mobile Medical Centre which also acts as a push along ambulance. It was perfect timing because I knew we all had to get over our fear of ambulances and hospitals – it wasn't necessarily all doom and gloom and actually they're a place of help and safety.  
Our own Ambulance
Not only is the push along ambulance a fun toy but it also opens out into a medical centre / hospital.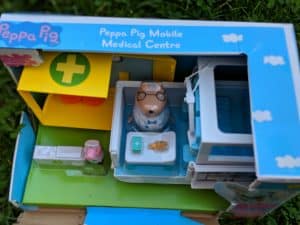 My youngest Arianna who is three-years-old, loves Peppa Pig so she was super excited in receiving anything Peppa Pig related! But the real surprise was my fussy six-year-old Jasmine who was equally excited once she had unboxed the ambulance because it is so diverse and great for role-play. We've played Doctors and Nurses, Paramedics and Poorly Patients.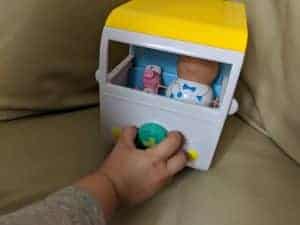 For us as a family, it's a great toy to educate the kids as well as making medical care interesting and interactive.
This is part of Peppa's New "when I grow Up collection from Character Options,
The toy is aimed at children aged 3-5 years old but suits children aged three and upwards. It also works with a number of other Peppa Pig toys.
How to use The Peppa Pig Mobile Medical Centre
This push along ambulance opens up to reveal a full medical centre inside.
Lift the roof off to see a waiting room with seats and a reception desk. Open the sides and there's an operating theatre, with x-ray machine and a gurney bed! Includes Peppa Pig, Teddy, and exclusive Dr. Brown Bear figure.
What's in the box?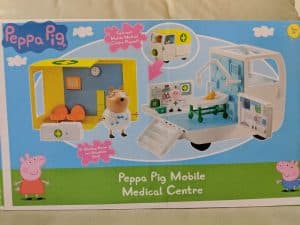 – A push- along ambulance!
– Seats Dr. Brown Bear and Peppa in the front
– Operating theatre and waiting room inside
– Includes figures and accessories for hours of fun!
– Scaled for play with other Peppa Pig figures, vehicles & playsets
–  Includes: 1 x Ambulance, 1 x Reception Desk, 1 x First Aid Desk, 1 x Gurney Bed, 1 x Teddy, 1 x Dr. Brown Bear Figure, 1 x Nurse Peppa Figure

AND hurrah… Batteries are not required!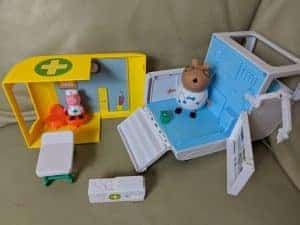 Please note, styles and colours may vary.  RRP is £29.99. 


To purchase your own The Peppa Pig Mobile Medical Centre, go to:  www.character-online.co.uk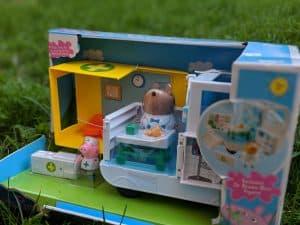 DISCLAIMER: This is a sponsored post and we received the product for the purpose of this review.