Whether you've bought a pumpkin for Halloween or perhaps you've grown it because they look so impressive, here are ways to make sure you use every part of your pumpkins.
Zero-Waste Pumpkins
Rather than just carving the pumpkin then throwing it away, the organisers of Light Party (a Halloween-inspired event) Laura Pais and Laura Truter have suggested using your pumpkins for the following:
Pumpkin Soup
Roasted Seeds: The seeds are good to roast for later, add in soups, home-made bread or salads.
Pumpkin Jam: The jam is just pumkin and sugar boiled
Fertiliser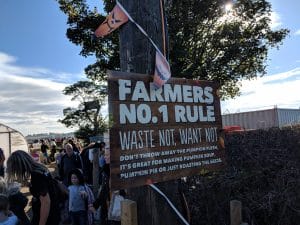 Healthy recipes
The inside of the pumpkin is good to make soup, jam, cookies or cake. The final remains of the Pumpkin (instead of throwing it away) can be put in a compost bin or taken to a natural spot to decompose and serve as a "fertiliser."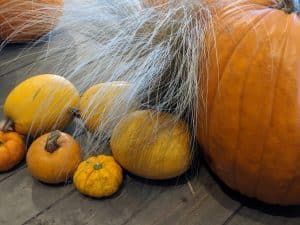 Light Party's Laura Pais shares her favourite Pumpkin aka "the winter fruit" recipes here…
Roasted Pumpkin Seeds – Recipe
Pumpkin seeds are a great source of Zinc and can be eaten on their own or in bread and other recipes. Here's how to roast them.
Scrape

 
Scrape the seeds from your pumpkin with a spoon.
Clean
 Pull away the string of flesh and rinse the seeds clean
Rinse
 Rinse in a bowl of water
Spread
 Spread them evenly over a large baking tray
Gather

 
Gather what ingredients you fancy – sea salt is essential
Glug
 Put a few good lugs of olive oil over the seeds
Sprinkle
 Sprinkle your ingredients over the top
Mix

 
Mix together so your seeds are well coated
Roast
 Bake at 180° C for around 10 minutes, or until seeds are lightly golden brown
Cool
 Leave to cool before you get your fingers into them
Store
 Store in an airtight container
Use

 
         You can use them in salads, soups, homemade bread…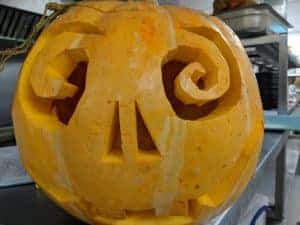 Pumpkin Soup – Recipe
This pumpkin soup recipe serves 6 people.
Ingredients:
2 tbsp olive oil
2 medium onions, finely chopped
200g potatoes
1 courgetti (optional)
2 carrots, chopped
2 garlic cloves
800g pumpkin, peeled, deseeded and chopped
700ml vegetable stock or chicken stock
150ml double cream (optional)
Method
Heat 2 tbsp of olive oil in a large sauce pan, then gently cook two finely chopped onions for three minutes, until soft but not coloured, add garlic cloves and leave for two more minutes.
2.  Add the pumpkin, potatoes, courgette (optional), and carrots then carry on cooking for 8/10 minutes, stirring occasionally until it starts to soften.
3.  Pour 700ml of vegetable or chicken stock into the pan and season with salt and pepper. Bring to the boil, then simmer for 40 minutes until the squash is very soft.
4.  (optional) Pour 150ml double cream into the pan bring back to the boil.
5. Puree with a hand blender. For an extra velvety consistency, you can pour the soup through a fine sieve.
Storage:
  The soup can now be frozen for up to two months.
   If the Pumpkin Soup is made with cream, it has to be consumed in the next 24 hours.
   If not with cream, the Pumpkin Soup can last in the fridge up to three days.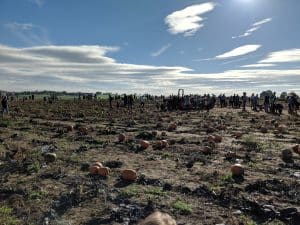 How to Make Pumpkin Jam – Easy recipe
To make Pumpkin Jam it is one part fruit to one part sugar and the secret is to reduce it in slow heat until you get the desired consistency…
You can also add Walnuts if you wish. Once the jam has cooled, you can leave the jam as it is or use a hand blender for a smoother texture.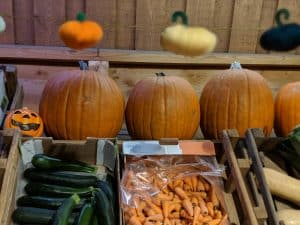 Pumpkin Pie Recipe
We went along to the UK's largest Pumpkin Patch at the weekend – Farmer Copley's Pumpkin Festival, where you can pick-your-own-Pumpkin. And we spotted this simple Pumpkin Pie recipe aptly written onto a Pumpkin.