I say I'm a gentle-ish parent, the emphasis being on the ish because I am not totally as wholesome and calm and balanced as I would like, so the term gentle when it comes to parenting I feel needs an "ish." (In case you spot me loosing my rag!).
I particularly struggle with long car journeys (I don't even drive) but sitting in the back squashed between two whining kids isn't how I'd pictured family holidays.
But I've found a solution, better than counting to 10, is to play calming music in the form of Lullabies For Parents!
The person behind this genius idea of an album is singer-song-writer Ric Neale.
And Ric has Kindly offered to giveaway one of his albums to my readers (see below how to enter).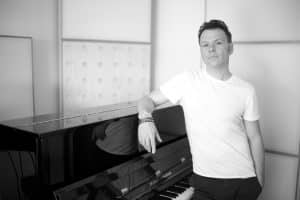 I chatted to Ric about Lullabies for Parents and the story behind it…
When and why did you create the album?
I started writing the record about a year an a half ago, tentatively at first because I didn't know whether it would work to be honest.
At that point I had a three-year-old and a one-year-old and was finding being a parent really challenging. I noticed that there wasn't any music about what we were going through; there are songs about having kids but they are usually incredibly positive in a way that is unrealistic.
I wanted to tell the truth (or at least my truth), that it's amazing having kids, but it is very difficult; constantly questioning your decisions, your identity and comparing yourself with other parents, and the inevitable lack of sleep or time to look after yourself can start to turn your head to mush.
The writing process wasn't easy, but I'm really proud of the songs and the way they balance my total love for the kids with some realism about the day to day struggles.
What do you hope other parents will get from it?
There is so much nonsense spoken about parenthood and all we ever see on social media or on TV are perfect parents which was enough to make me feel like I was just doing it wrong. Other parents I spoke to at toddler groups and stuff were having just as tough a time as we were so I figured that a lot of people must feel the same way.
My hope is that when people listen to this record that they'll feel less alone.
What are your plans for the future?
I gig regularly all over the country, and I'm even off to play in South Korea soon so these songs are being played regularly. The main thing with this album is to get it to the right people, me and some other creatives have just begun the process of turning the record into a theatre show with dialogue and projections, which I'm really excited about.
We hope to perform it at theatres in between the school runs so parents can access it, and even do shows where we provide a creche.
I'm aiming at an audience that isn't really catered for which is great because I've made something new, but difficult because there are not any obvious avenues to get the record to the people who will get the most from it. I have been blown away by the positive comments from parents who have heard it though, and I love the fact that people have started giving Lullabies For Parents as a gift to new parents.
Giveaway
To enter this giveaway, go to: https://www.rafflecopter.com/rafl/display/ccd41f1f15/?
 
Lyrics
Prologue 
They say it takes a village to raise a child
But I'm the village idiot
And I've been making up the numbers here with you since I joined
Be it the fruit of your loins or the apple of your eye that you've chose to cradle high
On the branches of your growing family tree
When the house is quiet and you creep downstairs
And you're trying to remember who you were
If your heart hurts from loving
Or you so tired you feel nothing
We deserve some nursery rhymes too
So these lullabies are for you
Asleep In The Car
Filling the boot up with memories
Cramming in more stuff than I can fit in
Feeling the pressure and running on fumes I don't have
But we've finished the goodbyes and tantrums
Then there's last minute checks and delays
But right now my favourite escape route is only a key turn away
When you're asleep in the car
I'll drive us around
We needn't go far
I'll cover the ground
You're safe where you are
You're tucked up and dreaming, 
you're sleeping in the car
Winding through worlds between windmills
I feel them blowing the outside away
And I will take every turn that I'm told till were there
And I make it to our destination
I would keep going all night if I could
Cos I know the briefest of time in control of our world feel so good.
When you're asleep in the car
I'll drive us around
We needn't go far
I'll cover the ground
You're safe where you are
You're tucked up and dreaming, 
You're sleeping in the car
Like a cloud that's all tied up with string
This bow brakes so gently your cradle won't swing
I'll help you count sheep but you're counting on me
And you'll never know
You're asleep in the car
Enjoying the view
I know where you are
I know what to do
I'll drive us forever
And it's only me, who isn't sleeping in the car
Grown Up Now
Looking back
What did we do with all the time we had
Did we just waste it all on stuff that fades away
Now that's all gone
We've given up all that to get things done
But even then there's not enough hours in the day
I can see, the heady heights I used to wanna
try to reach
But here and now with you…
I'm gonna stay home
No nights out for me I'm gonna say no
The invites been received and been turned down
I'm gonna have to be the grown up now
Now and then
A chance to hang out with some grown ups again
But we just talk about the kids we left at home
With a baby sitter waiting by the phone
I'll concede, theres things that one day soon we wannna
Try to see
But here and now with you
CHORUS
I'm gonna take out the bins on Tuesday night
I'm gonna put in the wash and get it dry
I'm gonna read the same story every time
I'm gonna sing the usual lullabies
I'm saying no when it's got too late
I'm saying yes to staying home for the night
CHORUS
Overwhelmed
What are you doing to me
Look at the state I'm in
You're holding me well and truly
Under your spell now I'm overwhelmed by everything
I'm breaking down
Is this how I'm supposed to feel
I'm welling up
At Christmas adverts on TV
I'm lost when you're lost in laughter
Afraid that we'll find disaster
CHORUS
Running out
Of energy to keep control
Why do I hold it in?
What am I afraid to show?
Telling myself I'm stronger
Knowing deep down I'm wrong
CHORUS
Once upon a time in the palace of my mind
I really knew my way around
A throne and a wand all the variables gone
Just me and the peace that I'd found
Then something changed and my heart got rearranged
Now I've fallen so far
But I can't keep my feet on the ground
Everything was clear
Now I'm stuck on the verge of tears
CHORUS
You're Probably Doing Fine
You're probably doing fine
These are words I'd really like to hear
Stop second-guessing every second guess just take a breath
And keep on going
You're probably A OK
When they're grown up you'll probably look back and you'll laugh about this
You'll hold your temper bite you're lip and then count back to ten
And keep on going
You're doing fine
I can't compare myself to all those dough-eyed mums on Facebook
They're probably every bit as lost
I'm doing all I can to balance magic and logistics
It isn't much but it is everything I've got
You're probably doing fine
The fact you ask yourself the question makes you something special
When you can't take their dreams and make them true, you'll muddle through
And keep on going
These cut out picture perfect parents I just can't contend with
The kind of people I'm just not
I'm doing all I can to balance magic and logistics
It isn't much but it is everything I've got
How can I hold them, without holding them back
How can I stand up for them, without standing in their path
What can I do to keep the safe but not afraid
push them without pushing them away…..
Another day another night I've somehow bluffed my way through
Pretending everything is fine
I'm doing all I can to balance magic and logistics
It's not enough but it is everything I'm trying to give you everything I've got
You're probably doing fine.
Epilogue (What Have We Learned?)
So what have we learned?
Absolutely nothing
What do we want?
A little bit of peace cos this is hard
As hard as ice and stone
As hard as getting up and keeping going
But loving you is easy
Like skimming stones across a frozen lake
It's as easy as pie or a piece of cake
Loving you is protest against underhanded greedy hearted plans and wars and cheating
Help me believe that a soul that pure can take a beating
So what have we learned?
Absolutely nothing cos we've always known
How to open up my heart into a home
How to dry up tears
How to chase away fears
How to turn my voice into a whisper that is soft and sweet
And move it up and down
And make some lullabies
So close your eyes and sleep
The perfect gift for new Parents