I was invited on to daytime TV recently, ITV This Morning, to talk about my anxiety and panic attacks, in light of footage of me being released by Channel Mum from my Vlog experiencing an Anxiety Attack.
My vlog had been shared online alongside the results of the parenting website Channel Mum's research.
Shocking research on Maternal Mental Health Shows:
85 per cent of mums say they suffered from anxiety or a mental health issue while pregnant or since becoming a mum.
Three in ten mums have suffered at least one panic attack and more than a quarter of these have had multiple stress-related episodes.
 23 per cent of mums have had a panic attack when their child was present.
The ChannelMum.com research reveals half of mums hide their attacks and have never told anyone they suffer.
Two in five worry they will be judged for having panic attacks while a quarter fear their children could be taken away if they admit to suffering.
The most common trigger for panic attacks is feeling 'I can't cope', suffered by 48 per cent of mums reporting attacks, alongside 37 per cent who fear 'I'm not a good enough mum'.
The most experienced symptoms include being unable to breathe, suffered by seven in ten and 63 per cent who broke down crying uncontrollably.
Getting the call to appear on TV
Ironically it's been a year since I last appeared on ITV's This Morning but that time I was talking about breastfeeding.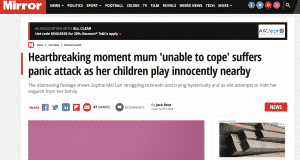 Anyway, I got the call from ITV This Morning following the news coverage and I was invited on to the show alongside TV Psychologist and Channel Mum's resident Psychologist Emma Kenny to chat to Eamonn Holmes and Ruth Langsford. The last time I had spoken to them was following my appearance on ITV's Britain's Got Talent (my bellydancing got me through to the live semi-finals).
Anyway I digress, I was given a day that week to head down to the Studios to sit on the sofa and chat live on air.
The weird reason I was so anxious about appearing on TV
For many, the thought of going on live TV would feel far too much for them. I totally can understand why. But for me, I couldn't even think or worry properly about the TV interview because the biggest challenge for me was travelling by train and having to walk through Kings Cross Train Station. The thought of travel sent my anxiety levels through the roof. I really struggle with trains and train stations whereas I feel more comfortable having a camera in front of me rather than lots of real people surrounding me in a public place.
Even as I write this I can feel my heart racing fast and my breath going shallower. But unlike normal, where I would push myself just to suck it up and do it, I decided to be assertive about my needs because after all mental illness is a disability. So I asked to go early on the morning of the show rather than stop over over night as I get anxious being away from the kids and it doesn't feel as mammoth a task if I am just going to London for half a day.
I also asked that if I use my railcard that I would like to travel First Class and have a seat on my own. I felt a bit of a diva doing this but I knew that it was particularly important to avoid as many triggers as possible so that I was relatively calm once I had arrived at the TV studios.
Anyway, I made it through Kings Cross station thanks to do an Instagram Live to distract me! And I searched for my Addison Lee taxi which drove me to the ITV studios.
I was then taken straight into hair and make-up to get me daytime TV ready.
After, sharing a Green Room with some amazing models, other guests and some cute pooing puppies… it was time to go on air!
It went really well although seeing the VT footage of myself (my vlogs were used on TV to introduce the piece) made me quite emotional as I rarely sit and watch myself back for a period of time. But I managed to keep going thanks to the support of Emma Kenny and the Presenters who were amazing with me.
Eamonn Holmes even shared the fact that he had been hospitalised for a Panic Attack after the death of his father.
After the chat (and an obligatory photo on the couch!), I then went back into the Green Room to have a much-deserved coffee and to meet Dr Ranj!
I then also did a Facebook Live chat with Emma Kenny on Channel Mum.
I then waited for Emma to do her live phone-in chat on TV, before catching a taxi together so I could grab her to do a vlog with me… and she offered some really useful and insightful tips.
Emma jumped out at her station and off I went back to the dreaded Kings Cross St Pancras station! Again I had my vlog for company.
But at least once on the train with a seat to myself I could reflect on the morning's events. my social media had also been frantic with messages of support and also people sharing their own inspiring stories.
Channel Mum's hashtag "You are not Alone" #YANA never felt more true than it did on that day. I sobbed my way back to Wakefield. It was a sense of relief that this burden, this illness I live with, will not and cannot hold me back, it will help me to help others.
The whole experience really gave me a sense of belonging and a purpose. If my ugly crying face and my darkest days can be accepted then so can yours.
@ChannelMum team & community have been my cheerleaders and have treated me with so much dignity and respect as well as providing such a great support network for all mums. #thismorning #mentalhealth And I'm so privileged to be given a voice & honoured that it's helped so many ? pic.twitter.com/IYPK3YdYkp

— Mama Mei (@MamaMeiBlog) October 25, 2018
It's so important to look after your mental health. Do you think you might be suffering from #anxiety? Take the #ChannelMum Anxiety Course → https://t.co/IJEivYN8oG #MentalHealthAwareness pic.twitter.com/de21H4A4Iy

— Channel Mum (@ChannelMum) November 4, 2018