Fed up of playing cameo roles in my Youtube vlogs, my children have now set up their very own Youtube channel called Make and Move – to get families making, creating, playing and moving together (well they are my aims for it anyway).
For my daughters Jasmine, 6, and Arianna, 3, it is a way to create and pretend to be like their favourite Youtubers, namely: Jo Jo Siwa, Trinity and Madison, Carlaylee HD and Tiana. Although I am trying to steer them away from the "Hey Guys!" introductions and to our own in-house style/regional accent: "Ay Up everyone!"
The New Blue Peter Presenters
As a child I used to pretend I was a presenter on Blue Peter whilst I would cook from pre-prepared bowls and tell the TV camera aka my kitchen window: "Here's one I made earlier." But as my children are in the Youtube generation of consuming content rather than traditional TV, they pretend to be Youtubers.
It doesn't help that I vlog daily too, so my kids are surrounded by Youtube! So it was only a matter of time before they started their own channel.
And so many children are wanting to re-enact the extremely popular "unboxing" craze which is across Youtube at the moment and even more so, in the run up to Christmas.
So when we were invited to review Peppa Pig's secret surprise – a new unboxing toy, my Make and Movers jumped at the chance.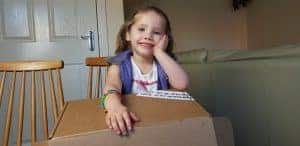 Peppa Pig's Secret Surprise – Review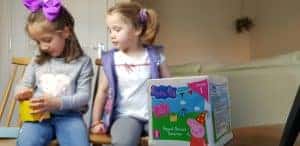 Jasmine and Arianna were chuffed to be able to unbox a secret surprise each – it is the ultimate unboxing toy! So whether your children just like to pretend to be a Youtuber or they are starting their own channel – this toy is great for little ones.
So each Peppa Pig Box (sold separately) contains 6 surprise boxes/drawers which contain a special treat. Think LOL Doll fun as you unwrap the layers.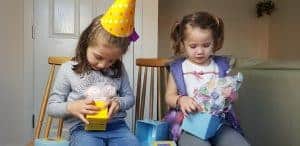 Inside the drawers the kids will discover a figure with glittery party dress, party hat, large party accessory, present, gift box and stickers!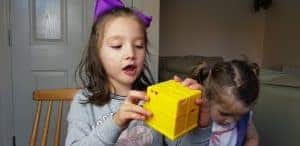 The boxes cost £9.99 each. The kids have enjoyed hiding lots of little objects in the box. The toy is suitable for 3 years plus.
Our other Vlogging Essentials
We get asked a lot: "What do you need to start vlogging?" So whether you want to set up your kids with a faux studio or you're looking at going pro, here are our recommendations:
LIGHTS! I have started with lights because they are one of the most important part of a vloggers set-up. So before you invest in a good camera I recommend good lighting first because a cheap camera with good light tends to look better than an expensive camera with bad lighting. Here is what I have:
And always think about outside light. Natural light is the best kind of light but as we're limited with good natural lighting – the above comes in handy!
2. Hard-drives: Vlogging and photography means lots of footage – so I have just invested in a Lacie hard-drive! And I always go through SD memory cards for my cameras.
3. Sound: When Vlogging sound is essential (unless you want to spend ages captioning every single vlog). I bought this Rode Mic to plug into my camera.
4. Cameras: And finally, camera equipment! I have saved these until near the end because I don't want you to make the same mistake as me and spend LOADS on a camera without lighting etc…
This is the one I have bought most recently as it is similar to the G7x slightly less on specs – but a lot cheaper (just without the marketing of the G7x Mark 2).
For sit-down vlogs and professional filming of interviews, we have had this camera for a while…
For adventure shots and moving around…
For day-in-the-life-of vlogs and moving around (if you don't fancy a Canon), I also have this one…
And here is what most vloggers seem to have Canon G7x Mark 2…
For amazing photos and lazy vlogging (as it's quick and easy and everything automatically stores on a cloud)… I also use my phone!
And if like our family you love 360 videos (we even have a VR headset! You can find it here) try a 360 camera like this…
5. Tripods: These have been a lifeline for me.
I use this handy Manfrotto for my compact cameras – it's great for vlogging on-the-go…
And this one for a more static set-up…
My absolute favourite for vlogging with a phone is this… Joby Gorilla Pod!
Happy Vlogging! Any questions, just comment below…
DISCLAIMER: We received the Peppa Pig toys and payment for the purpose of our vlog and blog review. Links in this article are affiliate links, so it is the same price to you but we do receive a commission.