Struggling with money this Christmas? And overwhelmed by gifts and expensive experiences? What to buy? What to wear for that party?
Whilst I love nothing more than stocking up on presents throughout the year for the big day, I understand that many people don't have the budget and are worried about finances at Christmas (and the impact this can have on your mental health is huge).
So when a concerned relative asked me: "What do you want for Christmas?" And then explained he was panicking because he doesn't have a lot of money to spend on me. It inspired me to create this: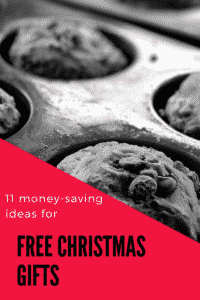 So here you have it the FREE Christmas Gift Guide because Christmas is about much more than presents but many of you, like me, enjoy giving, so here's how you can give without it costing too much:
Declutter and give preloved items: Find something that you love but are happy to give away and write a note to the receiver about what that item means to you and why you want them to have it.
Time Vouchers: Give the gift of your time by making a voucher offering a helping hand, time, cup of coffee or ironing / cleaning for example. I know there's nothing I'd love more than someone to help me clean and tidy my house!
Memory Box or Collage: Fill a box with items or pictures that represent memories you've shared together. Or do this in collage form.
Bake and Make: There are so many Christmas Crafts to do but here's some ideas:
Also baked goods and food in general always go down well and at least their useful rather than an extra ornament clogging up someone's house.
5. Create an "advent calendar" all year round: Fill a box with items that they can open each month. My friend Laura Truter shared this idea with me:
Jan – jar of memories
Feb – heart cutter with recipe
March – plant seeds
April – nature scavenger hunt
May – throw wildflower seeds in the forest
June – Make mud pies (bucket wooden spade)
July – nature weaving
Aug – sidewalk chalk
Sept – mud paint (powder paint)
Oct – pumpkin (voucher)
Nov – feed the birds
Dec – open your jar of memories
6. Positive Affirmations Book or Poster: Write lots of positive quotes and affirmations on a piece of card or in a notebook. Not only is this sentimental but hopefully it'll help the receivers mindset too.
7. Paint a Rock: These are such beautiful yet easy-to-make simple keepsakes. You can draw a picture or write a quote.  
8. Create a mini Magazine or Newspaper: For my wedding favours I made a newspaper style paper with individualised stories and photos all in a journalistic style. It's such a great keepsake gift.  
9. Memory Patchwork quilt out of preloved items: Sadly I struggle to sew on a button but if you can sew, ask your loved ones for material items they love but want to get rid of. You can create this into a patchwork blanket.
10.  Write a poem / make a video or vlog: there's nothing like making a video or writing a poem just for your loved one.
11. Goal setting / accountability buddy: Why not offer to help someone set their goals for the year ahead/future and offer to be their accountability buddy to help them keep track of their goals.
But if you must shop, please do so through my Amazon link (I receive a commission to help fund my blogs and vlogs but it's the same price to you): https://www.amazon.com/shop/MamaMei