I often struggle when it comes to celebrations, whether it be birthdays or Mother's Day, I want them to be perfect and I want my troubles to go away so I can focus on making the most of the day.
But the reality is, they don't, but you can still enjoy them even if like me you're recovering from an eating disorder, you have waves of bad mental health and you're a busy mum.
How to celebrate?
I couldn't make up my mind what to do on Mother's Day this year as I wanted to see my mum and be with my kids and also see my mother-in-law, but what would make it perfect?
So I was pleased when Meadowhall Shopping Centre in Sheffield contacted me to invite my mum, kids and I to spend Mother's Day throughout the centre – I'm talking a family climbing session at Rock Up, a family meal at Las Iguanas and milkshakes at The Shake Lab.
Celebrating at Meadowhall, Sheffield – Review
I love a challenge and so do my kids (and my mum just loves spending time with us), so trying out the new rock climbing experience was a perfect start to the day. Plus it was a great boost to my mental health on a day when I normally feel stressed trying to please everyone.
Rock Up is located outside Marks and Spencers where the interchange entrance is. It's compact but has lots of different walls as well as a small play area next door.
Rock Up Climbing Experience 
We arrived very unprepared. Our hair was down and my daughter was wearing sandals (as we thought it was done in socks). But we soon discovered we needed hair bobbles, closed toe shoes (which makes sense) and no jewellery.
So after a quick shopping spree to M&S, we were sorted!
Make sure you arrive on time too so 20 minutes before your climbing session starts so you have time for the induction video and getting the harness on.
After our safety briefing and once our harnesses were on, we had 30 minutes to make the most of the 17 fun climbing walls towering over 8m with multiple routes to their peaks.
My 4-year-old Arianna (kids can climb from aged 4) was scared of being clipped on to climb the walls. But the staff were super patient with her and encouraged her to just climb a little on the easier walls to start with.
My 7-year-old Jasmine was straight up the walls like spider woman and followed soon after her.
Whereas my mum and Arianna were slightly more cautious. Nonetheless they climbed up half way. it was so much fun climbing next to my daughters and I couldn't believe we were still in a shopping centre having such an experience.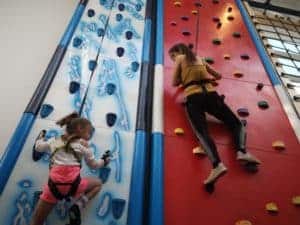 Last but not least my daughter and I climbed up the "stairway to heaven" which is scarier than it looks, especially when you have to trust the ropes and jump off the top. The adrenaline was rushing by then but we were loving it.
Before we knew it our session was over and I was amazed at how much we had scaled.
We had worked up an appetite by then, so our aching arms were ready for some refuelling inside the Oasis Food Court.
It's such a pleasure these days to be excited about eating and drinking and not be as stressed about calories and how things are cooked. Granted, I'm now Vegan so have some restrictions but a lot less than I did when I had Anorexia.
Family Meal at Las Iguanas, Upstairs in Oasis Food Court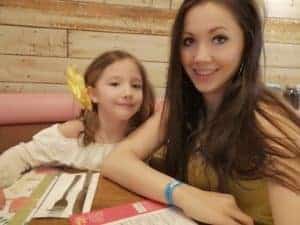 As it was a weekend, the Oasis Food Court was really busy so I was glad to go inside Las Iguanas for our Mother's Day Feast.
We were seated in a stylish booth and us mums were given a free glass of Prosecco to mark Mother's Day which was a nice touch.
My step dad Lee joined us for the lunch so we could try a range of tapas dishes. They also had a kids menu and a Vegan Menu for me.
The service was great but there was a bit of a wait for the food as it was so busy.
We had a colourful array of Tapas dishes, Nachos and kids meals.
Tucking in to the food, I couldn't believe we were in a chain restaurant as it all tasted so good and home-made.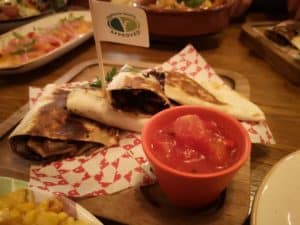 Somehow we managed to eat most of it as we washed it down with coffee and mocktails.
Somehow, the kids managed to eat their mains and a dessert too.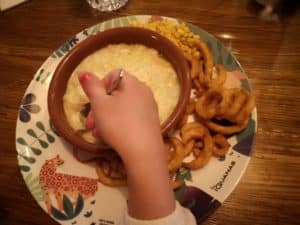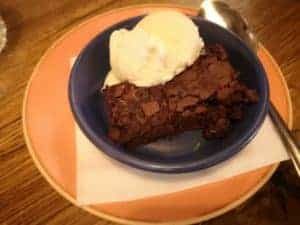 We were supposed to finish off at The Shake Lab, but as I was so full and also had my mother-in-law to see we decided to visit the following weekend too.
The Shake Lab 
The following weekend we made plans to meet with friends for some retail therapy (my way of de-stressing), treats at The Shake Lab and going to see Dumbo at Vue Cinema.
The kids were so excited to go to The Shake Lab with an array of treats on offer from Easter specials to crepes and of course, milkshakes.
We tried a bit of everything, and the kids were in chocolate and ice-cream heaven!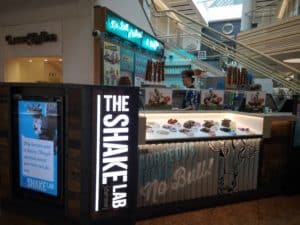 After a leisurely day at Meadowhall (and a trip to build-a-bear which is next to The Shake Lab), the kids begged to return the next day to go climbing… again!
It's a great day out for us as we can access Meadowhall easily by public transport and it's all indoors. Whilst the kids are hooked on climbing, I want to also try out Jump and Air Haus sometime too!
I'm sure we'll be visiting Meadowhall again this Easter Holidays for some more adventures and well earned treats.