It's been a while since a theatre performance has engulfed me and connected with me so deep that it felt as if it was tapping into my soul (with some red stiletto Kinky Boots on, of course).
For anyone that struggles to conform. For anyone who was born different. You are fabulous. Granted, bellydancing my way out of poverty wasn't the done thing then but it made me who I am (and even got me into investigative journalism). If you want to feel-good go see @KinkyBootsUK https://t.co/Cnxv3vXoVi

— Sophie Mei Lan (@SophieMeiLan) April 9, 2019
Broadway and West End hit musical, Kinky Boots, opened to a standing ovation at Leeds Grand Theatre on Tuesday 9 April, when stars from both stage and screen attended a red-carpet event.
I was lucky to have joined the packed out theatre to watch the opening night performance of the multi-award winning show with songs by Grammy® and Tony® winning pop icon Cyndi Lauper and book by Broadway legend Harvey Fierstein (La Cage Aux Folles).
Reviewing #kinkyboots tonight @GrandTheatreLS1… It's only the interval and already I've laughed hard, cried hard and just been totally engulfed in one of the best shows I've seen in a long time. Just wow. And it's only the beginning. So poignant? @MamaMeiBlog @KinkyBootsUK pic.twitter.com/4IxF96wIcr

— Blog Up North (@BloggerUpNorth) April 9, 2019
I wasn't sure what to expect other than a show about some boots. And whilst boots and shoes were a strong theme, the play was about much more.
When you're born into a life, a community, an environment that does not fit your sole (sorry not sorry "soul"), you tend to either keep quiet and conform or rebel and create your own future by redesigning your destiny. Or a mixture of the two.
In many ways designing a shoe is a brilliant analogy because if the shoe doesn't fit, you either keep quiet and carry on in pain or you have to try finding your own size and style that fits you.
I could relate in so many ways with the main characters (Lola and Charlie) who had tried to conform but couldn't. And they kept trying. Two steps forward, one step back.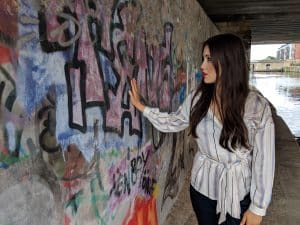 The pair had tried to escape the pressure their family had bestowed on them and were on the cusp of something amazing but their past kept creeping back up on them. More on the story-line further down…
Acting my own roles
Whether it be as a mum, a woman in media, a mixed race person, a working class person, a business person… and whatever it may be for you, the expectations of others are hard to shake off. We deeply want people's acceptance and will sometimes destroy ourselves to get it.
I've never fit the mould, which was hard on my self-esteem, especially in my formative years, but now I love not conforming and I love being different. What I hadn't realised is that my difficult upbringing in a poor part of Sheffield, South Yorkshire has actually been the making of me. It's where I began my bellydancing career (believe it or not, a small church hall in a former pit area was where I found my lease of life). It is also the place I return to regularly when I am doing my stories for my journalism work.
But whilst I am thankful for my upbringing and the experiences I had, it doesn't mean it is not difficult returning to those feelings of not fitting in. Especially as I still don't fit in in the world of journalism that I am now exposed to.
That acceptance however needs to come from within rather than other people. I could never move back to Sheffield but I can appreciate the diversity of where I was brought up and I am truly thankful for it. I would not have the empathy, compassion, knowledge or my "I am what I am" attitude without it.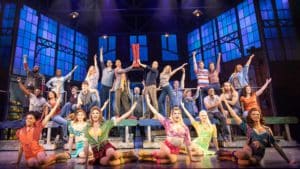 The Kinky Boots Story Line
Inspired by true events, Kinky Boots tells the story of Charlie Price, a shoe manufacturer from Northampton who is struggling to live up to his father's expectations and continue the family business of Price & Son. With the factory's future hanging in the balance, help arrives in the unlikely but spectacular form of Lola, a fabulous performer in need of some sturdy new stilettos.
Change your mind, Change the World
Kinky Boots is a musical celebration about the friendships we discover and the belief that you can change the world when you change your mind.
It's finally here! @kinkybootsuk opens TONIGHT at Leeds Grand Theatre. Put on your best shoes and come on down.
.
.
.#Leeds #Live #Theatre #Drag #Dance pic.twitter.com/feMaWAv1Sr

— Leeds Grand Theatre (@GrandTheatreLS1) April 9, 2019
Kinky Boots stars Kayi Ushe as Lola, Paula Lane, known for her role as Kylie Platt in Coronation Street, as Lauren and Joel Harper-Jackson as Charlie.
Why you need to watch Kinky Boots
Wow just wow. It was such a truly incredible show and one which I  will remember for a long time.
From start to finish the whole cast wowed in their characters and beautiful bellowing voices.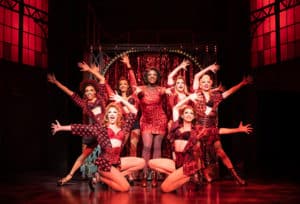 Lola and Charlie's relationship really touched me and had me laughing, cringing and sobbing. They were so different on the outside, yet so similar on the inside… but aren't we all?
Kinky Boots is at Leeds Grand Theatre until Saturday 20 April 2019.
Book online at leedsgrandtheatre.com or call Box Office on 0844 848 2700