Wading in thick mud, five adults hold hands as they climb over hidden hurdles… it was far from your average Sunday morning.
I've been wanting to do a Tough Mudder (the 25 obstacle challenge over 8-10 miles) for ages as I love the feel good aspect of an active adventure.
But I was afraid that someone like me who does fitness just to feel-good (and for some vanity too, I won't lie I like to feel strong and toned), that it would be too fierce, intense and hardcore.
Luckily, I didn't have much time to think about it as I decided to take part on the Friday before the Tough Mudder which was taking place that weekend in Yorkshire at Broughton Hall Estate.
I also do some form of exercise 5 times a week, so whilst I don't see myself as super fit, I tend to have a good level of fitness.
That said, there is now a 5k Tough Mudder with 13 obstacles for those still wanting to take part but might not be ready for the full course.
There's also a 1 mile Lidl Mudder course for children aged 5-12 years old.
Arriving at Tough Mudder…
We parked the car in the designated grassy area which was already muddy due to the heavy rainfall. There, my step dad, my step brother (he came as a spectator) and I met my friend Katy, so we could all sign in together.
Everyone seemed in good spirits as we entered the Tough Mudder area.
It didn't feel intimidating as I had feared and the staff were so friendly too as they helped us to sign in before dropping off our bags in the designated area.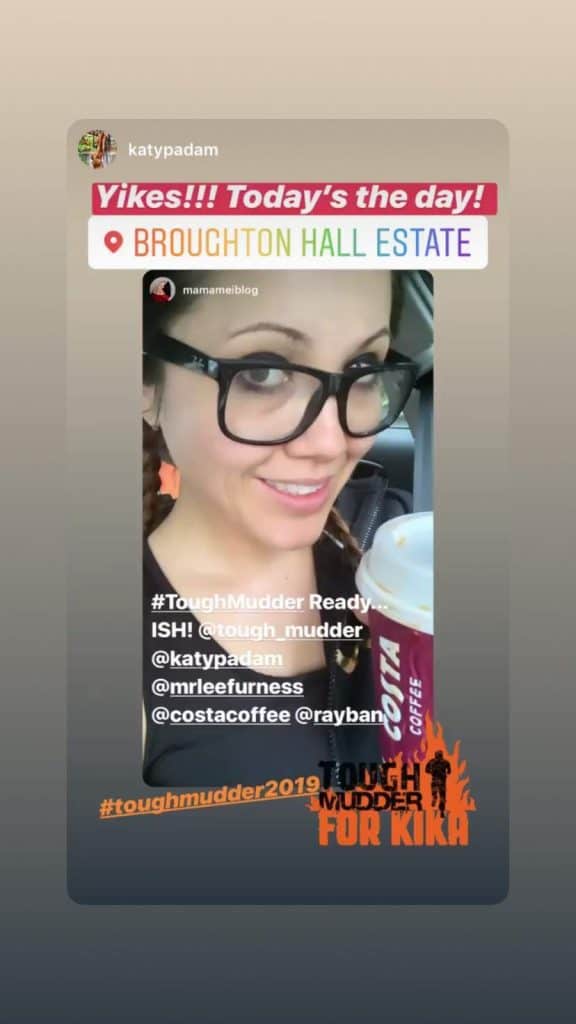 After some war paints on our faces, we then had some much needed 'before' selfies and photos pre-challenge!
How to get started at Tough Mudder
First off you enter a holding pen area for your time slot (it runs in waves). There, you are moved through to the warm-up area and this is where the mud experience really begins!
We were given a good pep talk as well as going through the Tough Mudder rules that focused on safety and working together. It was nice re-enforced that Tough Mudder is not a race, it is a challenge and that everyone should help one another to complete it.
Then to get us in the mood for what lay ahead we had to spin each other around belly or back down in the mud.
Tough Mudder Obstacles
We started proceedings with a short run. Whenever I do a challenge it is always the first bit I find the hardest when you're getting in to the swing of things.
The grounds of The Broughton Hall Estate are stunning and we weaved up some hills and through some streams to get to the first obstacle.
From the word go, the obstacles required team work as a lot of them, you simply can't do alone. From scaling a slippy wall to spinning blocks in water which requires people to work together to overcome it.
I couldn't get over the genuine camaraderie at each obstacle. There was no pushing or impatient people. It was the opposite. People I had never met before, waited for me to give me a hand over the obstacles.
Everyone worked together and spirits were high.
People were cheering each other on too as we crawled through cold water under barbed wire or we slid into an ice bath.
What's Tough Mudder really like?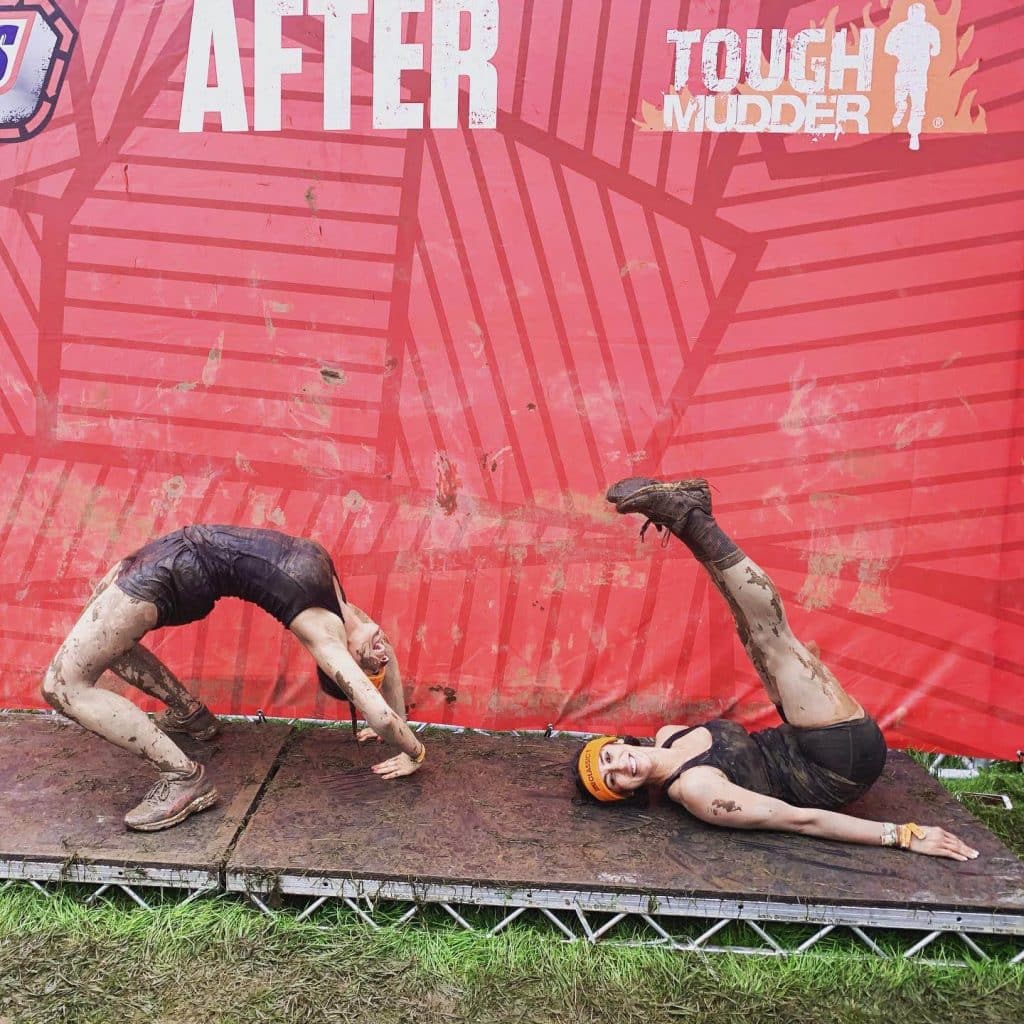 I haven't laughed so much in a long time. It was tough but so much fun. The obstacles were all a challenge but seeing strangers work together made anything possible.
As we were just a last minute team of three, we ended up making friends with a team of two. This really helped so we could all help one another from acting as wheel barrows to partner balance challenges.
People genuinely spurred each other on and there was no judgement if you couldn't do an obstacle or if you took the easy option (as some of them had two levels).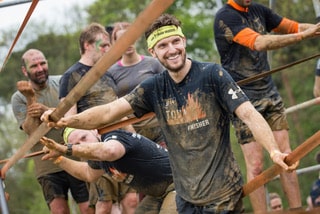 My favourite obstacle was towards the end which was a huge rope net, maybe it was at the relief that we had completed almost 25 obstacles at that point.
I think the hardest obstacle was the Everest wall which you have to run up and it's super high and slippy. But luckily other participants at the top of the slope were waiting for you as you ran up the slope to try help you get over it.
I had to try run up Everest a number of times and I nearly gave up as I just didn't think I could do it. But with the help of others I finally made it over the top (I don't know how they managed to pull my body over as I have very little upper body strength, but we did it!). The same went for my step dad as I tried to help him over. Luckily, a team of people stronger than me, helped too and somehow we got him over the wall.
Towards the end we had to tackle electric shocks as we ran through hay stacks. Whilst it hurt and I ended up on the ground a number of times, I got the giggles too, seeing our team take on the challenge.
Getting the giggles was a theme throughout Tough Mudder for me, as you can't quite believe what you're doing on a normally quiet weekend.
It was the best way to escape my normal worries and my workaholic tendencies. It was a great rewarding challenge. I can see how people get hooked on doing Tough Mudders because the feeling of achievement is just immense. It's not a competition against one another, it is a team effort.
People definitely embodied the Tough Mudder values which we were told about at the start.
Tough Mudder Village
When completing the race, we were given a Tough Mudder sweat band and t-shirt as well as some Lucozade, a protein Snickers bar and a free BrewDog Beer.
We then had our "after" photos to show our muddy bodies off with pride.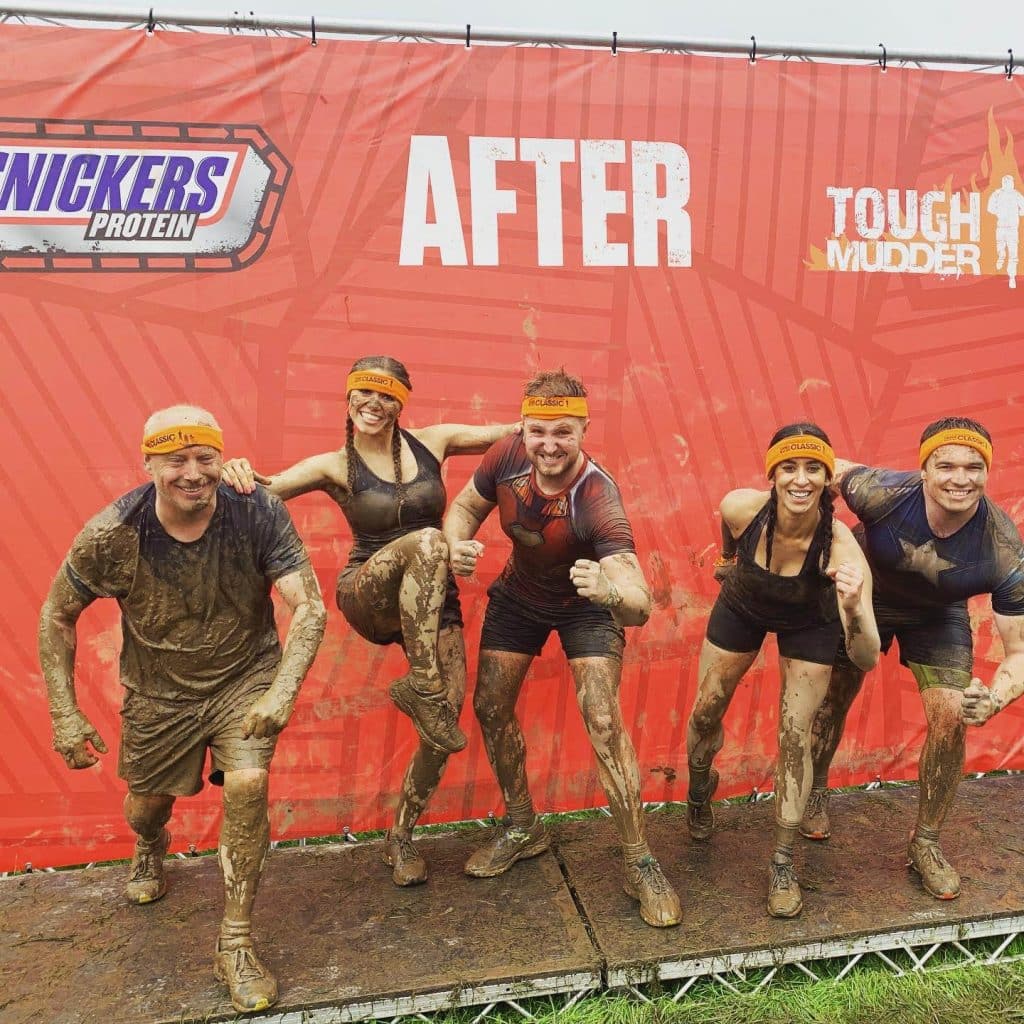 We then collected our bags and went to the 'rinse off' area where there are changing rooms and outdoor showers.
Once we had washed some of the mud off ourselves, we then explored the Tough Mudder village which comprised of food, drink and stalls as well as people giving out freebies from Arla Protein Shakes to Jimmy's Iced Coffee.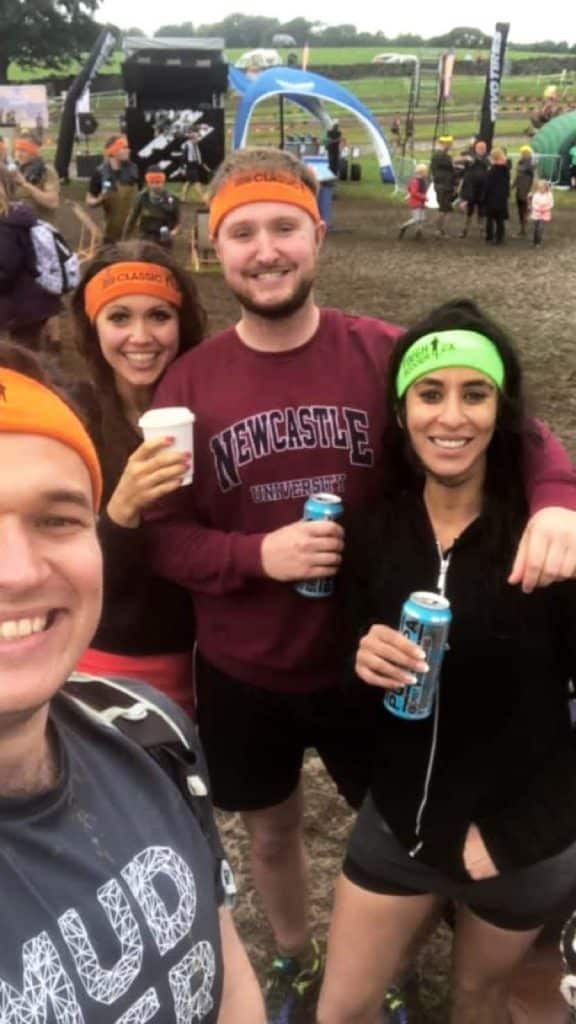 Here, we also met back up with my step brother Oscar who had been watching the race as a spectator (he was able to watch us at different points as well as using the village as a base).
After a post-Tough Mudder chat reminiscing over what we had done and refuelling, we made our way back to the car.
What do you need for Tough Mudder?
As a Tough Mudder newbie, here is what I found that I needed:
A Towel (for post race)
Come in a gym kit which you're happy to get super muddy, wet and is durable for 8-10 miles of obstacles from crawling to climbing
A change of clothes, shoes and underwear
A plastic bag to put your wet and muddy clothes in
Some money for the Mudder Village
Your Tough Mudder sweat band (if you've taken part before, as you get a different colour each time you complete a race)
Friends to cheer you on (not necessary but it's nice to have someone take photos for you, at the time of writing it costs £10 to watch)
Most of all you need… team spirit to join the Tough Mudder Nation… as this will get you through!
Have you taken the Tough Mudder Challenge? Or are you planning to? Comment below!
For more information on the Tough Mudder event season, or to purchase tickets, visit www.ToughMudder.co.uk. Join the conversation and follow Tough Mudder on Twitter at @ToughMudder, on Instagram @Tough_Mudder, on Snapchat at Tough.Mudder, on YouTube at Youtube.com/ToughMudder and on Facebook at Facebook.com/toughmudderuk.
DISCLAIMER: I received two free passes for Tough Mudder, but all views are my own.
About Tough Mudder, Inc.
Founded in 2010 with the launch of the Tough Mudder obstacle course event series, Tough Mudder Inc. has become a leading global sports, active lifestyle and media brand. With more than 3 million participants, the company hosts more than 100 non-competitive (Mini Mudder; Tough Mudder 5K, Tough Mudder Classic) and competitive (Tougher, Toughest, Tough Mudder X and World's Toughest Mudder) events annually in 11 countries including China, Dubai, Indonesia, and Australia through its partnerships with IMG, Seroja and Sports Media and Entertainment 360 (SME360). The company's content arm provides the more than millions of engaged online brand enthusiasts with fitness, nutrition and wellness content delivered daily across social and digital platforms. Tough Mudder broadcast, OTT and Live Stream programming can be seen worldwide through partnerships with CBS Sports, Facebook, Sky Sports, The CW Network and ESPN Media Distribution. Other sponsorship and distribution partners include Snickers®, BrewDog, Lucozade Sport, Toyo Tires, Soap & Glory, Celcius, Active Network and Black Tower Wines.