Do you strive for a successful career and a fulfilling life?
At what cost?
Would you risk your health to achieve your goals?
Journalist and TV personality Sophie Mei Lan depicts her 'rags to riches' story in this searingly honest, compelling and inspiring memoir. She shares with readers how her obsessive personality—a trait of many successful people—caused her to brutally abuse her body as she tried to 'have it all.'
It certainly seemed as if Sophie had achieved her dreams, as she forged her own path in the media and entertainment world. This was as medics described her condition as 'one of the worst' eating disorders they'd ever seen.
She managed to mask her struggles as she created award-winning documentaries for mainstream TV, ran successful businesses, and whilst dancing into the final rounds of ITV's Britain's Got Talent. In 'Eat. Sleep. Control. Repeat.' Sophie describes how the abuse and bullying she suffered during childhood ultimately resulted in a diagnosis of severe anxiety, depression and a psychotic disorder. The fallout came as she juggled her career and battled to be a good mother to her two young children.
As ambitious and driven as ever and a woman of many talents, Sophie today champions fitness and good health. She's a firm supporter of people who don't fit the societal norm as well as an advocate for improved, more accessible mental health services.
Sophie's story chronicles her journey from self-harm to self-love. She shows just how far removed people's 'media-perfect' lives can be from what actually goes on behind closed doors…
HEALTH IS WEALTH!
'Eat. Sleep. Control. Repeat' is my first published book documenting on how I went from having the "worst" case of an eating disorder medics had ever seen to working as a mental health, wellbeing & feel-good fitness blogger/vlogger today as well as running my own businesses, dancing and freelancing as a broadcast journalist and presenter.
My book follows my journey from being groomed and assaulted to abusing myself through self-harm and a severe eating disorder. It's not a pretty tale of eating disorder recovery. It is gritty and honest as my life may have looked glamorous to the outside world but it was far from that inside my attic bedroom where I lived in squalor.
I want to show the true reality of living with addictive behaviours such as an eating disorder and how social media often only tells half the story.
I hope that my story, whilst being brutally honest, will also help people feel less ashamed and empower people to seek help and start to live a holistically healthy life as much as possible.
I'd love for your support (AND YOU GET A FREE SURPRISE KEEPSAKE IF YOU PRE-ORDER): Eat. Sleep. Control. Repeat…. You can pre-order my new book here (it will be on amazon etc but if you can we'd love you to buy it directly from here): https://www.hallgoodbooks.com/product-page/eat-sleep-control-repeat 
A huge thank you in advance PLEASE SHARE IT MEANS THE WORLD! AND USE HASHTAGS #PERFECTLYIMPERFECT #EATSLEEPCONTROLREPEAT #ESCR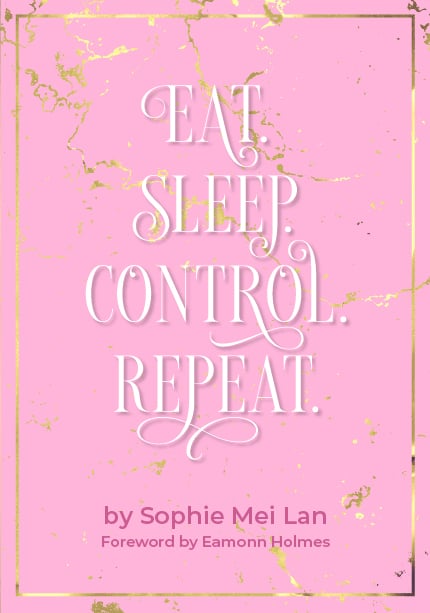 My book is dedicated to you…
To all those who struggle to fit in but strive to succeed in holistic health and happiness. You may feel a misfit but it is because you stand out from the crowd and are a change-maker which is why people try to dull your sparkle. It is because they can see you shining. They know that your past actually makes you pretty remarkable. They know that your brokenness actually makes you even more beautiful.
Never dim your light for anyone. Let go of the vampires in your life and make way for all the cheerleaders.
Most of all, be your own unconditional best friend.
This book is dedicated to all my support network who have somehow helped me to survive and thrive.
From my sets of parents, siblings and family who instilled the fire inside me and gave me life to the healthcare and fitness professionals who keep me physically and mentally strong daily.
From my community of rebellious souls online and at my self-help groups to you the reader… you have given me a reason to have experienced the best and worst in life and most of all you are hearing me, listening and giving authentic voices like mine power and purpose.
From my sisterhood of cheerleading women whose journeys continue to inspire me to keep dancing along my own wonderfully weird path… to the main women in my life now and for eternity, my daughters.
Live a life of love, smiles and sparkle… from the inside out.
As ever.
Peace, Love and Shimmies
Sophie Mei Lan
aka Mama Mei
About Sophie Mei Lan aka Mama Mei 
Sophie Mei Lan is a multi-award-winning broadcast journalist, vlogger, author, bellydancer, public speaker and business owner passionate about mental health, wellbeing and feeling good in mind, body and soul!
She is also a single mum aka "Mama Mei" but she's yet to win an award for that… although she does buy herself a "well done" gift as each child reaches another year older and she did make herself a "boobie award" for breastfeeding two humans for what felt like an eternity. Sophie did, however, set up her award-winning Mama Mei youtube channel and blog during those times which amassed more than 20 million views and tens of thousands of subscribers within five years.
She is happiest when she is being true to herself, managing her mental illnesses, sharing her story and love for people through dance, social media and videos.. Ideally all with strong coffee and self-care.
Sophie has overcome many things with smiles, sparkles, tears and a lot of therapy from being brutally bullied as a child to dancing her way through ITV Britain's Got Talent whilst working as a waitress (sadly not in cocktail bar just serving posh chips) oh and being a dyslexic dyspraxic university student studying Philosophy and Italian with Social Sciences which took her ages as you will find out… thank you Anorexia! She then went on to study a postgraduate diploma in Journalism (NCTJ Accredited) whilst also making films for Channel 4 News and national media through her all-female production company Evoke Media Group.
She knows that this is all just what's on paper… and true happiness starts from within rather than what's on a CV.