The suits adorning strait-laced business people as they crowd into a stuffy boardroom, have been hung up as the face of entrepreneurship has had a dramatic transformation.
Whilst the 'glass ceiling' in business, has been apparent for most of my life being an unconventional woman who also has had to deal with her own 'imposter syndrome,' in recent times however, there has been a huge shift showcasing a new era of 'authentic' leaders.
From online influencers to e-commerce entrepreneurs and everything in between, the world of trade and commerce has changed but more importantly how those who don't run a business view such "hustlers."
Growing up, I viewed 'business' as an industry of po-faced men who would shun those who didn't conform. But increasingly, the dress, sex and style of a business owner has transformed into an image of a warmer, more inclusive and holistic leader.
We now see business owners share their struggles on social media and we are inspired by 'turning point' stories of how an entrepreneur turned adversity into an opportunity.
But what didn't progress like the polished shoes which transformed into flip-flops and working 24/7 in towering buildings turned into success being marked by travelling laptop-based entrepreneurs working a 4-hour week… is the perception of such "del-boys."
 I use these terms "hustlers" and "del-boys" because I have so often been described as one as I juggle freelance jobs and businesses as a writer, dancer, social media coach and film-maker.  In short, I could be described as an 'entrepreneur' or even more cringe-worthy an 'influencer.'
The reason I cringe at these terms isn't because I don't hugely respect entrepreneurs and influencers, I know how challenging it can be, but the perception of people who juggle jobs and businesses, until this year has been that of ridicule.
I had managed to overcome my imposter syndrome in business meetings, but I was then met with the stigma that some small business owners faced although thanks to old-school boardrooms, I never have been used to being taken 'seriously' anyway.
All that said, this year has been tumultuous for all and businesses have had to diversify and many have struggled.
But out of such adversity, we have seen a greater respect for all those working hard to survive and keep the economy going.
As they say "crisis doesn't create community, it reveals it."
I have seen so many groups of businesses unite to collaborate rather than compete, more people than ever sharing posts supporting businesses large and small and there is a sense of appreciation and respect for businesses regardless of maturity.
And as for us 'business owners,' who are attempting to adapt, I have never felt more appreciated by customers and we have been overwhelmed by the kindness of our local business community and clients.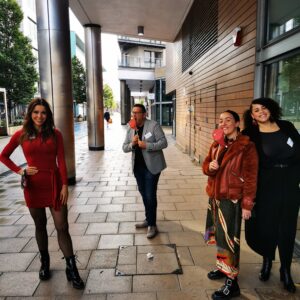 From Leeds City Region Enterprise Partnership support and funded Ad:Venture courses for start-ups to my local council's business arm Wakefield First providing advice and of course, the fabulous support of our local newspapers who need championing too.
All this warmth towards local traders, is encouraging a new generation of businesses to stride forward, run by people from all walks of life who now have the cheerleading to pursue their dream and… quirkier the better!
Read more about Sophie and her business at https://evokemediagroup.co.uk or follow @thesparklecoach