Whether you've been perfecting your sourdough recipe or your squat technique… or if you're anything like me, lunging between the baking and exercise as I endeavour to keep active, eat well, sleep well, entertain my kids and keep a business running.. it can feel full on and so many people are merging out of Lockdown with a vow to transform their bodies overnight which can be a great motivation to kick start your goals or more worryingly, some people are keen to book in cosmetic surgery as first port of call.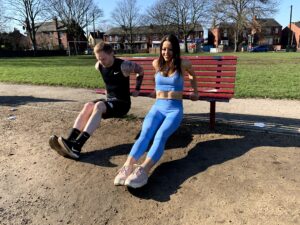 Whether it's bingo wings, 'moobs' or a seemingly growing gut, if you've had time to reflect on your inner self or you've had way too much time looking in the mirror and are determined to change or 'fix' the said problem, I would encourage you to try a fitness and nutrition programme first if you want a real lasting mindset and body transformation which costs less in time and money.
I, myself was encouraged several years ago to have surgery to finally 'beat the bingo wings,' as the only way to rid myself of that "blubber" I had become laser-focused on, nearly obsessive about in the pursuit of happiness, I thought was to rid myself of this fat. Thankfully, life happened, I got a freelancing job as a journalist for national news and fell pregnant. Fastforward a decade, and I am now the owner of two 'toned' looking arms. There is actually no thing as 'toned' but I've lost fat and built muscle naturally in my arms and it has taken a lot less than 10 years and with minimal time in the gym… thankfully gone are the days where I believed that hammering cardio for hours would achieve results and my only option was surgery which was expensive, dangerous and whilst it may have made me feel it was a 'quick fix' it would take a long period of recovery.
For me the transformation came from better nutrition and varying workouts so they're involving conditioning and of course some cardio. As a busy single parent, running businesses and coaching others, I love the fact that my programme is short and effective with just 30-minute workouts, mainly from home or in the park.
As trends change, I hear more people having Butt lifts and implants, gastric bands and liposuction, in an attempt to transform their already perfectly formed body which probably just needs some TLC rather than putting it under the knife as the first option.
I'm not anti-surgery at all, but I always suggest trying a non-surgical solution first. Through exercise, rest and eating well, that initial 'buzz' of a transformation is something which can continue to helping you to feel-good and better still it's by working with your body rather than attacking it. Plus, there are a lot less negative side effects too!
The problem I find with cosmetic surgery is that it latches onto our insecurities without actually dealing with the root cause first as well as being addictive, dangerous and it might give us a short-term win but a long-term low if not done in tandem with a healthy lifestyle. Through an effective mind and body programme you can also achieve the 'look' you want that's right for your individual body. Or the confidence you feel will outweigh the need to 'change,' because cosmetic surgery alone won't make you happy. 
Little did I know in my twenties, that by being kinder to my body through being more conscious about what I consume, focusing on shorter more varied workouts and building strength in my upper body through working out anywhere and everywhere to sculpt around my routine and making it part of my life. The more my self-esteem grew, the better I held my posture.
I now challenge myself with a different body transformation programme every 8-12 weeks which my partner Personal Trainer Mike Green co-creates with me. We have just completed our bespoke booty building plan, not because I am unhappy with my body but I like to maintain my fitness and challenge myself in a certain area, often in line with popular cosmetic surgeries to show how we can achieve results naturally, save time and money and all within a relatively short space of time.  We can start to look better and most importantly to feel better.
I accept we are in an era of fast beauty, fitness fads and quick fixes because we have minimal time yet maximum stressors so, start small today with mini wins to increase fat loss and build muscle.
You can always explore cosmetic surgery later, but at least you should be in a better mindset and understand your body.
Work with a professional to make a programme for you so you can see tangible results such as trying one of our non-surgical programmes. For more information and book a free call, go to: bit.ly/greenhealthpt and you can read more from Sophie and mindset @mamameiblog https://mamamei.co.uk https://thesparklecoach.com @thesparklecoach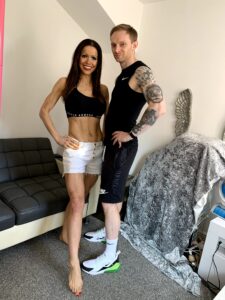 Life Hack
Don't get stuck in the spiralling scroll hole of social media which can have a negative impact on our mental health. Don't waste your morning's cortisol to get trapped on social or trigger yourself in the evening. Instead limit your time slot to once or twice a day if necessary and don't let it dictate your morning or evening routine when we are waking up or winding down.
Approach with a plan of action and ask yourself 'why?'
For more mindset tips follow @mamameiblog
Mind Challenge
Mindfulness isn't about clearing our mind, our mind is like a snowglobe, it's about falling awake to ourselves. There's a power in pause. Implement two 'rest' periods into your results because "high performance and quality rest doesn't come from a stress state," says Sleep Expert Natalie Pennicotte Collier.
Did you know?
1) Three-quarters of women in a survey said they disliked their upper arms, and another study found that 56 per cent would trade in all their designer shoes to have perfect arms.
2) How to get rid of 'bingo wings'
Prioritise resistance training over cardio

Pushing exercise movements such as push ups and tricep dips work well

Eat 1gm of protein per pound of body weight

Avoid low calorie diets but eat a slight calorie deficit (x your body weight by 12 in lbs = calorie intake which includes a deficit)

Drink 2 litres of water daily

Avoid alcohol and processed foods

Join our free group bit.ly/squatsandsparkles