As I clutched my phone talking into the camera, as if it was a silent therapist, I choked up as I attempted to breathe and make sense of a panic attack.
It wasn't meant as anything other than an expressive diary, but I decided to eventually post this raw vlog footage, showcasing a not-so 'insta-perfect' snapshot of my life. It was shared widely, reaching two billion online because these days we tend to opt for content that's a mirror of our own reality which resonates.
But it was a small child-focused theatre show which depicted "butterflies" in your belly which captivated the minds of my young daughters when they needed to explain that they feel nervous about something.
Are these two parallel worlds or can we merge content creation online with the arts and theatre offline?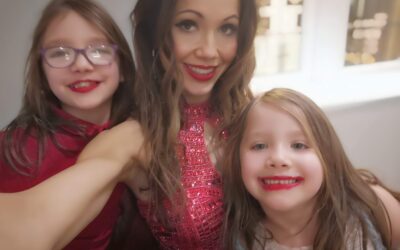 After pauses away from social media "we were on a break," I brace myself as I tap on the all- too familiar app icon brightly piercing through the screen, I know I need to reply to messages, post content for work and check the news but it feels like I am stepping out of the house I have been isolated in, into a fast-paced noisy world. Yes I can step back inside at any moment but social media algorithms are built to keep us 'connected,' or hooked inside their platform. I know that by creating content rather than just dull scrolling is much better for your mental wellbeing but I have learned the hard way to unleash the power of digital creativity prior to posting, otherwise the excessive noise of trolls or even echo chambers can stifle your creativity. Granted, social can inspire ideas, issues that are prevalent to an array of communities and has been my way of communicating and sharing my work as journalist, mental health and wellbeing author and even passion for dance so I can't berate it or stay inside my isolated home but I have been learning to cut through the noise and do it on my own terms.
In many ways much like reality TV, which was also a platform for me as a young dancer shimmying hard to make it in the media and entertainment world, another culture which also consumes audiences through voyeurism, escapism and another useful tool of expression which comes with it's aspirational promises and underworld too.
Whilst many who enjoy more snobbishly-called 'high culture' oppose this 'low brow' stuff, for a lot of us social media and TV has been a lifeline to connect and schedule our lives, especially throughout this last year.
But it certainly does not replace the arts, theatres and creative outlets that we've become accustomed to in recent years whilst bringing my own daughters up in God's Own County in which our local creatives, musicians and creative groups have gone above and beyond prior to the Pandemic to make the arts more accessible. From free workshops at Yorkshire Dance to Child friendly ballet shows at Northern Ballet Theatre to Rock n' Roll Panto at City Varieties and community projects at Leeds Playhouse and en promenade performances at Theatre Royal Wakefield and Sheffield Theatres, we have been mere public transport rides away from this whole other fantastical world.
Whilst I take pauses from the social media scroll hole for more work on my soul, I cannot berate the platform which has connected more people than ever before in recent times, and has meant wider audiences have accessed online learning and cultural experiences from culinary workshops to immersive zoo experiences, free theatre shows and vital community support… plus there are those of us who earn a living online too.
So as we emerge from this murky period, I am excited for a new hybrid approach where 'cultures' no longer collide or compete but join together to engage and attract wider audiences to the core beauty and freedom of the creative arts. My daughters and I have been connected to the arts through Zoom art sessions, live shows streamed online and we have danced a long to a number of youtube classes not to mention shimmied to Strictly!
For me, the core of creative communication is individual expression and we need to support our region's artists, pioneering venues and creative groups of all sizes to continue inspiring, creatively connecting and providing a special sanctuary open to all minds.
I chat all things mass media and straddling social media in this week's Recovery Road Mental Health podcast with ITV Presenter Christine Talbot and blogging daughter Beth who experienced Panic Attacks whilst at University.
Download Recvery Road from all podcast stores or read more at: thesparklecoach.com or follow me @thesparklecoach