If you're feeling overwhelmed with life, mind clutter and unsure of your fitness goals, one of the best forms of exercise for your mind and body (or as I like to say #BrainandBooty) is to dance. 
Dancing not only can boost your fitness levels, strengthen your body and improve flexibility but it can "transform your mood by releasing positive endorphins around the body, reducing daily stresses and dance produces specific chemicals that contribute to increasing brain power!" Explains Katie Geddes, Dance Studio Leeds. 
I know myself as someone who shimmied her way into sport and fitness through discovering a dance style that worked for me, namely bellydance, just how incredible this art form is which is accessible to all. 
I even now teach a range of styles in my spare time and as I always say "everybody has a perfect body to dance, we all just move in our own beautiful way." 
From my 85 to year old bellydance flow student who reports that she "finally feels connected within her body" after class to my nutritionist mum Lizzi Owiredu who shimmies along to my dance HIIT class with her toddler feeling "rejuvenated" and "body positive" alongside insta-famous fashion designer Jordan Wake who says that dancing with me before work supercharges her focus and has transformed her "brain and booty" saving her time procrastinating on getting ready and social media.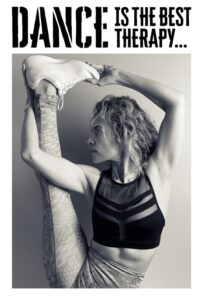 From leading expressive movement sessions with adults with learning disabilities at Coactive Arts charity based at The Arthouse space in Wakefield's The Ridings Shopping Centre to chair dance in nursing homes… dance is a universal connection and a source for everyone's soul to communicate. 
"Dance as a form of exercise and expression has been with us since the beginning of our time on this planet.
"Beginning with moving to the elements of earth, water, air and fire, to the beat of the drum to songs of the bird where there are no words, there is dance," says Annie Riley from The Modern Mystery School. 
Celebrity Life Coach Jill Ritchie agrees who chats to me following her somatic movement session which is where you focus on the inner experience dance brings you rather than the external appearance. 
She says: "In the wild animals who experience trauma shake it off physically after the event whereas we as humans carry it around with us, there's no wonder having a good dance can help us shake off our stresses!" 
Jill, 41, a former corporate banker, has discovered a love of pole dancing and like me she has a pole at home where she practices with an instructor online.  
"I've never worked out my arms so much." I can relate too as when you're in the dance flow holding your posture strong you end up moving more than you would focusing on acquiring a skill and moving to the music. 
Dance is a full on cognitive and core workout, however you wish to groove to the rhythm of the beat. 
As Annie eloquently adds: "To dance is to honour your body. 
"For dance wakes up and enlivens the muscles, the joints, whose natural state is movement, heart rate increases and the blood flows. You breathe, you flow…dance enlivens the soul." 
When I was asked about how to start a fitness regime by Gayle Lofthouse on BBC Radio Leeds: "But where do I start with exercising," she said. 
My best advice: "Put on your favourite song and move however you want to the music." 
It really is that simple, there are no rules… if in doubt, shimmy it out! 
Read more from Sophie at https://thesparklecoach.com and https://MAMAMEI.co.uk @sparklecommunications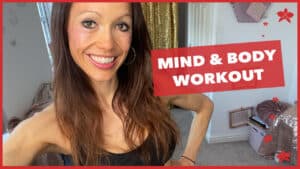 Outdoor Workout 1
1.) Decline push ups x10-15
2.) Back foot elevated split squat x10 (each leg)
3.) Bench box jump x10 
Repeat 3-4 rounds as fast possible. 
Outdoor Workout 2
1.) Incline press ups  x10
2.) alternating steps  x10 (5each leg)
3.) V-sit ups x10 
Repeat 3-4 rounds as fast as possible 
Follow @GreenHealthPT and @BellydancerSophie for more https://greenhealthpt.co.uk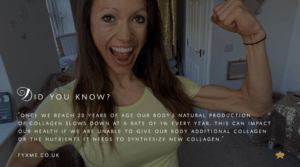 Did you know: 
"Once we reach 20 years of age our body's natural production of collagen slows down at a rate of 1% every year.  This can impact our health if we are unable to give our body additional collagen or the nutrients it needs to synthesize new collagen."
FYXMe.co.uk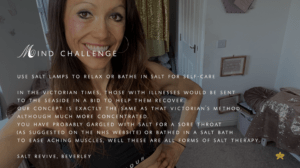 Mind Challenge 
Use salt lamps to relax or bathe in salt for Self-care  
In the Victorian times, those with illnesses would be sent to the seaside in a bid to help them recover.
Our concept is exactly the same as that Victorian's method, although much more concentrated.
You have probably gargled with salt for a sore throat (as suggested on the NHS website) or bathed in a salt bath to ease aching muscles, well these are all forms of salt therapy.
Salt Revive, Beverley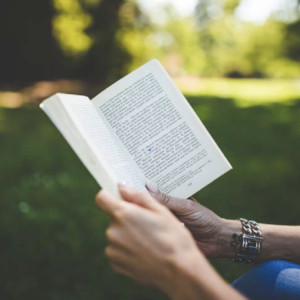 Life Hack
People deficient in vitamin C are particularly susceptible to severe respiratory infections, such as pneumonia and COVID-19 which cause vitamin C levels to drop dramatically due to increased need.
The not-for-profit www.vitaminC4covid.com project is crowdfunding to help fund vital VitaC4Care research.