"We have complete communities rather than fragmented families. It's our language which is divisive." Sophie Mei Lan
From a 2.4 household to Gay Dads and a Mixed Race Single Mum to Step Families and creating my own mini family as a young student mum to becoming a solo married mum in business to a now 'Working Single Mum' or 'Co-parent' by both definitions… I have had the luxury of experiencing a variety of "unconventional" labelled households. Although the one line that threaded through my childhood and now that of my own two daughters is not just blood but most of all love.
This past year more than ever has shone a light on a plethora of family lives as we have discussed everything from support bubbles to beginning to redefine the world of work with more agile and flexible working than ever before.
The important thing 'through the keyhole' all comes back to creating strong communities or what the non-urban amongst us might live in 'villages.'
People often assume that certain families such as single mums who make up 90 per cent of lone parent households have 'no support' when as my friend Emily Winn-Khan explains that it's about either being born into a village or creating one: "I've learned to unsubscribe from the label 'single or line parent'. Parents and carers need not be labelled but supported to connect to a community or reach out for help if they feel alone. Parenting is about connection not separation."
For me this rings so true because whilst at times I have had to consciously create my own support bubble after relocating to have my babies and work from home sometimes we feel most 'lonely' when we are shunned by professionals or society because of our so-called labels, these are what's damaging by articulating diverse family life as 'fragmented.'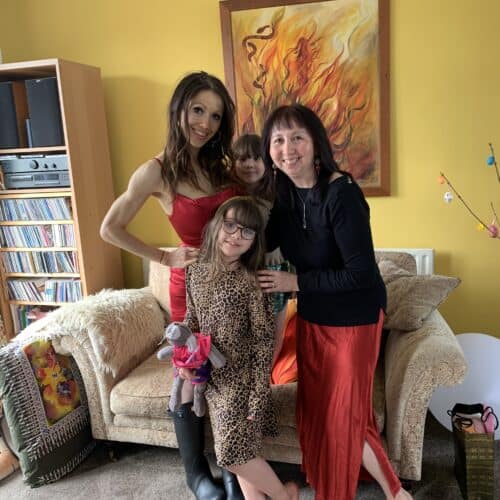 So to move into the opportunities of villages rather than 'ideal families' during this redefining generation it is first of all important that families of all backgrounds are treated equally.
But unfortunately whilst this Pandemic may have provoked discussion around inclusivity, single parents for example are still not protected by the Equality Act.
As Ruth Talbot, the founder of the campaign group Single Parent Rights, who campaigned to support a change in lockdown restrictions for single parents allowing support bubbles has said the economic future of one-parent families such as hers risk being set back years if they do not receive targeted help with her survey showing four-fifths had experienced a type of discrimination and those living with a disability, or who were from an ethnic minority background or on low income experienced greater levels of discrimination.
She suggested however the potential that this period could also bring to promote change and utilise it as a "turning point in terms of tackling the structural barriers and inequalities single parents faced."
I too have faced a lot of stigma but like Ruth, I agree that we can utilise such crisis periods as turning points too, focusing on the foundations of family life. From some of the most supportive 'families' I know of people clubbing together on estates and amongst social housing to create community spirit like no other strength I have ever seen to faith groups, leisure clubs and lots more 'pockets' of strong connections.
For me, it begins with redefining 'family' as a community of people connected by unconditional care for one another. It's why I set up Yorkshire Families Magazine as a collaborative project to showcase the best activities to do in Yorkshire and beyond, as well as creating a community hub online of support networks, information on vital services as well as campaigning to get all 'families' active by promoting accessibility not assuming it for all so that rather than merely offering a 'set day out' one size fits all budgets, backgrounds and traditional family set-ups, instead it fosters creativity for venues and activities to open up their services to accommodate for a huge range of communities.
Simple small steps can reap results from recently offering a 'family pass to the Reel Cinema at The Ridings in Wakefield' which doesn't assume a 'family pass' as 2 adults and 2 children, instead it was a flexible number of winners' tickets depending on the size of each winning family. We have also started to include accessibility reports of sporting venues as well as the standard match reports. We aim to train more community reporters from all backgrounds to write for us to share their views on how we can best support one another. Our first pioneering not-for-profit upskilling project is Digitally Active – to support adults with disabilities utilise their online skills to learn how to report on blogs,vlogs and podcasts, run a community enterprise and work with local businesses offering cost effective web maintenance and content services so that they too can work online if they wish.
To consume, create or collaborate with Yorkshire Families, go to: https://yorkshirefamilies.co.uk or https://sparklecommunications.com or find them on social @YorkshireFamilies on facebook and instagram or @yorkshirefams on twitter.