From stocking up on expensive formula milk to breastfeeding for 7 years…
HOW I WENT FROM BREASTFEEDING UNAWARE TO BECOMING A PEER SUPPORTER….
In a society of humans who are the only mammals to drink another mammals breast milk, mainly cow's milk, it seems hypocritical that we are more concerned about consuming under-funded information regarding breastfeeding services.
We are uncomfortable by campaigns to promote this vital free resource which can support a mother to become empowered to make her own choices, balance out health and wealth inequalities and most of all provide vital nutrient for all babies where possible.
I too have been born into a world of false advertising for overly priced formula milk which attempts to mimic breast milk and is a viable option for many mums, but for me it made me believe that this was what my baby needed whether I could afford it or not.
Even my Healthy Start food vouchers which had been a lifeline as a young mum on benefits had been for fruit, vegetables, cow's milk and formula milk.
I knew the power of fresh fruit and vegetables but I wrongly assumed that I needed to budget for a stock pile of formula milk, having wanted to do be doing 'what's best for my baby.'
I had occasionally witnessed women discreetly breastfeeding but I had never  seen any role models reflecting me. I thought that manufactured milk was the formula for a healthy baby with breastfeeding as a desirable 'extra.'
"I'll try breastfeeding but never in public." I declared when first asked by a health visitor in the early days of pregnancy. But after adjusting to a new flow of life starting out as as a mum as well as finishing off my university exams whilst launching my career in national news I began my new life as a working mum. I had to embrace that my situation was far from perfect but I worked hard researching the best scoops for editors as well as how I would navigate my personal story.
It was hard in both areas to establish credible sources that were to make headline news and it was even harder to find factual non-judgemental information on how to feed a baby, even from health professionals.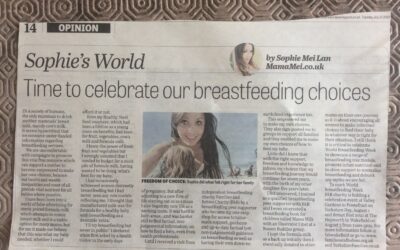 Until I received a visit from independent breastfeeding charity Families and Babies Charity (FAB) by a breastfeeding peer supporter who became my one-stop-shop for access to tailor-made support, guidance and up-to-date factual (yet non-judgemental) guidance on breastfeeding as well as having their own down-to-earth lived experience too. This empowered me to make my own choices as well as answering any questions I had. They also sign-posted me to groups to support all families and, they enabled me to make my own choices of how to feed my baby. Little did I know that with the right support, freedom and knowledge to inform my choices that my breastfeeding journey would continue for 7 years, with the birth of my other daughter 5 years later. I even tandem fed both children as I had natural evolved into a gentle parent, being led by my children where possible.
I fed uncovered, I trained as a qualified breastfeeding peer supporter with FAB and, I even co-created a breastfeeding book for children called Mama Milk with an illustrator I met at a bosom buddies group.
I kept the formula milk as a back up initially then I eventually donated to other mums on their own journey as it is about encouraging all women to make informed choices to feed their baby in whatever way is right for their situation.
After naturally weaning both my daughters, not actually out of our choice but situation, I still think it is critical to celebrate World Breastfeeding Week (WBW) to showcase a range of breastfeeding role models, promote infant nutrition and to show support to normalise breastfeeding and debunk any myths we are fed to believe!
To mark World Breastfeeding Week FAB charity are holding a celebration and Breast Fest 2021 at The Hepworth on 5th August 11am-3pm.
For more information follow @fabwakefield or go to, www.familiesandbabies.org.uk and https://YorkshireFamilies.co.uk
World Breastfeeding Week (WBW) occurs annually on the first week of August and represents a global celebration of breastfeeding efforts including breastfeeding promotion, support, education, research, progressive trends and normalizing breastfeeding as the gold standard of infant nutrition.