As soon as I dipped my bunion cladded dancer feet back into the world of social media following a sabbatical in hospital, I feel a toxic wave of abuse flood into my home regarding my "body."
I would have brushed it off had it been about my feet which act as a broad surface to enable me to dance, do Yoga and are purely functional to my life.
Yet what I wasn't quite prepared for were the comments, messages and accusations over my appearance and "weight loss."
Within moments the mental strength which I had installed to get me out of hospital, following emergency procedures with more surgery to follow in the future, seemed to evaporate.
Fortunately, I have built a largely positive and self-aware mindset having previously healed from Body Dysmorphia and severe Bulimia which had left me hospitalised and caused weight gain, contrary to popular belief, I have discovered the power of self-awareness and managing triggers.
I have been on a long journey from self-hatred to self-acceptance over my perfectly imperfect body and I even have written a book about it which was published last year.
Yet in those moments, with my physical body still in the early stages of recovery following an unrelated recent admission and my confidence needing to restore having exited the world for 5 weeks, the social media trolls and judgemental messages which seep into my inbox, make me question whether I could ever leave the house to experience some of the sunlight which had beckoned my Vitamin D deficient skin.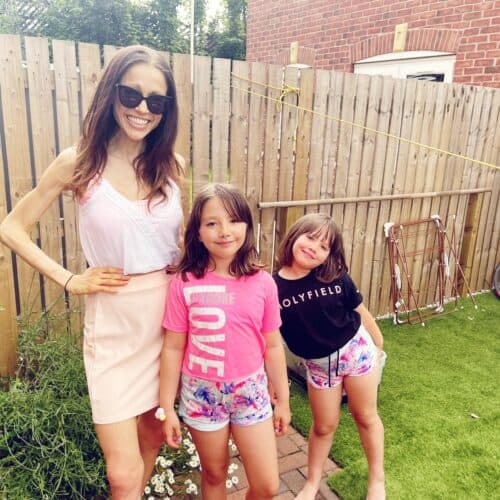 I have had to accept that my body has changed over the years and evolved like nature with age, trauma, life, children, work and now it is physically needing to recover. It may not be aesthetically pleasing in today's body-obsessed society and I confess it isn't how I would like it to be at it's optimum because I feel weak, struggle to move and at times my mind is frustrated because that functions better than before when the illness was festering inside me.
But I decided to leave vanity at my hospital door as most of the physical changes are temporary and the other life long changes I have replaced in favour of gratitude for receiving treatment and having a now mostly functioning body.
But the judgement, verbal and online abuse as well as the well-meaning assumptions about my "weight loss" has been so acute that I did initially decide not to leave the house.
Part of the judgement has come in the fact that I made the choice to keep my illness private in a bid to take some power back as it is my human right as well as change my own behaviours from feeling I needed to justify my existence all of the time by over-sharing and most importantly I want to have finished treatment and feel stronger again before I make the choice to disclose or not as I personally do no wish to 'become' labelled by my illness or manifest it.
Some may argue it is "fair game" for putting myself out there as a content creator online, authoring a memoir and the fact that I work in the media but I have heard such justification too many times when we scrutinise minorities who don't fit our 'norm.'
Rather than remain house bound, I chose to take action in what works for me having had practice at my resilience techniques many a time.
I have reduced time on toxic channels of communication, I have enlisted the support of positive friends from Reiki and Qi Gong masters at Beyond Healing based in Wakefield to assist with restoring my movement and energy, my holistic skincare facial guru Abigayle Andre in Bradford for ultimate self-care inside out, my fashion designer friend Jordan to design clothes in Cleckheaton as she specialises in couture creations to compliment women with a range of health conditions and booking on to my lovely life coaching Leeds friend Carron Cummings' latest Real Women fashion show event at Royal Armouries to be inspired and lifted by a sisterhood of women who have also been shunned and decided to shine in their own way. Coincidentally, it was this show that was the final event I performed at in my multi-faceted style as a professional dancer, presenter and content creator pre-lockdown where I spoke publicly about my journey, expressed my life story through a power bellydance sequence and even won Blogger of the Year for my wellbeing content.
I am not dwelling on the past but it is great to reflect on how far we have come in our own lives, the tools which work for us as well as appreciating the joy in the ordinary and extraordinary moments. We are much more than body parts meandering around Yorkshire, we are lucky to be living and human beings. It only takes a stay in any busy hospital ward surrounded by people in their last stages of life for us to understand this.
I choose not to let those who judge stop me from walking these flat feet out of my house and appreciating nature now that I can or even if I am invited back on stage.
Whether you find yourself projecting internally or externally your insecurities over your own body. Stop, reflect and work on yourself to invest and believe in your own power and beauty inside out. Even if it starts from as a simple yet vital a human function as appreciating your own breath. The perfect body is one that is loving and alive.
I hope this helps as you walk, wheel, strut or shimmy out of your home following any life challenge or set-back.