Huge numbers of people are flocking to the seaside in a bid to gain some British rays, appreciate some Victorian-style healing and relaxation… perfect for sports enthusiasts with a range of respiratory issues  
We look at the history of salt and seaside therapy as well as meeting the Yorkshire woman, behind a healing salt spa in Beverley who help adults, children and clients manage a variety of ailments and self-care needs with their healing salt rooms and their self-care tips for salt therapy at home for those who can't yet get to the beach or spa. 
Salt Revive owner Claire, who found soothing for her Asthma from salt, explains: "In the Victorian times, those with illnesses would be sent to the seaside in a bid to help them recover.
"Our concept is exactly the same as the Victorians method, although much more concentrated.
"You have probably gargled with salt for a sore throat (as suggested on the NHS website) or bathed in a salt bath to ease aching muscles, well these are all forms of salt therapy."
Halotherapy remains beneficial for our overall wellness by removing the toxicity from the respiratory system, improving the function and appearance of the skin, and boosting the immune system…
I discovered my life-long passion of Bellydance, at a Festival in Sheffield nearly 20 years ago.
This led to a crazily beautiful career bellydancing across the globe with wonderful women and making my first documentary in Egypt which shimmied me into journalism, holistic healing, and studying women's well-being.
I have also been surprised by the power of no-hands energy healing techniques such as Reiki and the natural benefits of Homeopathy. All at times in my life I felt so broken so I was open to anything despite my absolute scepticism.
From Reflexology to Acupuncture, from Personal Training to Yoga… these are just several practices I have benefitted from on my swirling life journey.
And now I can add Salt Therapy to the list. An intense version of what those fortunate enough to visit the glorious Yorkshire seaside and reap the rewards of the salty air and sea.
 What is it Salt Therapy? 
It stems from salt miners who stumbled upon the power of the salt mines of Poland. And now there are 20 Salt therapy spas across the UK with one over in Beverley called Salt Revive (a short drive from Hornsea's seafront!).
Even heading out towards the coast, it's easy to see why the Victorians headed to the seaside when they needed to treat a variety of ailments.
But whilst that's well and wonderful when you can. As a single mum with two little ones and no car, it's not as easy to head to the coast from my urban new build home.
So this one-stop shop of healing for all the family, was just the tonic for us with limited time.
Not only did my designated driver aka stepdad and childcare support Mama get to enjoy the relaxing impact of this small but perfectly formed retreat. But my daughters did too and so did I. What was interesting was how our experiences differed depending on our own personal perceptions of "relaxing."
Inside the family Salt Therapy room: 
I stayed in the family room with the kids and the salt was pumped in the air at a lower rate. My eldest who enjoys a "home from home"  leaped at the opportunity to watch Sing On on Netflix on the tv inside our room in which she simultaneously created her own TikTok videos as she danced along.
My youngest had more of a traditional idea of relaxation lying with her palms open and eyes closed on her sun lounger. Ironically I am a combination of the two.
We had half an hour allotted for the family room whereas the grown-ups got 40 minutes and a more intense salty experience.
My daughter found her flared tonsils had reduced, with salt particles decreasing the inflammation and my youngest felt more Zen. I felt energised yet chilled after 30 minutes of focused time with the Kids. Granted, my chosen chill time would normally have been with my feet up in the adult salt room as I practiced my Yogic-inspired diaphragmatic breathing instead of TikTok management! But what a fabulous hybrid of a truly accessible therapy centre.
Not only is Salt Therapy great for respiratory conditions, mild mental health problems and a powerful dose of seaside therapy. It was an unexpected treat.
Inside the adult room: The Full Salt Therapy Experience
Here my mum Panni Loh shares her experience inside the adult room where she spent 40 minutes with eyes closed, relaxing music and just my Step Dad chilling by her side.
"Would you like to come to a salt spa?" My daughter asked, and my response was 'What is it?'. I don't think my daughter really knew either, but we're always up to try new things so we went on bank holiday Monday. It was a treat.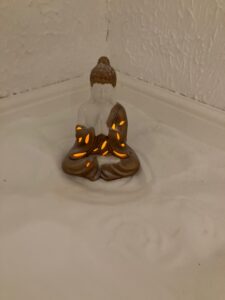 Salt revive is in the Beverley voted one of the best places to live in the UK and home to the 13th century minster. On arrival we were warmly welcomed by Claire who told her the benefits she had experienced overcoming asthma. Salt therapy stems from benefits to slat mine workers who unlike fellow citizens in Poland were free from respiratory and skin complaints. You can apparently even stay in Salt caves for hours or even overnight.
Salt Revive has built upon the idea of the salt cave by beautifully clear clean white rooms carpeted in loose salt and housing relaxing recliners. We were in the adult room whilst my daughter and children were in the family room, the idea was that after 20 minutes one of us would swap over. However, laying back breathing in the salt air through the nose, out through the mouth it became a meditation. In no time my husband was asleep and I was in a dream world floating into calmness to the soft instrumental music.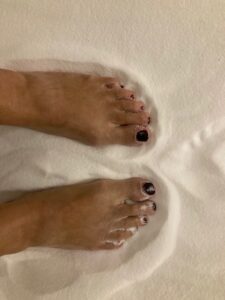 The 40 minutes passed in what seemed like 10 minutes and we came out feeling refreshed and rather surprised that it was over. Needless to say neither one of us was not aware enough to find my daughter to see if she wanted to experience the higher strength salt inhalation as opposed to the milder family room. The family room seemed to have been fun with the children watching a film and one even enjoying the peace of eyes closed in a chair whilst the other marvelled at dancing in the salt grains.
 Verdict
It was a lovely experience to be recommended, especially as my breathing felt clearer coming out.
You can read more from me at https://sparklecommunications.co.uk and my mama Panni Loh Artist at https://PanniLoh.com
Follow me @thesparklecoach @mamameiblog
You'd be forgiven if you've never heard of salt therapy… Discover more about natural healing from Salt Therapy by the owner of Salt Revive: 
Clare Atkinson, the owner of Yorkshire's only salt therapy centre, Salt Revive, only came across it by chance just over three years ago.
Clare, an asthma sufferer, was particularly susceptible to coughs and colds, which often developed into a chest infection and would require a week in bed, antibiotics, steroids and leave her gasping for breath.
It was in 2017, whilst in London visiting her brother-in-law, that she was advised her to go to his local salt rooms to try and stave her 5th chest infection of that year.
Despite being sceptical, Clare went along to try it and was amazed by the results. Her chest infection soon disappeared, her mood had been lifted.
Clare said, "I'd never heard of salt therapy before and thought what on earth could salt do for my wheeziness' when it was first suggested to me.
I can not tell you how grateful I am to him for making me go that day, since having regular salt therapy sessions, I have not suffered with a chest infection since.
We were so amazed with my results and knew that we had stumbled across something that could help so many children and adults alike that my husband and I made the scary decision to pack in our jobs, move East and open up our own salt therapy health spa, one of only 19 across the whole of the UK.
Now we have been open for two and a half years, we are now a recognised name when it comes to health and wellbeing.
So, how does it work? In the Victorian times, those with illnesses would be sent to the seaside in a bid to help them recover.
Our concept is exactly the same as that Victorian's method, although much more concentrated.
You have probably gargled with salt for a sore throat (as suggested on the NHS website_ or bathed in a salt bath to ease aching muscles, well these are all forms of salt therapy.
Our treatment used dry, 100% natural rock salt which is put into our specialist halogenerator machines and ground down into tiny microparticles.
These are then dispersed into the room through a fan and are breathed deep into your respiratory tract and lungs and land on your skin.
Salt is naturally anti-bacterial and anti-viral so helps to get rid of any nasty bacteria lurking in your lungs and airways and also, in the case of skin conditions, helps kill off any bacteria that may be irritating your skin.
It is also an anti-inflammatory, so helps to ease any inflammation in the airways of the lungs caused by asthma, as well as easing inflammation of the skin which may be caused by eczema.
With it being a dehydrant it can also help to get rid of any excess mucus or fluid.
It can even help with snoring!
The adult room is all about the 'experience' and our aim is to have you leave us in a state of pure relaxation, so we have a softly lit room, with candles and relaxing music playing. All you need to do is sit back on our recliner chair, breathe deeply and probably drift off for a little while!
Our children's room is all about keeping the little ones entertained. We have a TV and you are encouraged to bring your own toys and buckets and spades so they can play and dig away during their session, not realising they are there for their health as they are usually having so much fun!
We have had amazing results, eliminating hospital admissions for a lot of our clients, improving their quality of life and everyone tells us how much they look forward to their weekly visit for their 'me time' and an amazing practise of 'self care'.
Book now at saltrevive.com follow @saltrevive