From the stallholders showcasing their ethical Lockdown-made products to the woman in remission from Cancer setting up a model agency whilst waiting for treatment, there are so many stories of optimism amongst our communities
With the cold dark nights closing in and only the full moon offering some light, it's easy to feel gloomy.
If you're also on the long NHS waiting list for surgery as many of us are, time may feel even slower as you live by the next posted letter, only to see it's your energy bill going up instead. But the more I am getting out of the house and meeting humble humans, I can't help but feel hopeful as there are so many people striding ahead despite hurdles in recent times. People such as 24-year-old Amber Manning who I recently chatted to, inspire me to follow my belief that patience is a virtue, giving us space to create. Rather than 'wait' and trundle on, Leeds model Amber has used her time in remission from Cervical Cancer to set up an agency to help other "disabled" and alternative models. And with the opportunity the online world offers to start a business with little investment other than passion, Amber said that while she struggles to attend photo shoots these days due to her health, she wanted to give others this opportunity to thrive. "I literally get a buzz off seeing others do well, I literally get energy from some of my models doing so well." She said: "If I thought about my brain tumour, moles, and deteriorating health conditions, it would all feel too much." Instead, she chooses to use her time in the waiting rooms and 'on hold,' to go on Instagram and link up other local models who are in need of a boost."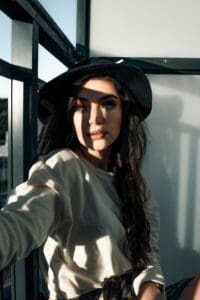 One of Amber Manning's alternative models 
It is these transformational stories of Yorkshire folk which keep prompting me to smile and enjoy this ride. Even last week alone I've been working with other business owners as part of a School of Social Entrepreneurs programme designed to elevate each other as well as chatting to the many ethical businesses I met at The Ridings' Vegan Fair many of whom had blossomed from adversity. "I gave up art when my mental health deteriorated," explained one stallholder but then when I started drawing again, this was key to my recovery," said Lucy Kenyon the artist chatting to me whilst displaying her captivating hand drawings which she had freely created to help ease her mental turmoil during isolation. It is this kaleidoscope of colours that make up the patterns to weave so many of our fragmented communities together.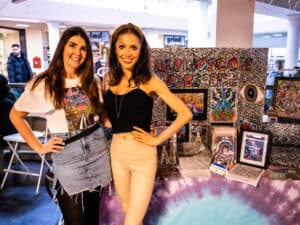 Photo By Gary Kenyon – Artist Lucy Kenyon and our Sophie Mei Lan At The Ridins Shopping Centre 
I finished my week floating high at FloatSpace where I discovered another gem of a human, behind the start-up company that treated me to my first flotation therapy treatment. The owner had combatted his own demons thanks to the power of such floatation tanks where you're immersed in soothing salty water as you relax into the dark silence of the next hour's therapy.
A perfect metaphor for my creative freelancing spirit who normally fears the dark cold nights and wants to hibernate.
The more people I meet online and in person, the more I am stumbling across this abundance of light and hope who opt to share their own journeys to wellbeing. Those who have a soulful desire to help others.