Should I get up at 4 am to do two hours of meditation or should I sleep in and get my full 8 hours of sleep? Should I be still first or move? Or maybe I should get up at 5 am like that entrepreneur advised? But then that sleep podcast said that really I need 9 hours of sleep?
Maybe I best check my sleep app? Oh no! I am not supposed to look at a blue screen that blog said?! But hang about I am working a night shift when I return to work so then do I just meditate and not sleep?!
But I am accumulating sleep debt and reducing my life expectancy by such shift working. Yet I need the money so don't really have a choice.
If you have had some confusing internal dialogue with yourself around wellbeing, the right routines, and what you 'should' or 'shouldn't' do – I don't blame you. Our lives, homes, minds, and the world is more cluttered than ever before. And even the wellbeing 'industry' can feel like added clutter when it comes to deciphering the endless amount of information online.
When really what we need when starting our day is "clarity not clutter," explains therapist Toby Oliver who has written RISE AND SHINE – How to transform your life, morning by morning with his psychologist sister Kate.
"This isn't about telling people off or even telling them what to do, it is a method that evolves around the full human.
"Even just adopting one principle in the book can help you build a better day and transform your life when it becomes a habit. But to become a habit it needs to be sustainable," explains the Sheffield-based first-time author.
"Even just waking up 10-15 minutes before your normal 'wake-up' time to build in some helpful self-care techniques can really help."
Toby's gentle nature and wholesome approach to health and humanity are as refreshing as my morning Yoga and coffee (Oh wait, should it be hot lemon water? Oh no the dentist said the acid isn't good for my teeth?! I mean glass of water, not coffee. I jest).
Rather than the hand-bag sized book collecting dust on our shelves alongside our other physical 'clutter' it is designed with a handy, flexible, and holistic approach to wellbeing.
"It follows the S.H.I.N.E. method. A unique and flexible way to build positive, long-term habits."
So if this isn't like the usual morning manual or scientific recipe book approach, what is the secret ingredient to make you 'shine?'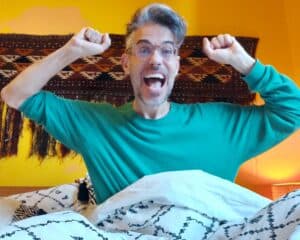 S.H.I.N.E. represents five elements we all need in our mornings: 
Silence – create stillness, peace, and reflection
Happiness – discover techniques to help you begin the day on the right side of the bed
Intention – find practices that empower you to shape your day
Nourishment – feed your mind, body, and soul
Exercise – get your body moving, creating energy for the day ahead
Toby starts his own day by lighting a candle and meditating before doing some stretches and journaling.
The book provides a simple approach which means we don't have to do it all at once, we could just start by doing something positive for ourselves, explains Toby who says that his morning ritual may not work for everyone and it is important we add clarity to start our day.
"Set aside your clothes the night before and try and do whatever you need to do to plan for the next day ahead. So you can wake up and follow your ritual without having to think too much."
Toby begins his morning by not only plotting out his to-do list but more essentially his 'to be' list, so he gets up already manifesting what the day will look like and what he needs 'to be' his full self in it.
Toby is also a trained Yoga instructor who incorporates trauma-based practices into his classes as well as inspiring youngsters 'to be' whatever they want to be in life as a passionate Stonewall ambassador.
"We all need to value time for ourselves but if we don't build it in first thing, it often gets missed.
"My partner can always tell when I haven't done my morning meditation," he laughs.
Toby and Kate's sincere yet flexible approach means that this handy guide can be picked up at any point and we can choose what works for us, offering a much-needed flexible approach to wellbeing.
Based on the latest scientific research, as well as ancient traditions and insights gathered from decades of personal and professional experience, Rise and Shine offers thirty different practices that will encourage you to curate a routine that blends seamlessly with your lifestyle. 'Because by changing your mornings, you can change your life.'
For me, I was drawn to writing techniques, journaling, and even dance quotes within the book. I use writing and dancing as a way of decluttering my own neurodiverse brain into some linear order. First I dance and move to shake off anxiety and then I write to create peace in my mind.
The process of writing whether it be to reflect, comfort, express or plan our future, can alleviate stress, make sense of our emotions and help us to feel more grateful.  Not to mention, the positive impact it has on our overall wellbeing, whether that be "free writing" or "structured journaling."
"The key is to make time to write, ideally at the start of your day," explains Toby.
"Free Writing is a powerful form of self-expression which by doing regularly can improve clarity, focus, and feeling in control." Not to mention, structured journaling to reflect, set our intentions for the day and focus on what we are looking forward to.
Writing is such a powerful tool that helps us to appreciate, achieve and alleviate challenging emotions. And as a dyslexic and dyspraxic journalist talking to a fellow Author Toby who is dyslexic and has ADHD, it just goes to show by adopting a few simple techniques and experimenting with what works for you can transform your life, career, and overall wellbeing.
YOU CAN BUY RISE AND SHINE FROM ANY GOOD BOOK STORE, or on AMAZON: https://amzn.to/3edG35j (affiliate link)
By Sophie Mei Lan https://sparklecommunications.co.uk / https://mamamei.co.uk
Dan who is our accessibility volunteer at https://yorkshirefamilies.co.uk has also found his solace in sports reporting as someone who is on the autistic spectrum. He interviewed Toby for our community site:
What made you write a book? 
He wanted to write a book because he had an idea with his sister.
Have the five elements you encourage people to do, changed your life? 
He said that the five elements he encourages people to do have changed his life because he does at least 3 or 4 of those things, he also said that something people could do is get up 10-15 minutes earlier, get clothes out the night before, do something positive for you.
Do you think you have helped young people deal with anxiety/grief? 
He says he hopes he has helped young people but there are not enough life skills taught to primary school kids these days.
Where can people buy the book? 
People can buy the book in all good bookstores e.g. Waterstones, WHSmith.
https://youtu.be/1wzBsYcYkPA