Most of us have a 'book in us' chronicling the story of our colourful lives. But if you've ever started writing a book, I bet you wish you'd kept a journal because not only can journals serve to remind us of key events, feelings and details but the practice of journaling can help us process a range of emotions, express ourselves and to even rewrite our future.

My puffy eyes looked up in disgust as I saw my reflection, yes I had been crying but it wasn't that that I was annoyed with, it was myself. I thought I had healed from my past coping mechanisms. Yet here I was in the first Lockdown having caked on layer after layer of make-up to make it through the day. I was lonely and had allowed the negative trolling to seep into my home and mind.   

 We can capture snapshots of our lives but also see how far we've come because it can be challenging during difficult periods to remember that you have already overcome previous hurdles.

Fortunately for me, in that first Lockdown I was finalising the first draft of my book with the publisher which was a compilation of my life 'journals' through photos, writing and videos. And it served as a stark reminder to where I didn't want to go back to. It was also a positive reflection that even though I have my 'moments,' I am much more resilient today as I bounce back a lot quicker when it comes to my mental health.

Publishing my first book sparked me to continue journaling in the form of vlogs on the days when I struggled to sit down and write.

Journaling is a cathartic process which can help us process emotions, make decisions and putting pen to paper can give us more clarity.

By the second lockdown I was able to leap forward as a refreshed version of myself, closing a door on my past.

Local Newspapers also act as an important journal to communities. They help to share our life stories as well as documenting history in the making so that we can learn from our past.

It doesn't matter how you journal, but I recommend you do it. Whether you use photography, art, video or writing you can jot your way through the waves of life.

My friends and fellow creatives Lucy Kenyon doodled her way out of depression and isolation during the first Lockdown and by the second Lockdown she was making artwork to sell. Photographer Andy Plues, who hated academic subjects at school discovered his ability to express himself through the lens. By Lockdown round two, he used his love of photo journaling to train to teach photography, sharing his creativity beyond the textbook.

That's the beauty of journalling, it's personal to the individual.

I discussed this recently with my publisher Diane Hall who fortunately has a much more linear and logical brain than mine which means she journals differently to my spiral scrawling and free writing.

Yet both our minds have become transfixed by the power of this practice. So we have joined up to offer pay-as-you-feel Journaling workshops for people in Yorkshire to doodle, write and express themselves however they need.

It turns out many people are turning to journalling as we have been donated journals by Inspiring Community CIC which were created by Andy's Man Club founder and former professional Rugby player local lad Luke Ambler.

The Journalling clubs are on at the Sparkle Studio inside The Ridings Shopping Centre in Wakefield next week, whether people are setting goals, need space to create or write their way to feel better.
If you want to process the ebbs and flows of life and maybe even set your goal to write that book within, you can join us at one of our writing and journaling workshops throughout the year, just email sophie@sparklecommunications.co.uk

Journey to Journaling Club for adults

19th January – 1pm-2pm At The Ridings – Please book by emailing [email protected] or text 07828613061

Pay as You Feel. You receive a free journal thanks to Inspiring Community CIC to support wellbeing and writing.

Young Writers Club weekly on Friday 21st January from 4-5pm and Young Reporters Club. You receive a free journal if attending 14th thanks to Inspiring Community CIC to support wellbeing and writing. Pay as you feel.

Please book by emailing [email protected] or text 07828613061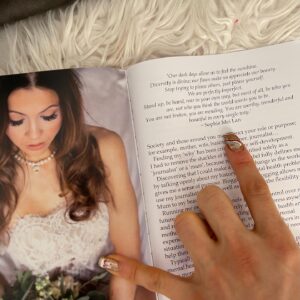 BOOK PHOTO: ELA Creations Photography