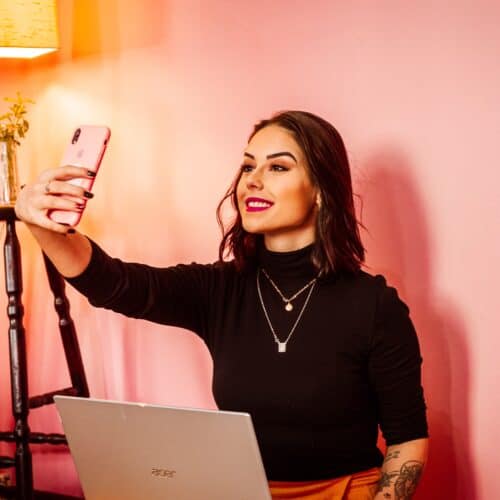 Top mental health influencers: Some of the best mental health bloggers, social media influencers and vloggers have been announced.
The annual mental health blog awards shows how many people are online creating positive change through their content.
I was chuffed to be shortlisted, speak at the event and then bowled over to win vlogger of the year.
But most importantly I want to shine a light on all the other people shortlisted because if you need some inspiration they are the place to go.
Shortlisted for 2022
Congratulations to all this year's nominees and those shortlisted following public voting. Which this year consisted of 3,607 public votes. The 2022 Top 5s again include some categories with more than five. This is because the public votes finished with very close results in these categories. As such those with a small margin have also been included in the shortlist.
Project of the Year
Dave – Mindset By Dave
Inspire the Mind
Jessica – Mental Inkness
Mental Health Crisis Angels
Nicola – Pregnant Pickle
Rulinda & Team – Mental Health Journal Rwanda
Thomas – Mental Health Runner
Creative of the Year
Aaron – Mental Magazine
Dave – Mindset By Dave
Inspire the Mind
Lucy – Lucy Turns Pages
Sammy – Beauty in the Brain
Micro Influencer of the Year
Chloë – ChloSheGrows
Daragh – Thoughts Too Big
Jessica – Life in Unreality
Laura – Psy Fiction
Nicola – Pregnant Pickle
Rebel Barefoot
Rulinda & Team – Mental Health Journal Rwanda
Podcaster of the Year
Sponsored by Open Journal
Dave – Mindset By Dave
Hannah – Plus Size V Reality
Meggan – ismisemeggan
Tom – The Proper Mental Podcast
Tommy – Tommy Hatto Online
Vlogger of the Year
Sponsored by Anna Reel
Bryan – bpdbryan
Heyhairguy
Lucy – Colouring In The Midst Of Madness
Meggan – ismisemeggan
ORRI
Sophie Mei Lan – The Sparkle Coach
Social Media Champion of the Year
Bryan – bpdbryan
James – The Morning Coffee Run
Rebel Barefoot
Rulinda & Team – Mental Health Journal Rwanda
Thomas – Mental Health Runner
Tommy – Tommy Hatto Online
Blogger of the Year
Sponsored by Open Journal
Brooke – Becoming Indomitable
Chloë – ChloSheGrows
Daragh – Thoughts Too Big
Inspire the Mind
Laura – Psy Fiction
Meggan – ismisemeggan
Nicola – Pregnant Pickle