When a lad who made his career working at a butchers before rating takeaways for a living, met a life-long vegetarian who loves nothing more than keeping fit and dancing at restaurants instead of eating, you'd think they would have little in common.
But their shared Yorkshire values of family, humour, and hard graft while living a down-to-earth life, these two YouTubers fell in love over far too many Starbucks coffees and Toby Carveries which cemented their relationship.
"Now then back on the road again," said Rate My Takeaway star Danny Malin when he first set off to pick up Journalist and Britains Got Talent Bellydancer Sophie Mei Lan for a nail-biting date where the star crossed lovers went head to head over a game of 'Guess Who?' At Geek Retreat cafe.
From then on their foodie dates involved large parsnips, condensed milk and mushroom crisps. As well as Abdul's takeaways, Blue Sakura all you can eat and taking the kids out to Xscape and Ninja Warrior.
When they weren't eating they were dancing through Costco or giggling their way through Harry Potter Forbidden Forest or getting stuck in go karts at go-kart racing.
There's been a lot of Carshare filming too as Danny has played the part of an Uber driver, even securing tickets for Peter Kay in 2024 (meaning they had to go long term anyway), and an Uber Eats delivery service all in one.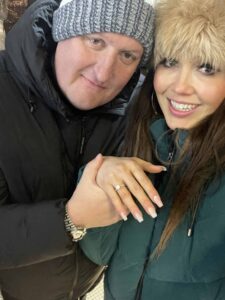 In return Sophie put Danny up for the night on his birthday giving him the best council house carpet flooring you could wish for and lots of cucumbers to snack on and kettlebells to play with.
But Yorkshire's Peter Kay wannabe Romeo was a knight in shining kebabs when he rocked up at Sophie's doorstep with coffee, flowers and cucumbers to ask her out after initially meeting through the media (interviewing one another) and becoming friends.
Ever since Yorkshire's rip off Peter Kay and Myleene (without the) Klass lookalikes have become the best of friends and realised they were soul mates.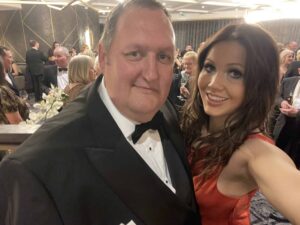 So Danny popped the question, nearly bust his knee and Sophie said "yes please."