He's the star of Rate My Takeaway youtube channel and I'm the author of a book about eating disorders, he loves a kebab and a nap whereas I love being active and going on adventures, and eating plant-based food. 
He's a former butcher whereas I'm a lifelong vegetarian who loves fitness. Our age gap is the least of our differences because on paper as you can see we're chalk and cheese. But in reality, we couldn't be better suited. 
We clicked instantly and quickly realised we were soul mates. 
Here's our story (Danny Malin and Sophie Mei Lan):
When it came to having a baby as much as we wanted to, I had only just recently come on to my period as I nearly died 18 months ago in hospital and ended up skeletal. I didn't think my dream would ever come true. Yes, we don't have the material 'ideal situation' whatever that is to have a baby but actually, together we are in the perfect situation.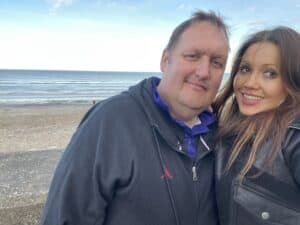 But after talking about IVF, and assuming we would need a miracle to conceive, despite for once being in the safest and most perfect relationship we could ask for, I tried to accept that we may not conceive. Well, this is how I felt but Danny seemed confident that we would.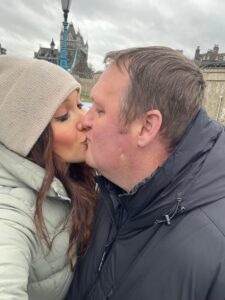 We were both gutted on Chinese New year however, when we were sure we were pregnant and the test showed a negative result.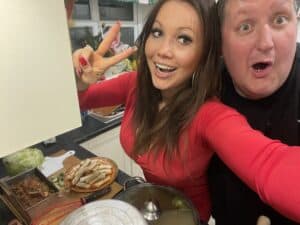 Worst still my periods had stopped again and I had only had two in the past 18 months. 
I felt a weird grief but knowing I had Danny was enough to keep me going and smiling 
Even my IBS began making me look swollen and pregnant. Women I taught bellydance to kept asking if I was pregnant. So I kept going home to Danny crying.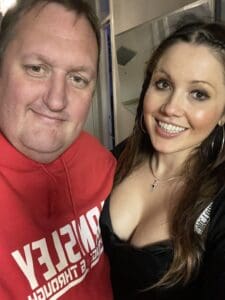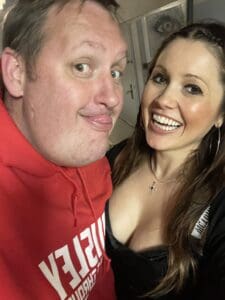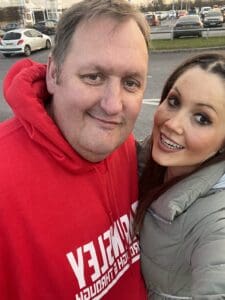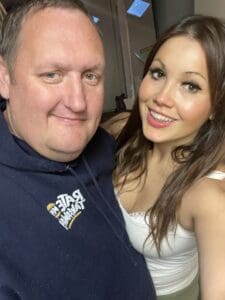 Then one evening I warned Danny I definitely wasn't pregnant but I'd bought a test from Poundland just in case. It showed on both tests two faint lines – meaning I was pregnant. 
But I'd bought cheap pregnancy tests so I assumed it was a false positive even though they say you only get false negatives. 
Danny and I were chuffed but concerned, so off to late night t'Asda we went for a Clear Blue test. 
He kept getting recognised as we sheepishly went to buy a few tests so I scuttled off to the loos once we had bought them, promising Danny we wouldn't look until we were back in his van. 
I couldn't look, I asked Danny to do it as I felt sick. 
But it confirmed that a miracle had happened, we were 3+ weeks pregnant.  
Our little miracle
We went to our first scan recently and up on the wall in the waiting room was a big poster saying "I am fearfully and wonderfully made." I knew then that I had to thank God because He had not only found me the man of my dreams (although he was not what I expected would be my ideal match) and He had given me the opportunity of being a mama again.  
For both of us, we had never expected to eventually find our soul mate, especially after all the trauma we had both been through but finally, we had discovered an unconditionally loving relationship with another human. 
We are both absolutely ecstatic, it is better than our dreams coming true. We are already blessed with four children at home between us who we love more than anything and now we have another beautiful baby to add to our growing family.
You can read my full story here: https://www.mamamei.co.uk/2023/03/04/my-miracle-family-i-am-beyond-grateful-for-our-perfectly-imperfect-life-together/
Danny will be blogging on his new site https://dannymalin.co.uk
Or watch the video now: https://youtube.com/sophiemeilan