Danny proposed to me last December 2022 and then we found out I was pregnant in January 2023. We had known by then that we wanted to marry in 2023 but decided we would love to do it before our baby was born in September – October 2023. 
Somehow we managed to organise our dream perfectly imperfect wedding within 12 weeks and here's how. 
Ceremony 
We started off by finding a church to get married in as this was the core of what we wanted for our vows and the most important part of the day to us. We looked at York and Leeds Minster. After meeting up with Paul Maybury at Leeds we knew this was the place for us. Not only is it one of the oldest Christian worship sites in the city but it's also home to the incredible Leeds Cross. 
We had the bridesmaids and flower girls dancing down the aisle to the fabulous gospel choir led by Rachel Modest. 
Then Sophie had written a poem which good friend Matt Coyne, a barnsley born Sheffield Wednesday fan read out. He himself is a bestselling author and creator of the hilarious Man Versus Baby channel. 
Danny's friend Malcolm Leary then read out a bible reading. 
Wedding reception and breakfast: Venue 
Then it was a wedding venue hunt from traditional hotels to bell tents until we found Aria Suite – a real hidden gem on the outskirts of Leeds synonymous with Asian weddings and amazing indo-chinese food. 
By this point, while we were relieved to have the two main venues booked with less than two months to go we were feeling a little overwhelmed by all the details to a wedding. 
Wedding planner 
So our beautiful friend and Simply Ladies founder Carron Cummings of Code Marketing Agency stepped in to help us to organise everything, find the best suppliers and deal with all the pressure. 
Our other friend Karina of Iyaka Events also stepped up to organise our drinks reception with custom-made cocktails to suit us. 
She created a Danny-misu cocktail with a magic wand stirrer, a lightning strike on the glass and a Tiramisu taste as that's Danny's favourite dessert. 
Karina created Sophie a 'Sparkly Nipple' inspired mocktail full of sparkle, lychees and gems with a newspaper scroll as a stirrer with a nod to Sophie's career as a bellydancer and a journalist. 
Wedding dress, bridesmaid dresses and suits 
Next up was the wedding dress, bridesmaid dresses and suits. We both knew straight away where we wanted to go for these – Bridal Reloved in York and Slaters in Leeds. 
Sophie was apprehensive because she would be six months pregnant by the wedding and didn't feel herself but the first dress she tried on was 'the one' – a sample from Louisa Jackson bridal. She even found a second dress to wear for the evening from the same designer – all preloved. 
Danny went to his favourite tailors – Slater menswear in Leeds to fit out himself and all his groomsmen from head to toe (quite literally as they got Yorkshire flat caps, suits, ties and shoes). 
Sophie had her daughter Jasmine, the chief bridesmaid, design the bridal party's dresses which were then made by the fabulous Jordan Wake of Wake Bespoke. Jordan, who is a friend of Sophie's, also helped to design a dress for Sophie to bellydance in. 
Wedding jewellery 
When it came to wedding jewellery we knew where we wanted to go as Sophie had taken Danny to Pugata Jewellery to buy his eternity ring. 
Pugata is a discreet jewellery manufacturer in Batley who make bespoke jewellery as well as signature pieces. 
Here we bought our wedding rings and Sophie agreed to model and borrow a necklace and earrings which are a masterpiece in their own right as well as being worth £70,000. 
Balloons and flowers 
We didn't know where to start when it came to our decor. But Carron introduced us to Sense of Occasion balloons who are talented and lovely people. They agreed to do a balloon arch outside Leeds Minster and a balloon selfie wall at Aria Suite.
Sophie asked her friends at Hawwa Appeal to help design some bouquets and buttonholes. Allison Gardham helped to create Hawwa's vision. 
Wedding Cars and vehicles 
Danny wanted to go in his Rate My Takeaway van and my lovely instagrammable foodie friend Freda Shafi sorted Sophie a Bentley from her partner's supercar business. 
Decorations  
Aria Suite not only provided our wedding venue reception but also decorated it to our style from table cloths to flowers and even signage.  It was stunning.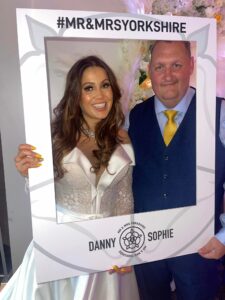 Entertainment 
CoActive Arts charity did a Flashmob performance of The Greatest Showman – This is Me in British Sign Language at the end of the wedding ceremony. 
We also had a gospel choir and an organist for the Minster complete with a crisp buffet and pop bar for after. 
Then onto Aria Suite, we had Eleanor from Taste of Cairo bellydance us inside the venue with the legendary DJ MT all night on the decs and organising the talent. 
Our wedding organiser and soul singer Carron Cummings sang stand by me as we went to sit at our head table. 
Musician and Sophie's Zumba instructor Cat Thomson then played the piano while people ate their starters. 
Next up was singer Zara Hall who sang five love songs while people tucked into their mains. 
Then it was time for the bridesmaids to take centre stage and perform a cheerleading dance choreographed by Sophie's daughters Jasmine and Arianna. 
 The dance floor was rarely empty but people made way for our first dance which was a DJ MT remix of James Arthur Can I be him as we did a gracious ballroom dance before Sophie did the splits and Danny took centre stage with the TikTok trending  Struttin' followed by Beyoncé Crazy in Love in a dance off style as Sophie twerked before the pair grabbed a chair and were joined on stage by their Burlesque Chair Dance UK community group.
Karen Harkness led the troupe from Wakefield and Pontefract who following the first dance did some of their stage show staples. 
As DJ MT played into the night he was later joined by Wedding Magician of the year Tim Lichfield who walked around entertaining guests inside and outside.
We also had a 360 Photo Booth which was a fun addition. 
Children's entertainment 
The children were then treated to the happiest magician Steve Gore who did a fabulous magical stage show. 
Then just as the kids started to stir Pop Up Pop In set up offering glitter tattoos, face painting and transfers. 
We also had set out our own sweet bar and an outside limbo bar. 
Toastmaster and speeches 
Lee Furness was our toastmaster with the help of DJ MT. 
We had the usual speeches from Sophie's dad Steve, Danny's dad John and Danny himself. Then Sophie's mum led a "yam sing" host and then our mutual friend Christine Talbot shared some stories of when we first met which was wonderful. 
Wedding postbox and guest book 
A huge thanks to Sophie's mum and stepdad for designing the wedding post box and guest book. 
Food 
Obviously food was important to us with Danny being a food reviewer. So we had chosen a venue which was known for good food at Aria Suite. We had Indian style sharing platters for the tables which were colourful and delicious. 
In the evening we had sandwiches delivered by the tearooms at Grand Arcade and Jerk chicken. 
We also had Indian takeaway food on offer. 
The desserts were made by new independent bakers Beautifully Baked. 
Wedding Cake 
Danny's mum and Dad Toni and John kindly gifted our wedding cake expertly created by family friend Julie Hodgson.
Favours and Wedding Newspapers
Helen Naughton designed us some awesome Wax melts in the style of Yorkshire roses. Sophie also had written bespoke wedding newspapers with articles about their relationship, family, friends and supporters. 
Bridal Party gifts 
Aroma Fizz printed and made up bags for all the bridal party with champagne flutes and slippers as well as a Mr and Mrs Yorkshire T-shirt for us. 
Spruce in York made bespoke wooden hangers. 
Design and printing 
Robert Harrison Photography designed the wedding newspapers and orders of service as well as our new Mr and Mrs Yorkshire logo. 
Everything was printed by Go2Print and Leeds Minster. 
Photography and Videography 
Robert Harrison Photography did the photography of the ceremony, Sparkle Community Media live-streamed it and the guys at Rate My Takeaway filmed the entire thing. 
Hotel 
We stayed at Oulton Hall hotel which was the perfect respite in Rothwell the night before and on the wedding. 
It has a delicious breakfast, stunning surroundings and a decent spa and gym. 
Chinese Tea Ceremony 
After a busy wedding day albeit to carry on celebrating we had a Chinese wedding tea ceremony planned with some us parents & kids today to join the two families today with part 2 on Tuesday.
Joys Kitchen made dim sum and served different flavours of delicious tea Jasmine and Pu tea with amazing staff. Can't recommend it enough for a casual family meal.